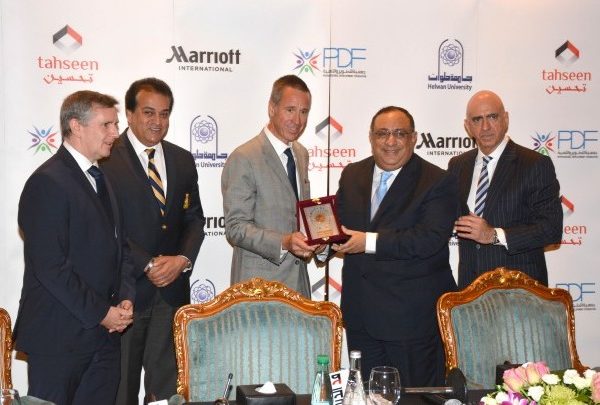 Marriott International (Marriott.com), the world's leading hotel company, reinforces its commitment to Egypt with the launch of Tahseen, a unique hospitality training program developed in response to a growing need for talent within the industry. Created in partnership with Helwan University and Professional Development Foundation (PDF), the program is focused on fast tracking the next generation of hospitality leaders from Egypt by providing them with firsthand experience and a springboard to launch successful careers in the industry. The company today unveiled the program at a signing ceremony graced by the Honorable Minister His Excellency Khalid Atef Abdul Ghaffar, Minister of Higher Education and Scientific Research, Egypt.
Also present at the occasion was Arne Sorenson, President and Chief Executive Officer, Marriott International, who is on a three-day visit to the country. "Marriott International is a company that believes in putting people first and we are committed to giving our associates the world class training and the opportunity to grow and reach their potential, both personally and professionally. Our vision is to develop future leaders, empowered with the knowledge, skills and opportunities to be successful within the hospitality industry, both regionally and globally. Building a sustainable and robust hospitality education program like Tahseen, that nurtures and builds national talent, is indeed key to our success," said Sorenson.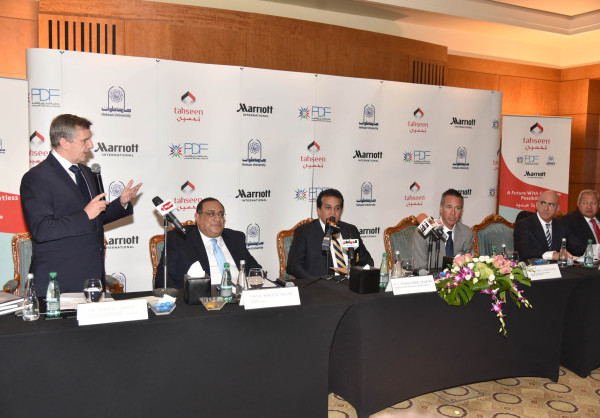 "Over the last four decades we have worked hard to consciously develop local talent and prepare them to become future leaders in hospitality," said Alex Kyriakidis, President and Managing Director Middle East and Africa, Marriott International. "Today we employ over 10,200 associates across our hotels in Egypt with 99% of them being local Egyptian nationals. Hospitality comes naturally to Egyptians. We therefore saw an opportunity and felt the need to play a more active role in the development of local talent in a formal and structured manner.  We are delighted to partner with Helwan University and Professional Development Foundation, for what is truly a pioneering effort in imparting quality hospitality education in the country by opening doors of opportunity for the youth."
Today we employ over 10,200 associates across our hotels in Egypt with 99% of them being local Egyptian nationals
Tahseen, was first launched by Marriott International in Saudi Arabia in 2017 and received very encouraging results paving the way for a wider regional roll out.  Egypt is a strategic growth market for the company and was therefore an obvious priority.  The company, together with Helwan University and PDF, has created a unique program that supports its commitment to further enhance tourism education in the country.  Tahseen, which is set to commence in September 2018, provides the technical training that complements the newly initiated "Hotel Management & Operations" Bachelor's Degree program created through the joint efforts of the PDF and Helwan University.
"We are very excited to partner with Marriott International to develop a program that is unique to Egypt and helps us bridge the gap between hospitality education and the need of the industry. Given the focus our government has on promoting Travel and Tourism, we are confident we will be able to attract the right talent who have a passion for the industry and create fulfilling careers for them, building leaders of the future that we can all be very proud of," said Prof. Maged Negm, President of Helwan University.
Speaking on the occasion, Mr. Mohamed Farouk Hafeez, Chairman, Professional Development Foundation (PDF) said, "We are delighted to partner with Marriott International and Helwan University on this exciting project and I hope that together we will be able to make a valuable contribution in creating a successful and sustainable program that not only empowers our youth by increasing their employability but also enables them to make a smooth and seamless transition into the professional world."
Tahseen, is a program that falls under Marriott International's new Sustainability and Social Impact Platform, Serve 360: Doing Good in Every Direction, which guides how the company makes a positive and sustainable impact wherever it does business.  From empowerment opportunities to sustainable hotel development, the platform is designed to foster business growth while balancing the needs of associates, customers, owners, the environment and communities. One of the priority areas, or "coordinates", of Serve 360 is Empower Through Opportunity. Tahseen is a program that directly supports and brings this vision to life.
Marriott International is the largest international operator in Egypt with a strong footprint of 18 operating hotels and resorts and more than 7,400 rooms across 7 brands including The Ritz – Carlton, JW Marriott, Le Meridien, Marriott Hotels, Renaissance Hotels, Sheraton and Westin. With four hotels in the pipeline, the company will add another 1200 rooms, debuting new brands including St. Regis and Element.  By 2020, the hotel giant will have 22 operating hotels with more than 8,600 rooms.