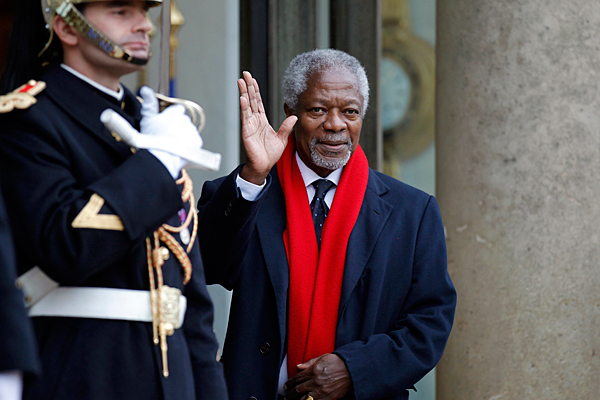 Ghana-born Kofi Annan, who died Saturday aged 80, was the first UN chief from sub-Saharan Africa, and it was on this continent that he experienced both the most difficult moment of his career, as well as some of his biggest diplomatic successes.
Like a whole generation of officials, diplomats and foreign ministers, Annan was forever scarred by the failure of the international community to foresee and prevent the 1994 Rwandan genocide, where, according to UN figures, 800,000 people died, largely Tutsi.
Kofi Annan was 56 and just one year into his term as deputy secretary general in charge of peacekeeping operations when the deadly machetes rained down on Rwanda's Tutsi and moderate Hutus.
Under the military command of Canadian general Romeo Daillaire, the UN's MINUAR peacekeeping mission was deployed in Rwanda when the genocide began. But it failed to prevent the massacre, as a result of a lack of reinforcements, the deployment of which needed a Security Council vote.
As the killing spread, the number of MINUAR peacekeepers was even reduced.
On several occasions after the genocide, Kofi Annan acknowledged that his actions had not been sufficient to prevent the massacres.
– 'Bitter regret' –
"The international community failed Rwanda and that must leave us always with a sense of bitter regret," Annan said on the 10th anniversary of the genocide.
At the end of 2006, one month before stepping down as UN Secretary General after 10 years in office, Annan promised never to forget Africa.
He told the press that he "was not tired" and would want to "devote some time" to work on Africa, and "offer advisory services if my advice is needed".
Just over a year later, that wish was fulfilled and the African Union called on his diplomatic skills to act as mediator in the political crisis in Kenya and to help stamp out the fires of electoral violence.
Kofi Annan arrived in Nairobi at the end of January 2008. The country was torn by politico-ethnic violence, which displaced up to 600,000 people, after opposition candidate Raila Odinga contested the re-election of president Mwai Kibaki.
Annan took a room in a large Nairobi hotel where he held preliminary mediation talks between the two sides. Hostile statements by representatives of government and opposition at the improvised press conferences in front of the hotel did not augur well.
However, at the end of February, massive pressure from the international community — spearheaded by the US — Annan managed to wring from the protagonists a power-sharing agreement that gradually restored calm to the country.
– 'Elegance' and 'eloquence' –
When Kofi Annan left Kenya it was almost with the aura of a miracle-worker: employees in the Masai Mara wildlife reserve named a baby rhinoceros after him and his picture was frequently plastered over Nairobi's public transport mini-buses.
The news on Saturday of his death elicited a wealth of reaction in Kenya.
In a statement, former president Mwai Kibaki said that Annan "will be remembered for mediating for the return of peace in Kenya when our country encountered political turbulence in 2007" and he hailed his "inimitable elegance" and "eloquence".
Ex-prime minister Raila Odinga said that the world "will always remember and honour Annan for what became known as 'the Annan Doctrine' in which he made it clear that the need to respect sovereignty cannot be used as a shield by governments to brutalize their own citizens and that the international community has a right to intervene, when governments fail to protect the lives of their citizens."
Aside from Kenya, Annan oversaw — in 2006 when he was still UN Secretary General — an agreement between Nigeria and Cameroon ending a decades-old border dispute over the oil-rich Bakassi peninsula.
And in 2000, he could not hide his pleasure when he announced the end of the war Ethiopia and Eritrea, obtained thanks to the mediation of Algeria.
In fact, the two countries' armies continued to guard their common border with outright hostility for the subsequent two decades, sometimes with violent outbreaks.

Annan nevertheless lived long enough to witness the Ethiopian prime minister and Eritrean president publicly bury the hatchet last month.
AFP