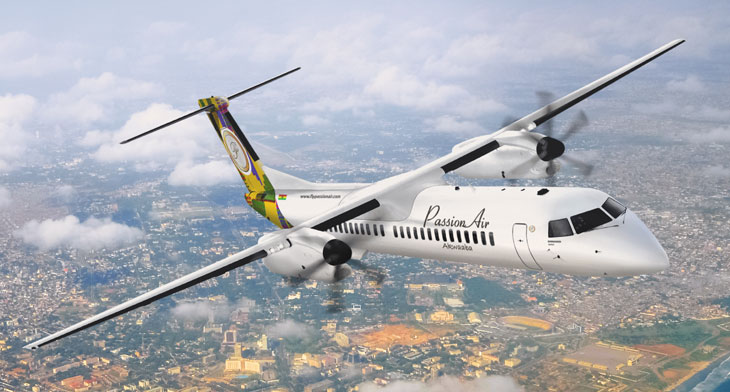 The travelling public is expected to benefit from reduced airfares – starting today – on various domestic routes as a new indigenous carrier, PassionAir, starts scheduled operations today.
Three more domestic operators – Baby Jet Airlines, Air Futures-trading as Unity Air, and Starbow – are expected to commence operations by end of the year.While Unity and Baby Jet have virtually completed their certification processes and are awaiting delivery of their aircraft to begin operations, Starbow is undergoing re-certification due to its inactivity over the past 60 days.
Domestic airfares, determined by market forces, have remained elevated since the demise of Starbow—the only other airline that provided domestic air services after the collapse of Antrak, Citilink and Fly540.
Africa World Airlines (AWA) currently remains the only domestic airline servicing the Accra-Kumasi-Accra; Accra-Takoradi-Accra; and Accra-Tamale-Accra routes.
The shortage of options, in the face of growing demand for seats on AWA due to the gap left by Starbow, meant that AWA had to scale-up its operations to accommodate the unexpected demand.
PassionAir, operated by trained Ghanaian aviation professionals, took delivery of its first aircraft – a Bombardier Dash 8 Q400 – on Sunday and operated its maiden flight on Tuesday August 21, 2018 to the Ashanti regional capital, Kumasi.
The airline today started its Accra-Kumasi-Accra service with an introductory price of GH¢250 one way.
Speaking at a ceremony held at the Kumasi Airport to mark the maiden flight of PassionAir, Asantehene Otumfuo Osei Tutu II – who was represented by the Anantahene – called for the continuous support of indigenous entrepreneurs such as the founder of PassionAir, Mr. Eddy Annan.
He encouraged PassionAir to offer the best traveling experience to all passengers travelling to and from the Garden City, Kumasi.
Deputy Aviation Minister, Kwabena Okyere Darko-Mensah, said: "For us aviation is key to economic development and therefore opening up the country and connecting it is essential to economic development.
As a government we believe in aviation and for that matter, government, under President Nana Addo Dankwa Akufo-Addo, within six months of coming into office, removed the VAT on domestic airfares. We believe that this year, given the efforts we have put in, we should see at least two more airlines by the end of the year."
"It is important that while Ghanaians want to use airlines, we should not deny them this service because of price. PassionAir should never, collude with any airline to set prices. We are ever ready to support this operations; that is why it didn't take us more than 48 hours to give approval to the GCAA," he added.
The Canadian Ambassador to Ghana, Mrs. Heather Cameron said: "With the arrival of this aircraft, the first of three-Q400 Dash 8s, PassionAir becomes the first Bombardiers aircraft operator in Ghana. As Canada's High Commissioner, I am very excited to see the relationship between a Ghanaian and Canadian company moving our trade relationship further into the aerospace sector.
"We know the bilateral relationship between Ghana and Canada are strong, based on 100 years of friendship and 60 years of cooperation. May our collaboration exceed those 60 years in the aerospace sector as we move forward," she said.
Idi Donald Maswaure, Chief Operating Officer of Passion Air, told B&FT that the airline will pass on the savings made from using the economically efficient Dash 8 Q400 to consumers.
He said: "Our operational plan is that we will start operating Accra-Kumasi with the first aircraft; we will gradually increase our frequency to three flights — that might last for just a few days — and then up to five frequencies per day.
When the second aircraft comes in then we will introduce Tamale and increase the Accra-Kumasi frequency too. When the third aircraft comes in, we will introduce Takoradi scheduled operation and further increase the frequency on Tamale."
Ho and Sunyani airports in view
There is currently no domestic air service between Accra and the Volta Regional capital, Ho, after completion of a US$25million airport there.
The airport has 1,900 metres of runway, 1,150 capacity terminal building, a traffic control tower, and an automatic fire-0detection system.
Ho municipality is one of the 25 municipalities and districts in the Volta Region of Ghana. The municipality is also administrative capital for the people of Volta Region, which is endowed with fertile land suitable for the cultivation of yam, rice, maize and onion. Fishing is also a major occupation for tens of communities sited along the Volta River.
The region also hosts many tourist attractions – waterfalls, forests, and animal sanctuaries among others.
To help ease the difficulties of tourists and investors seeking to travel for leisure and business in Ho, PassionAir is also planning to service the Accra-Ho-Accra routes in the coming years.
"Our entry programme is that we are a new baby and we want to be known; that is our crawling stage. Then our walking stage will be to stimulate traffic at some of the airports which people think are not functioning or are yet to be serviced by an airline. Ho and Sunyani are our two targets," Mr. Maswaure said.
He added that: "We hope that with the introduction of PassionAir and the comfortable schedules we are introducing, it will stimulate the market".

Anita Khoury, Commercial Manager, Passion Air said: "Our booking system is very user-friendly. We have made it possible for the public to book, pay online, and check-in online from the convenience of their homes, offices or wherever they may be".
By Eugene Davis, B&FT