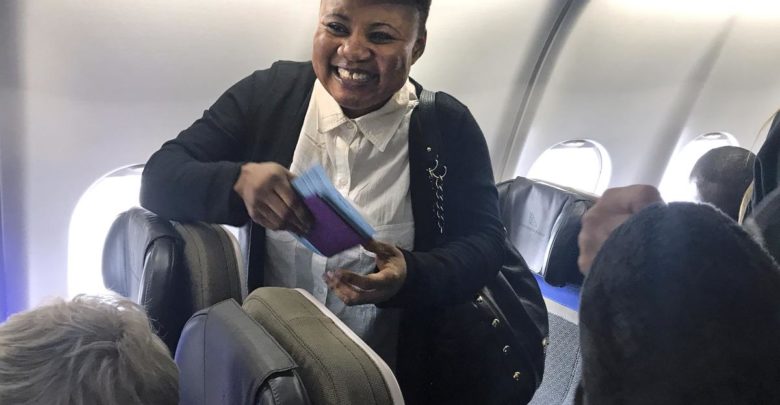 It had been 12 years since Rita Sarpong went home to Ghana. She'd missed siblings' weddings, the births of nieces and nephews, even the death of her father, sacrificing time with her own family so that she could help frail, aging Americans stay at home with theirs.
Michele McDonald for the Boston Globe
Almost up to the moment she boarded the plane, Sarpong was working nearly around the clock. A home health aide, she cared for a 90-year-old retired insurance agent with severe arthritis by day. Then at night, she drove from Newton to Wrentham to look after a woman in her 80s who was prone to falling.
That made for 104 hours a week of work that was equal parts tedious, stressful, exhausting, and essential. After she reached Logan Airport, dragging three suitcases loaded with gifts for her family — mainly used clothes from her closet — Sarpong collapsed in her seat. For the next nine hours, as food carts rolled by carrying lunch, dinner, and snacks, she barely stirred.
   A Ghanaian barber cut a customer's hair at a shop in Worcester. The city is home to one of the largest Ghanaian communities in the United States. Many Ghanaian home care workers live there, and many shops and restaurants cater to people from Ghana.
People like Sarpong are the backbone of one of the country's fastest-growing and least-regulated industries, doing the important, if unglamorous, low-paid work of caring for people who can no longer care for themselves. The workers are overwhelmingly female and almost 50 percent foreign-born. In Massachusetts, a striking number of them emigrated from Ghana, hoping to earn enough to help support often desperate families back home and forming a trans-Atlantic economic pipeline from sub-Saharan Africa to the United States.
It is draining work, but a draw to newcomers because jobs are so plentiful and the professional requirements so few. Little trained, and sometimes unvetted by agencies or employers, some are a source of trouble, a hazard to their clients. As the Globe reported Sunday, scant regulation of home care has left the door wide open for scoundrels who prey on vulnerable clients, many desperate to find help at a reasonable price.
But many more, certainly, work hard, with humility and compassion, to fill a skyrocketing need, their presence often the difference between independence and a nursing home for their clients. And as Rita Sarpong's odyssey shows, these workers face enormous challenges of their own.
In Ghana, Sarpong is a success story, a "borger" in local parlance, someone who has made it in the developed world and shared her newfound prosperity with her countrymen. Many other young Ghanaians have followed in her footsteps.
Michele McDonald for The Boston Globe
Some refer to Worcester as Ghanatown, the heart of a Ghanaian community in Central Massachusetts thought to number in the tens of thousands, with many of them working in home care. Most Americans assume they'll never need help from such people as Sarpong, though 70 percent will, according to a US government estimate. They generally have no idea that there is no national or state system for providing and policing home care. "You don't know until you arrive in this system, how broken it is," said Stephen Campbell, an analyst at PHI, a research organization and think tank on home health issues.
As a result, when the unwelcome day arrives that someone needs an aide to help with such basic activities as showering or getting dressed, it often presents as a crisis — and an expensive one — since most home care is not covered by insurance. Around-the-clock care can quickly run into thousands of dollars a week, taxing the resources of even prosperous families.
Throw in a general shortage of home care workers and current US efforts to limit immigration, the life blood of home health care, and you've got what Massachusetts Institute of Technology's Paul Osterman calls "an absolute train wreck waiting to happen." Osterman is a professor at the Sloan School of Management, co-director of MIT's Institute for Work and Employment Research, and author of a book about the long-term care workforce, "Who Will Care For Us?"
"This is the biggest public policy issue facing our country that no one is talking about," added Donald H. Taylor Jr., a professor of public policy at Duke University who is working on a book about caring for elders.
Out of this crisis of need comes opportunity for those willing to do the work — even if that means a 5,000-mile journey, braving an uncertain future, to get here.
Rita Sarpong, 46, is ever mindful of all the people who rely on her, from her clients to her 25-year-old daughter and 70-year-old mother living with her, to her large extended family in Ghana. It is a burden that sometimes weighs on her.
But when her plane touched down in Accra, Ghana's capital, Sarpong giddily strode through the airport, worries temporarily forgotten. For now, she was hankering for West African food, the color and bustle of Accra, the comfort of being where she doesn't feel like an outsider.
And for a week without work — her first in 12 years.
'IT IS A SACRIFICE I'M MAKING'
BABY BOOMERS HAVE helped double the size of the home care work force over the last decade alone. Roughly 10,000 Americans will turn 65 every day until 2030, according to the Pew Research Center. The vast majority of them plan to grow old at home, and many will need help to do so.
Finding that aide can be exasperating. There is constant churn in a home care workforce with a median hourly pay of just $11.03 nationally, $12.77 in Massachusetts, with the low pay exacerbated by inconsistent work hours.
Qualified aides constantly leave the business for relatively modest alternatives. Certified nurse's aide Lauren Ahern of West Roxbury, for example, quit to start her own dog-walking service — and found it much more lucrative.
"For the first time in three years, I'm saving money," she said.
Yet for every one who abandons the field, there are countless devoted workers like Rita Sarpong, many from poor countries, working impossibly long hours that painfully compromise their own family lives. In Massachusetts, about 30 percent of home care workers are from Haiti or the Dominican Republic, and 20 percent come from Africa, according to PHI, the home health think tank.
Among them is Lionnette Jasmin, 55, from Haiti, who works two full-time jobs for different home care agencies, totaling 94 hours a week "on a slow week." She lives in Everett and earns $13.67 at one agency and $15 at the other — less than the $16.75 her niece gets at Dunkin' Donuts.
Still, she considers her work a calling. "I love what I do," said Jasmin, who said she's still mourning a client who had died a month earlier. "The day before she died she held my hand and said to me, 'Thank you for making me feel like a human being again.' That was the most reward I've had in years."
And there's Aba Owusu, another aide from Ghana who works for a senior home care agency in Newton, sometimes picking up extra hours in a nursing home. A 2010 graduate of the University of Ghana who majored in public relations, she won the green card lottery and came to America in 2012, not long after her husband, William Owusu, a journalist, had returned from a fellowship to study at Oxford. She came alone, pregnant with their son, and lived with her brother. A health aide himself, he persuaded her to go into home care work, where the barrier to entry is low — just a three-week training course to become an aide.
A year later, on a visit home, she became pregnant again. Given her erratic schedule as a home care worker, it seemed best for the children to stay in Ghana with their father, where there was extended family to help out. Aba Owusu tries to go home twice a year, for a few weeks at a time.
"It is a sacrifice I'm making so their lives are much better," she said, tearing up. The most she's ever earned is $22,000 a year, much of which she uses to send goods back home to her family. It's a fortune compared to the $6,720 her husband earns as deputy editor of one of Ghana's largest newspapers.
Though her earnings are substantial by the standards of her homeland, disrespect seems built into the industry's payment structure. Housekeepers are paid more to clean up hotel rooms — $21.45 an hour in Boston — than aides who clean, feed, and assist people.
And home care agencies generally compensate workers only for the hours they work, not paying them if they take time off, or even if a customer
suddenly dies and leaves the worker without someone to care for.
Sarpong said she has never had a paid sick day while working for six agencies.
Some agencies even deny workers pay for the hours they've legitimately worked. In recent settlements, the state attorney general's office ordered two agenciesto restore more than $1 million in wages to more than 700 home health aides who were illegally underpaid, plus pay penalties.
"Low-wage and immigrant workers in the home health industry are particularly vulnerable to exploitation," Attorney General Maura Healey told the Globe.
In one of the cases, Petra Health Care of North Chelmsford allegedly hired aides without proper credentials, then made them attend training sessions during times they were supposed to be caring for patients. Workers complained that Petra's policy cost them money and shortchanged clients, too.
"The patients were being neglected," said Marie, a former Petra employee who asked to be identified only by her first name. "Twenty home health aides were in the first class, and that meant 20 people weren't being seen."
The attorney general's office worked with Petra to make sure employees got paid for training, in addition to paying workers nearly $187,000 for unpaid overtime over three years.
Even home care agency administrators don't dispute that workers often get shortchanged.
"These stories cast a shadow on the rest of us working hard to elevate [the industry,]" said Kevin Smith, president of Best of Care Inc. in Quincy. "I'm speaking as someone who takes pride in trying to do things correctly . . . in an industry that's largely unsupervised and doesn't have a lot of oversight."
* * *
A DUTY TO CARE FOR ELDERS
RITA SARPONG DIDN'T leave Ghana to work as a home health aide. She came to the United States in 1998 because her parents had forced her to
marry a Ghanaian man who lived in Worcester, and "in Ghana you don't disobey your parents."
She was able to get a green card because her husband was a US citizen. At first, she worked in a factory. But someone told her about home care work, which seemed more attractive and potentially more lucrative. So she switched.
She had no way of knowing, but she was one in a relatively large exodus of Ghanaian women who moved to the United States and entered the field in the 1990s, according to Martha Donkor, a professor and author of a new book about Ghanaian women caregivers in the United States.
Unlike many Americans, she writes, Ghanaians see caring for their elders as honorable work, even a duty. A proverb in Ghana translates as "I care for you to teethe; you care for me to shed mine."
Sarpong is no stranger to hard and honorable work. As the eldest daughter, she was responsible for her younger siblings, and she quit school when she was about 13 to earn money for the family. She hawked bread and eggs, carrying her wares on her head, a common practice in her country. She sold firewood for "chop bars" — modest eating establishments she describes as "restaurants for local guys who can't afford restaurants."
It was a hard routine. She had no way of knowing how demanding her life as a home care worker would one day be.
Her daytime client, the 90-year-old in a wheelchair with severe arthritis, lives with his wife in a gracious Newton home with two staircases, a majestic foyer, and a manicured lawn.
Sarpong calls him "Grandpa," his wife "Grandma," and their son "Uncle," because in Ghana it's disrespectful to say an older person's name without a prefix.
Sarpong does a lot of things the way she learned in Ghana, from cutting up strawberries in her palm rather than on a chopping block to being scrupulous about housework — adjusting and re-adjusting her client's gingham coverlet with tiny pinches, until it's taut.
A recent day passed slowly, much like all the other days.
At 7 a.m., she got her client out of bed and helped him on the commode and into his wheelchair.
She washed and dressed him.
She made his usual breakfast of oatmeal and strawberries.
She gave him his pills.
She recorded his vital signs in a notebook.
She guided him in weight-bearing exercises and supported him while he walked slowly to the end of the hallway, clutching a walker.
She watched TV with him.
She transferred him from his wheelchair to his bed for an afternoon nap and arranged the pillows the way he likes them.
"All set?" she asked. "All set," he said.
While he slept, she swept the floors, washed dishes, and tidied the house.
Sarpong's shift ended at 3 p.m., though her work was done by 2:30. She sat quietly with the client and his wife, who is also 90. The only sound was the ticking of a clock on the table.
His wife broke the silence. "Rita is a great help," she said, unprompted, then fell silent again.
At 3 p.m. a clock in the hall chimed.
"OK, Grandpa," Sarpong said, wearily. "I'm going to leave."
It was back to Worcester for a quick rest, then time for her overnight job.
A CITY OF IMMIGRANTS
WORCESTER HAS THE highest concentration of Ghanaian immigrants in the country, making the city so important to the nation that it was the first official stop made by the country's new ambassador when he toured the United States last year.
There are at least five Ghanaian-owned restaurants in the South Main Street neighborhood serving traditional dishes of fufu, fried yams, and kenkey (translated on one menu as "fermented corn meal balled up.") Grocery store shelves are heaped with Ghanaian goods, from colorful cans of mackerel to palmnut cream concentrate. A fabric store displays boldly printed cuts of Kente fabric of the sort that's gone wild on Etsy because of the movie "Black Panther." There's a Ghanaian car repair shop that shares a building with a Ghanaian Internet radio station, and a Ghanaian barber shop where people linger and catch up on news, speaking in Twi, which is Sarpong's native tongue.
There are more than 20 Ghanaian churches including New Creation Christian Church and Sarpong's church, New England Ghanaian Seventh-day Adventist Church — not that she ever has time to attend.
Though numbers are hard to pin down, it's clear that in many ways, Ghanatown is a community of home care workers. Almost everyone you meet knows of one or two.
At Camara Trading, a shop selling African groceries and other items with a heavily-trafficked money-transfer kiosk, owner Mark Kuffour says a large percentage of his customers are home care workers. He was one himself, years ago. As though on cue, a young woman walks up to the kiosk and asks to send $160 to Ghana. She's a personal care attendant, she said. The money is going to her husband.Sending money back home is an unwritten rule of the Ghanaian diaspora. In Ghana, family responsibilities are paramount.
"There is the expectation among family members . . . that those who are fortunate to become persons of means ought to help less fortunate members," according to Donkor.
And "family" is a term used expansively. "You don't limit yourself to immediate family," explained Ken Asafo-Adjei, a Ghanaian-born state worker, Worcester community leader, and son of a retired Worcester home health care worker. He's also Sarpong's friend and a distant relative through marriage. "You help friends, too. You don't want to be here eating three times a day when others are going to bed on an empty stomach."
It seems every second business in Ghanatown has a money-transfer kiosk to feed so-called "remittances" back to communities and families in Ghana.
"They are always there, people relying on me to eat, to be able to go to school, to take care of their medical bills," said Owusu, who works for the Newton agency.
But the relatives back home sometimes have unrealistic expectations: One of Owusu's brothers thinks she has gotten so rich in America he asked for a car so he could start an Uber business.
In Ghana, being related to a "borger" can elevate family status, Donkor said.
She writes: "During a trip I made to Ghana in summer 2016, my mother complained that I had not built a house in our town. Her argument was that she will be respected, glorified even, if I build a house. And so now the pressure is on me to oblige."
Sarpong knows this pressure only too well.
Even in the past when home care work was less plentiful and she made as little as $15,000 a year, she sent money to six of her seven siblings in Ghana and nine nieces and nephews, "anytime they need something." She's underwritten her relatives' school fees, university tuition, weddings, even funerals.
During her more profitable periods — like when she had a private client in Chestnut Hill who paid her $375 a day — she can comfortably pay her bills and send money home. But when she's down a client, things get scary.
The Newton family pays her $25 an hour, which comes to $1,400 a week. Out of this, she pays $1,600 rent, $1,100 a month for her daughters' student loans at Anna Maria College, $900 in car payments for her car and her daughter's,
plus utilities, life insurance for herself and her mother, and her health insurance. Not to mention taxes. And she tithes $210 every week to her church.
Tithing is non-negotiable for Sarpong, a devout Seventh-day Adventist. "It's in the Bible," she said. "Malachi 3." While her client is napping, she reaches for her cellphone and clicks on the Bible that she's downloaded.
She points to a passage that suggests blessings will come to those who tithe. "The tithe is very, very important," she said. "If you pay your tithe every week, even if you lose a job, God will find a way for you. He'll give me another client. I've had experience with that."
A HEFTY CHUNK OF GHANA'S ECONOMY
In the car, on the way to her sister Ellen's house in Accra, Sarpong tried to adjust to the cityscape she was seeing. There was the Ghana she remembered: the wild, crazy traffic with motorcycles zipping around cars and vying for space with minibuses. The open-air barber shops and seamstresses with fanciful hand-painted signs like "My Hands are Blessed Hair Cut." Roadside vendors balancing baskets of everything from sugarcane to floor mats on their heads.
But Accra had grown so much, the buildings were tall, and the city looked so modern. The number of evangelical churches had exploded, and pastors advertised on billboards that towered over the roads.
It's clear that in just a dozen years, Ghana had become increasingly connected to the larger world. It's also increasingly dependent on such people as Sarpong and Owusu, and the money they send home.
economy," which is economics-speak for people who balance heavy bundles on their heads in the hot sun, hawking their wares.
Even today, one in five children is engaged in child labor, and many don't go to school, according to the World Bank. Signs in central Accra say "Do Not Defecate in the Open." And you needn't be an engineer or urban planner to detect big infrastructure problems: Such basic services as lights and water can be hard to come by. Potholes are so big and so common that people in Accra have taken to planting plantain crops in them, in protest.
Over the course of the week, Sarpong's family trickled in from different parts of the city and country, clearly overjoyed to see her. They've changed so much. There are new children in the family. Children she remembers as babies are young adults now. Her sister Ellen has a new husband. A niece is engaged and is soon to be married. Sarpong will miss this wedding, too, though she's helping to pay for it.
The next day is Saturday, and family members meet up in their huge church — the first time Sarpong has been able to get to church in months. She looked ultra-American next to Ellen, who wore a traditional long African dress and head wrap in a bold geometric print, striking even amid a sea of women in vibrant geometric prints. Sarpong wore a short lacy dress and high skinny-heeled leopard-print shoes.
After the service the family sat outside and ate kenkey and fish. They laughed, traded stories, and made Sarpong promise she wouldn't stay away so long next time. Her 19-year-old nephew Stanley reflected on how much she's done for the family.
"Rita is really amazing," Stanley said. "She helped me through school. She asked me if I needed anything for university. She sends money to each and everyone in the family, even small children."
Does he know what she does for a living? He doesn't. Sarpong tells her family
as little as possible about what she does and how hard she works.
"If I get the opportunity," he said, "I'll ask her."
'THERE'S JUST TOO BIG OF A GULF'
WHILE SARPONG WAS back in Ghana, Owusu wished she were, too.
The two women have never met but have much in common, including families in Accra. But for Owusu, a decade younger at 36, her family is her husband and two young children.
Locating her family at home was challenging for a reporter because streets have no apparent names.
Owusu's son, Yaw, 5, and daughter Yaa, 4, raced excitedly to the gate to say hello to a visitor.
William Owusu was warm and gracious, though tired at the end of a long work day as a newspaper editor, with hours left before the kids would go to asleep. The house they rent is tidy and comfortable, though sparsely furnished. The kids sleep on the floor, on mattresses. There's no hot water in
the house.
Aba Owusu is now into her sixth year away from home. She tends not to talk about her life in Ghana, especially with clients who inevitably ask her why she left and who's looking after her kids. (The answer is a woman named Ataa who never went to school and lives in a slum, and a teenaged orphan named Kuukua who lives with them and can barely read or write.)
"I change the topic," said Owusu. "I made it a policy that I don't tell anyone a lot about myself."There's just too big of a gulf to explain. "People from Ghana think of America as seven hours to heaven," said Owusu, a thoughtful woman with a sharp wit who is in constant FaceTime contact with her husband and kids. "I told my mother we have homeless people in America, but she didn't believe it."
There's a large Home Depot box on the living room floor with the remnants of one of Owusu's shipments. She'd sent cans of groceries. Vitamins and toothpaste. A television. A chest freezer for her sister-in-law's small grocery store. The kids' car seats for the car that she also sent: She'd found it on Craigslist, totaled. William bought replacement parts from roadside vendors in Accra, and had it rebuilt and repainted to look new.
After dinner, William helped Yaa with her math problems on the Buzz Lightyear table that Owusu sent. His phone vibrated and it was Owusu herself, on a video call from her client's home. She greeted the kids with a huge smile. But they seemed distracted: Yaw was engrossed in the Cartoon Network on TV. Yaa waved absently.
Eventually, Owusu had to abruptly end the conversation.
Her client was calling and needed her.
* * *
'IT'S ALL TOO MUCH ON ME'
SARPONG SAID HER time in Ghana was glorious. More than anything — the relaxation, the reminiscing, the fun — she was relieved that her siblings were well and "looked beautiful and strong." She and her three sisters would sit outside at night, laughing and telling stories until long after dark.
She was reminded of how much easier life is in America when she ran into an old classmate at a market and he looked old and gray and emaciated. "It
broke my heart," she said.
Once she was back in Worcester, though, things went quickly downhill.
Her Newton client got sick and was hospitalized for a few days. "I lost so much money," Sarpong said.
Her car wasn't working properly, and she couldn't afford to fix it. She had to get a new one.
An agency assigned her a new night-shift client, but the woman passed away the first night.
Her daughter who worked at Macy's was so worried about her she took to leaving money on Sarpong's dresser so she could afford to buy gas. This broke Sarpong's heart.
Her family in Ghana told her they felt badly they were so dependent on her but would like to buy a tro tro — a minibus taxi typically patronized by poor
people — so that they didn't have to keep asking her for money. But where would she find the money to buy a tro tro?
"It's all too much on me," she said. "I just want to go to sleep."
A few weeks went by, and the gloom lifted. "I'm good!" Rita said happily, on the phone. Her news was that God had helped her, as she knew he would. She had a second client now, a night shift also in Newton.
She was back to working 104 hours a week. All was well.
By Linda Matchan, www.bostonglobe.com