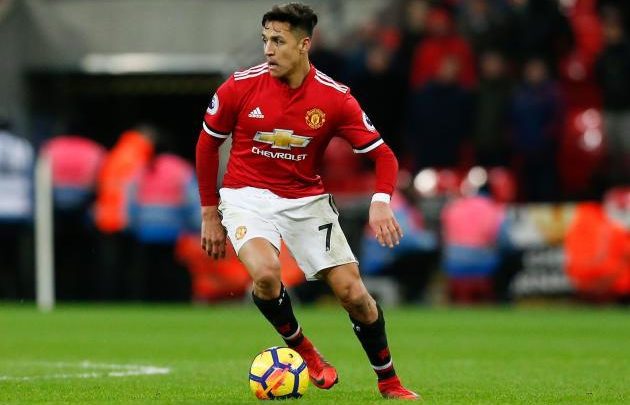 What's the news?
The Daily Star reports the Manchester United manager Jose Mourinho has slammed Alexis Sanchez in front of the entire squad before the game against West Ham United.
Recently images showed of a training ground confrontation between Paul Pogba and Jose Mourinho, and now the Chilean has faced the wrath of the Portuguese. Sanchez traveled to London with the squad to play against West Ham United, but he left out from the starting line up and the bench.
In case you didn't know…
Alexis Sanchez joined Manchester United from Arsenal in January 2018 in a straight swap with Henrikh Mkhitaryan that saw the Armenian International move the other way. He was the subject of interest from Pep Guardiola and Manchester City throughout the winter, but Jose Mourinho made sure that United got their man before their local rivals.
Sanchez started his career in the Premier League with Arsenal in 2014 where he scored 60 goals and provided 25 assists in the process. He has also won the Community Shield and the FA Cup for the Gunners. At Old Trafford, the Chilean is yet to imitate the form displayed at the Emirates. He just had two goals and four assists for the Red Devils so far.
The heart of the matter
Manchester United needed quality in the wings, and after Jose got Sanchez from Arsenal, there were expectations of the squad improving drastically with Sanchez being the one changing things around at Old Trafford.
Coming in the middle of the season, it's always difficult for a player to adjust to the new style and management. Sanchez could not show his quality in his first season with the Red Devils and often cut a frustrated figure.
The belief was that the real quality of Sanchez would be on show in the current campaign, but so far he has been anything but mediocre. He is trying very hard to make things happen, but the outcome is nil. Jose Mourinho eminently got frustrated with his lack of performance and dropped him from the matchday starting line up or the bench against West Ham after questions raised of Alexis's utility.
Rumour Rating – 7/10
The Daily Star generally reports genuine information and the situation with Sanchez has been negative with the Chilean lack of performance not only frustrated the manager but the fans as well. There were talks about dropping Sanchez and giving Martial a chance to prove himself.
What's next?
United are already out of the Carabao Cup, and the defeat against West Ham has further dented their hopes of finishing top four in the Premier League.
Sanchez is a key man to the United squad, and Jose Mourinho needs him at his very best for the upcoming matches which would also be a chance for him to shut his critics.
By Suman Dey, sportskeeda.com