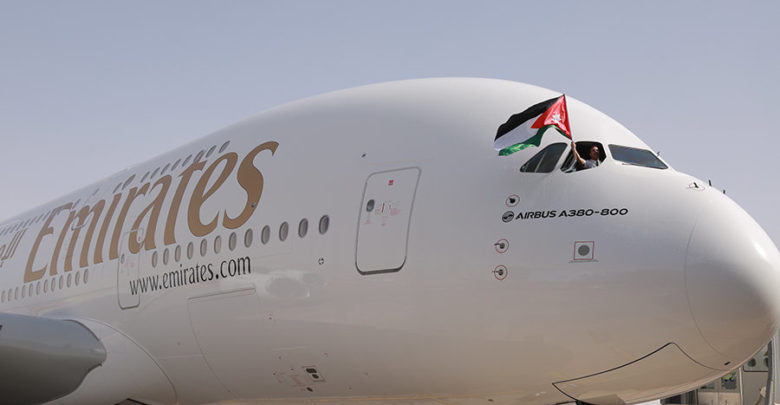 Dubai airline Emirates operated a one-off A380 aircraft to Ghana's Accra on Tuesday, marking the first time that a scheduled A380 service has landed in the African nation.
Accra-born Ghanaian, Capt Solomon Quainoo and UAE national, First Officer Faisal Alhammadi
The jumbo jet landed in the Kotoka International Airport's Terminal 3, as a one-off service to the new terminal.
The special Emirates A380 flight, operating as EK 787, was flown by Accra-born Ghanaian, Capt Solomon Quainoo and UAE national, First Officer Faisal Alhammadi.
The flight to Accra operated in a three-class configuration, with 426 seats in economy, 76 seats in business class and 14 first class private suites.
Emirates first began operations to Ghana in January 2004 and flies to Accra daily from Dubai.
Close to 1.6 million passengers have flown the Dubai – Accra route since its start, with popular destinations being China, India and the United Kingdom via its Dubai hub, a statement said.
Since 2006, Emirates SkyCargo has also transported a total of over 73,000 tonnes of cargo from and into Ghana. The air cargo carrier has facilitated exports of over 41,000 tonnes from the country in the same time period. Major commodities exported include fruits and precious metals.
Orhan Abbas, Emirates' SVP, Commercial Operations, Africa said: "We are honoured to bring our flagship A380 to the impressive new terminal at Kotoka International Airport, as it demonstrates its full capabilities with the handling of the first A380 aircraft.
"Accra is an important destination in Africa. The Emirates A380 has been at the centre of innovation, and bringing this popular aircraft to Accra is a significant milestone in our operations to Ghana, where we will soon celebrate 15 successful years."
Emirates, the world's largest operator of the double decker aircraft, has transported over 96 million passengers on over 106,000 A380 flights in the last 10 years.
gulfbusiness.com