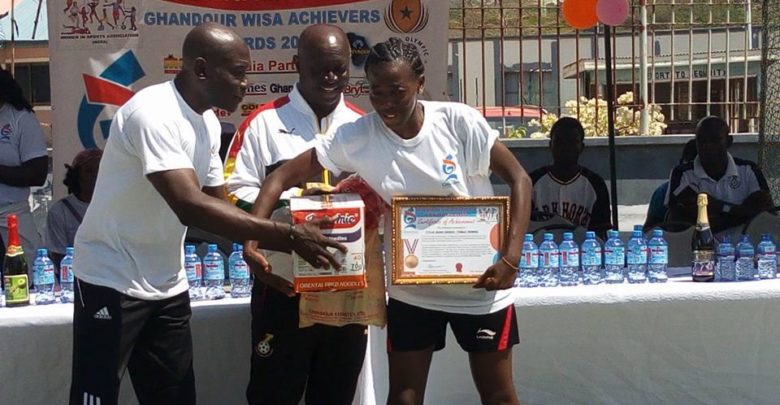 Pride of the Ghana Armed Forces when it comes to the game of Table Tennis, Cecilia Baah Danso is hopeful of winning the 2018 Sports Writers Association of Ghana (SWAG) Table Tennis Player of the year award after a very successful and eventful season.
Speaking to Yours Truly after collecting an award from the Women In Sports Association (WISA) at the Accra Sports Stadium, she expressed sadness for the SWAG neglecting and sidestepping her when it is obvious that she is the best in the country and has been consistent among the best four for the past six years,
After placing 9th at the 2018 Commonwealth Games in Australia, and earlier being selected as the only female from Ghana in the Africa Top 16 held in Nairobi, Kenya, she feels 2018 should be her crowning moment, though she thought the previous year also belonged to her but surprisingly the SWAG did not name any player as Best Table Tennis Player.
She noted that the award can either motivate or discourage a player, and she has suffered several disappointments, but kept on playing.
She recalls winning the Best Player award at a tournament in Lebanon between nations serving in the United Nations Peace Keeping, and she still feels that pride and honour to serve the nation.
"I believe this is my year because I am the only Ghana recognized in the best 16 on the continent and 9th best on the Commonwealth is not bad. Today the SWAG President is rewarding me, but I want the big one, the SWAG award, which every Ghanaian sportsman and woman wants to win" she said.
She thanked WISA for the recognition and for honoring her with the award as the Best Female Table Tennis Player for the year 2017/2018. "It hasn't been easy but God made it possible. I appreciate this a lot and I'm most grateful to u Madam Gloria Commodore & Ghandour Cosmetics for supporting Women in Sports. Thank you" she said.
By Sammy Heywood Okine