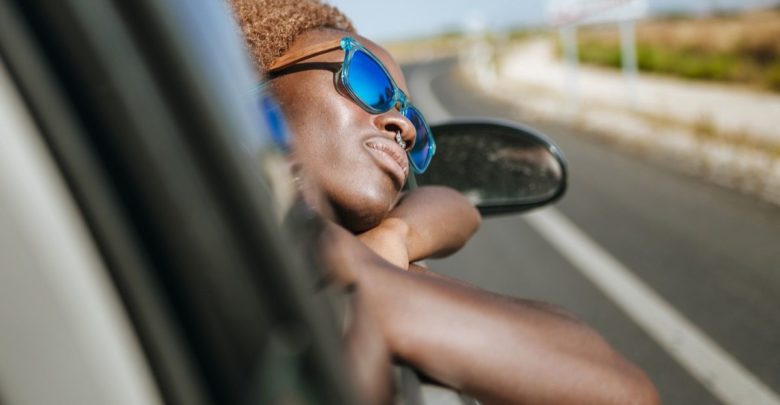 It's practically inevitable. Strike up a conversation with a stranger, and you'll eventually wind up at the same question: "Where are you from?" For writer Taiye Selasi, however, there is no easy answer. Born in England, raised in the United States, and with family ties to Ghana and Nigeria, she's "from" a lot of places. So, in a 2014 
TED Talk
, Selasi suggested redefining the question itself. Instead of "Where are you from?" why not ask "Where are you a local?" Selasi concluded that she could be best described as "multilocal"—that is, defined by the various cities she's personally experienced, rather than the borders of an entire country.
Now, Adobe Stock's team is tackling Selasi's concept visually. Its 2018 visual trend report—which predicts what imagery consumers will find most compelling in the upcoming year—features "multilocalism" alongside five other categories, including "
silence and solitude
" and "the fluid self." 
   Photo by Kristen Curette Photography LLC/Stocksy. Courtesy of Adobe Stock.
These selections are informed by the company's internal search data, explained Brenda Milis, principal of creative services and visual trends at Adobe. When it comes to multilocalism, for instance, the company has observed an 80 percent increase in searches about travel over the past year and a 90 percent increase in searches about migration; queries for the keywords "wanderlust" and "globalism," in particular, have shot up by 113 percent and 173 percent, respectively.
But search terms are not the sole indicator of visual trends. Milis and her team also pore over hundreds of reports from trend forecasting company WGSN, which touch upon everything from interior design to tech launches to textile production. Adobe, she said, is looking for themes that repeat throughout different industries and geographies.
For each trend, Adobe Stock compiles a mix of existing and newly commissioned photographs into a gallery of representative images; for instance, multilocalism emphasizes travel and exploration. Certain photographs could be stills from a Coca-Cola commercial, featuring groups of young, racially diverse friends as they goof around or share a meal. In others, people wearing traditional outfits participate in modern activities, like riding the bus or working on a laptop.
  Photo by Wavebreak Media. Courtesy of Adobe Stock.
   Historically, stock photos haven't been lauded for their cultural sensitivity—in fact, they've tended to reinforce stereotypes. East Asian–Americans are so often depicted as doctors or students, for instance, that the 
Huffington Post
's photo editors got fed up and 
took their own
 stock images earlier this year. Selasi herself recalled a project, five years ago, that sent her searching for photographs of African millennials. What she found were "groups of jovial kids gathered around one blonde-haired woman or babies in various states of disrepair on the one hand, and then wise elders on the other," she recalled. "There was nobody between the ages of five and 45 that I could find in a stock photo context."
To source more authentic images, Adobe Stock's staff includes an international network of teams that scout for photographers. (Africa is a particular focus, said Milis.) Often, they discover new talent through Instagram—a platform that itself offers some insight into the challenges of accurately portraying global cultures. The app often becomes a visual echo chamber, said Tobi Shinobi, a photographer who's also worked with Adobe. The same drool-worthy vacation shots get taken over and over again, reducing an entire country or city to just a handful of images.
But Instagram also allows people to portray their cultures the way they want to be portrayed. "The good side of things has been this democratization," Shinobi said. "People have the ability to say, 'Actually, that image of Iran isn't correct, that's not right, we're not all wearing headscarves.'" For Selasi's part, the app has allowed her to be "surrounded by images of people who look like me and who dress like me and who wear their hair like mine," she said. "These people don't need to be my neighbors, but what a social media platform like Instagram has done is…[make] the individual acutely aware of his or her community."
     Photo by RooM The Agency. Courtesy of Adobe Stock.
It's this sense of global community that brands are hoping to tap into with multilocal stock images, said Milis. Brands such as Airbnb, GoPro, and Gap "are very big companies with international reach, but also want to have specific regional appeal," she explained.
"They want to appeal to everybody, but they want to do it authentically."
Although interest in world cultures may have surged over the past year, a focus on "authenticity" in stock photographs isn't new. "I can't remember the last time I looked at a brief that didn't have the word 'authentic' in it," said London-based photographer Andy Smith, who worked with Adobe to build out its collection of multilocal images.
"I think what everybody's trying to do is get away from stock being stock.…Every brief I get, whether it's for a client or for a stock library, is: 'Let's not make it look like stock.'" He emphasized: "'We want people to look genuine.'""Buyers are bored of looking at typical-looking stock images," Smith continued. He added that they want to be able to find photos "that are a little more specific."
   Photo by Blend Images. Courtesy of Adobe Stock.
For the Adobe project, Smith captured a series of local businesses in London. In one image, a young female butcher's red-striped apron pops against the red of the raw meat she's weighing; in another, a barber sporting suspenders and ear gauges leans nonchalantly against a wooden counter. Many of the businesses were places he knew personally, scattered around his East London neighborhood.
"Stock tends to be more towards real life now," Smith said. "Not heavily produced, shiny, polished-looking images—but something a bit more real, more relatable."
Abigail Cain, artsy.net