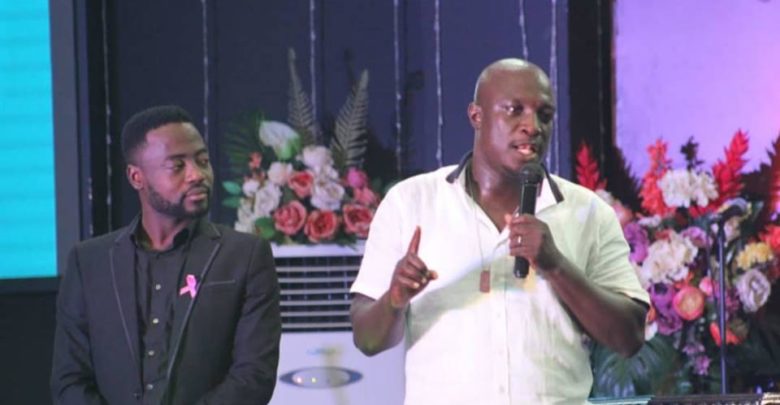 Actor turned Pastor Timothy Bentum has called on people suffering from addiction, rejection and temptation not to give up, but to be positive and believe in the Lord Jesus Christ.
Pastor Timoty Bentum (left)  and Journalist Sammy Heywood Okine (right)
Speaking at the 6th in the series of programmes organized by the Actors Presenters Professionals and Musicians for Christ at the Trinity Baptist Church at Madina, near Legon in Accra, he said God sometimes uses people with bad and evil character to change others.
He said people should not judge actors by the roles that they play. The theme of the programme was taken from 2 Cor.5;11 Knowing therefore the terror of the Lord, we persuade men….
Once every year Actors Presenters Professionals and Musicians come out to give testimonies and talk about their journeys through life and their faith in Christ to use their influence as a springboard to lead many to Jesus Christ, the Saviour.
Among the members who joined the worshipers  Rev. Mrs Duncan Williams, Majid Michel, Pascal Amanfo, Martha Ankomah, Adjetey Annan, PS Isaiah, Cwesi Oteng, Ruth Benny Wood and Oheneba Clement.
Many popular and up and coming rising stars came to the house of the Lord for the event which was inspiring, encouraging and motivating.
Most of them who were interviewed by the media expressed joy and satisfaction in the Holy Spirit and how far the Almighty has brough them.
Popular actor, Majid Michel said he was impressed by the attendance and happy that many young people have given their lives to Christ.
He noted that serving God is not easy, but one must not give up because the reward at the end of the sacrifice is huge and satisfying.
Martha Ankomah, the beautiful ebony lady said people say and ask many questions about her because of some of the roles she play, but she addressed that all are the portray the reality and warn or advice people about the dangers in life.
She expressed that Social Media says all sorts of things about people, but encouraged Christians to love God, and their enemies would be put to shame. She also urged young Christians not to rush in life, but wait for divine direction.
She hinted that her life is in the hands of the Lord, and she is looking up to the Almighty for a better future for the Arts Industry and Christians.
The programme attracted sponsorship from ASPA, Beautiful Beneath, Maji Fresh, Chop Shop, Glico, Silver Star Beads and others.
By Sammy Heywood Okine