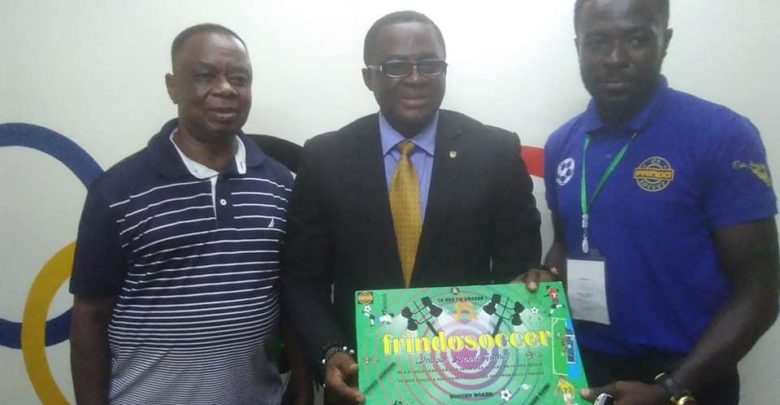 By Sammy Heywood Okine
Ben Nunoo Mensah, President of the Ghana Olympic Committee (GOC) has put his weight behind the Frindo Soccer Board Game and urged Ghanaians to patronize it when it is out for sale.
According to the GOC President who is also a Insurance Broker and a Business man it would be ideal if more Ghanaian invent products that can attract world attention and market the nation.
He noted that Ghana is a known sports nation, so many people can come up with ideas on products that can contribute to the development of the people and country as a whole.
He commended Mr. John Frimpong Manso for his vision, time, energy, time and efforts he has made to this stage when the product is about to be launched.
The Minister for Business Development in Ghana, Hon. Alhaji Ibrahim Mohammed Awal has also recommended the game and hopes Africans would love it as the product is for all peoples and not only Ghanaians.
He promised to appeal to the president, HE Nana Akuffo Addo and the government of Ghana to support him to manufacture more and send it out to the world.
In another development, Dave Agbenu, editor of the Ghanaian Times and executive member of the Ghana Journalists Association (GJA) said the media have to support in promoting the Frindo Game to be known all over Africa and the world. He said it was a good thing invented by a Ghanaian teacher.
The FrindoSoccer Indoor Board Game is played with a dice, by two or more people and can be played by groups or teams.
The game helps in knowing much about the technicalities in football and construction of words in dictation for students.
According to Mr. Frimpong – Manso, the game can be played by footballers and other sportsmen while in camp as it also refreshes the mind.
The launch of FrindoSoccer Board Game comes off in Accra at the Ghana International Press Center (GIPC) on March 12, 2019.

FRINDO SOCCER is a board game that depicts the actual game play of soccer on the field with a dice on a board.- It can be played in groups and singles.and can be used to organise any soccer competition be it gala,knockout and league.
Mr. Frimpong Manso hinted that Frindo Sports is also coming up with the production of sports wear and sports items like boots, training shoes, jerseys, tee shirts, balls to support the branding and marketing of the game.