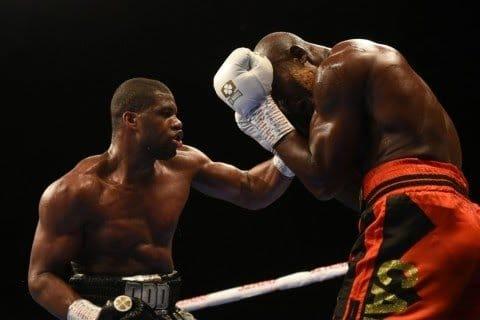 For many even in the United Kingdom Richard Lartey needs commendation for his wits, guts and share bravado plus a wonderful display that got team Dubois very afraid of the unthinkable should the fight had traveled the full 10 rounder.
On Saturday night at the Wembley SSE Arena, Ghana's Richard Lartey showed the spirit in him amidst all the frustration that he had to go through here in the United Kingdom. But that is certainly a topic for another day.
Daniel Dubois (11-0, 10 KOs) admitted the obvious fact that Richard Lartey was his toughest opponent so far in his shot pro career:
"I was able to adapt to it and cope with the pressure, but he caught me a few times, and lesson learned, the guy was rugged, tough and strong and he was swinging. Lesson learned – be careful at all times." Dubois said when quizzed on Lartey.
Richard Lartey was supposed to be a walk over for Daniel Dubois according to the script but Lartey did nearly brought down Frank Warren's institutional investment in Daniel Dubois. For many, everything was done to frustrate the Ghanaian. From visa issues to unnecessary delays and even Daniel Dubois's father came to the dressing room of Richard Lartey to congratulate him for given his son the toughest fight of his career and many felt Lartey is a very promising boxer to watch.
In my interview with media colleagues in the United Kingdom, Most if not all paid homage to the Ghanaian.
"Look Mate, that was a good boxer right there. he has earned my respect upon all the frustration and jet legged."
"Look I have never seen Daniel Dubois struggling like this my African Journo, Daniel was a stamina suspect. Look, let your guy request for a re-match."
"I totally understand your frustration, I simply can't and don't understand why the referee stopped the fight. Respect to Lartey Mann."
"I'm sorry man, but there was no way Lartey was going to have any favours. That is the nature of the game, he was not supposed to get to the fourth round and after what he did in the third, that toe to toe, pound for pound exchanges that nearly floored Dubois, it's obvious that he gave the promoters and stakeholders a big scare. Look, Lartey is a good boxer, he should come back for a re-match that is if Dubois is brave enough to grant it. lol."
Some of the assembled media including fans unanimously agreed that Richard Lartey was hard done on the night.
Richard Lartey is set to make a return journey back to the capital, Accra, Ghana on Wednesday after his diappoinment but with his heroic showing amidst all the frustrations, the Ghanaian deserves a warm welcome.
 By Sammy Ofosuhene, boxingghana.com