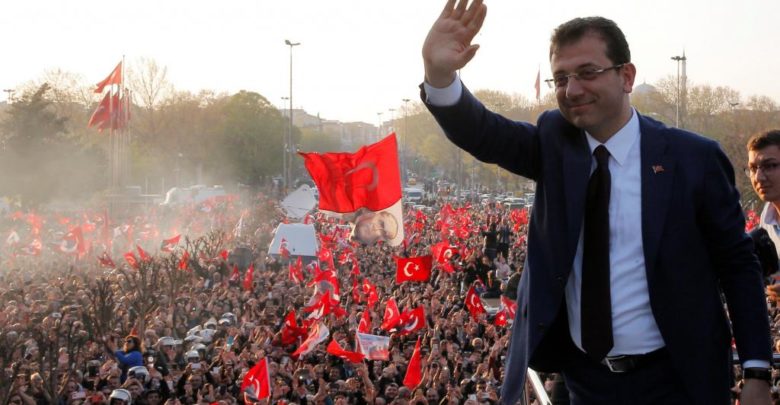 The defeat of Recep Tayyip Erdoğan's candidate in the Istanbul mayor's race is a victory for democracy, Turkey's opposition leader party has said, as he tried to convert the local win into national political momentum.
Mr Erdoğan's Justice and Development Party (AKP) lost the Istanbul mayoral election in March but forced a re-run of the contest, only to lose again by an even larger margin in Sunday's election.
The result electrified the Republican People's Party (CHP), the secular opposition party that has suffered more than 15 years of defeat since Mr Erdoğan first rose to power as Turkey's prime minister in 2003.
Thousands of young people, both CHP supporters and politically unaligned Istanbulites, took to the streets of the city in the early hours of Monday morning to celebrate the victory of CHP candidate Ekrem Imamoğlu.
Mr Imamoğlu won around 800,000 more votes than Binali Yildirim, a former AKP prime minister who is a close ally of Mr Erdogan. The scale of the victory was far larger than the 13,000 vote margin he won in March.  Mr Erdoğan appeared to immediately accept the defeat and tweeted his congratulations to Mr Imamoğlu. "Everyone who believes in democracy is proud of Turkey today. The whole world, who believe in democracy, is proud of Turkey," said Kemal Kiloçdaroğlu, the leader of the CHP. "I don't want anyone to feel sad. Do not forget, today the victor is democracy."
Mr Kiloçdaroğlu said his party was "now the party of the 82 million", meaning it represented the entire population of Turkey. "The CHP will not marginalize anyone, will respect their religion, ethnicity or social identity."
While the victory in Istanbul may have galvanised the CHP, it is not clear the party has many avenues to immediately direct its newfound political energy.
Turkish voters have gone to the polls every year since 2017 in a rapid succession of votes including a constitutional referendum, a national election, and this year's local election.
However, Turkey now has no elections scheduled until 2023. That gives Mr Erdoğan time to regroup politically while waiting for the energy generated by the CHP's Istanbul victory to dissipate.
Analysts said the Istanbul result still represented a major setback for Mr Erdogan and his decision to force a re-run of the March election will go down as a serious miscalculation by the Turkish president.
"President and AKP chairman Recep Tayyip Erdoğan will sure have to think over the main reasons for this defeat in Istanbul, twice in less than three months," said Serkan Demirtas, a columnist with the Hurriyet newspaper.
"Istanbul, with its more than 10 million voters, represents one-fifth of the entire Turkey, and any growing political trend in this city would resonate in the rest of the country."
Mr Erdoğan hoped to use the next four years to consolidate his own power and reassure investors, who have balked at Turkey's political instability and his own authoritarian rule.
However, the Moody's rating agency cut Turkey's sovereign credit rating even further this month out of concern over a potential government default.
The US has also threatened to bring sanctions against Turkey over its plans to deploy a Russian-made S-400 missile defence system, which Washington says is incompatible with Turkey's commitments as a Nato ally.
Sanctions could further dent Turkey's already weakened economy. Mr Erdoğan is likely to meet Donald Trump at a G20 summit in Japan this weekend, the first time the two men have met face-to-face since the S-400 standoff intensified.
telegraph.co.uk