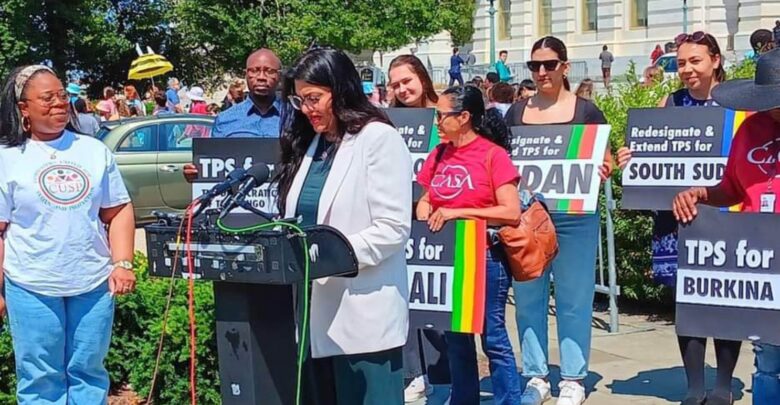 By Dela Ahiawor in Washington DC, USA
Anti- black discrimination has always been the bane of African migrants' life in the United States. This has led to the deportation of some African migrants to their home countries where they face life- threatening situations due to war, political upheaval and lately climate change.
To confront this problem, pro- immigrant advocates working with and hailing from African countries, as well as United States members of Congress, called on President Biden to enact Temporary Protection Status (TPS) for African immigrants in the U.S. at a press conference held at the "House Triangle" on the grounds of the U.S. Capitol in Washington DC on Africa Union Day, May 25.
The press meet was part of a week of action organized by advocates and immigrant leaders calling for protection for African migrants in the US.
U.S. Congress woman, Rep. Rashida Harbi Tlaib (D-Mich.) speaking at the press conference said: "Temporary Protected Status is one of the most important tools we have to prevent our immigrant neighbors from being deported and forced to return to violence, political upheaval, and devastation. Unfortunately, our immigration policies continue to leave Black and brown immigrants behind. I am proud to join these incredible advocates calling for redesignating Sudan, South Sudan and Cameroon, and designating Mali, the DRC, Nigeria and Mauritania for TPS."
African Migrants from vulnerable countries like: Mali, Mauritania, the DRC, Nigeria, Cameroon and Sudan face life- threatening situations when they are repatriated to their home countries.
For this reason, Congress man, Rep. Glenn Ivey (MD-04) asserted that: "TPS is critical for countries in Africa like Cameroon and Nigeria among others. We must treat those fleeing war and political violence from African countries in the same way we have welcomed those from Ukraine. Our country has been made stronger by the innovation, ingenuity, and entrepreneurial efforts of African immigrants. I join leaders of ACT in asking the administration to reinstate, implement or otherwise grant TPS to the countries highlighted in today's roundtable."
Moderator of the event, Zeinabou Sall of the Mauritanian Network for Human Rights in the U.S. emphasized that it's not right for thousands of immigrants in the U.S. to be repatriated to face violence in their home countries. According to Zeinabou, Biden's administration must act now, since advocates are singing the same tune.
Nigerian immigrant leader, Gbenga Ogunjimi, Founder of Nigerian Center Inc. said: "Extensive and protracted armed conflict mean that Nigeria is facing an extraordinary level of insecurity. Unfortunately, the conflict has recently escalated, leading to unprecedented levels of insecurity in Nigeria. The time to take action is now."
During the week of action from May (23-25), pro- immigrant advocates in a letter to President Biden stated that, some African migrants in the U.S. are protected, but many face imminent danger when deported. For this reason, members of congress emphasized that Biden has not been fair with the TPS, which has left out several African countries: Nigeria, Mauritania, Mali and Burkina Faso.
Temporary Protected Status (TPS), is. a time-limited permission granted to migrants in the U.S. to enable them live and work, and also protect them from being deported to countries considered unsafe.
www.delreport.com