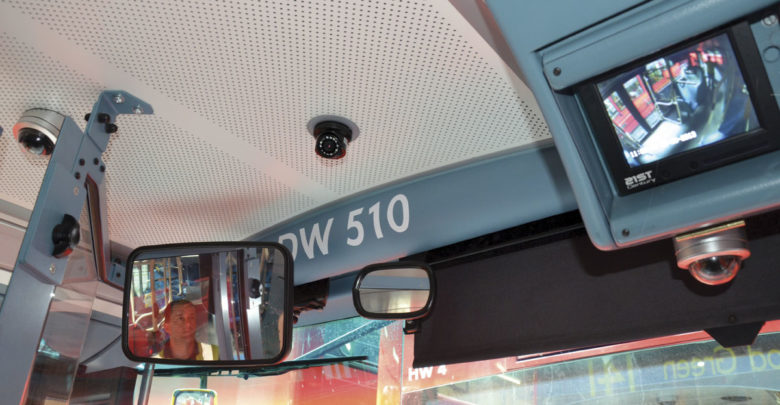 Van Hool, independent manufacturer of buses, coaches and industrial vehicles, chose Vision Systems' solution Smart-Vision to equip two coaches of the EX range and two of the TDX range exhibited at Busworld in hall 5 booth 502. This camera monitoring system is part of the many technological innovations integrated in Van Hool's vehicles that reflect the company's innovative strength.
Smart-Vision replaces the rearview mirrors with high-definition cameras and interior displays to offer optimized visibility and enhanced ergonomics. Compared with standard rearview mirrors, the interior displays eliminate glare and the automatic adjustment of the screens' brightness ensures excellent visibility in all lighting conditions, at the entrance and exit of tunnels, night and day, in every weather and in any driving environment. In addition to eliminating lateral blind spots, the solution provides functions such as the suppression of the A pillar blind spot, parking and maneuvering aid, guidance assistance and security monitoring around the vehicle.
The EX range takes into consideration the comfort and safety of the passengers in an environmentally and economically responsible manner while achieving efficiency and elegance. Vision Systems' Smart-Vision is fully in line with these needs. The removal of the mirrors lowers wind resistance for improved aerodynamics, which reduces fuel consumption by around 5% and CO2 emissions. It also reduces maintenance costs and down time linked to mirror breakage and offers a very modern design.
As for the TX range and more specifically the TDX Astromega double deck coach, the top class comfort coach, the remit was to provide the driver with a level of comfort as high as that of the passengers. Vision Systems' Smart-Vision responds to that expectation as it reduces the driver fatigue by offering extended visibility and more ergonomics.
"We are so proud to equip the vehicles of a leading bus manufacturer in Europe with our solution. Being part of Van Hool's innovative equipment is very rewarding and totally in line with our commitment to drive continuous innovation as a key to value-creating differentiation while responding to comfort and safety issues." stated David Le Berre, General Manager of Safety Tech Business Unit, Vision Systems' division dedicated to ADAS.
Vision Systems is already refitting 22 Van Hool Exqui.City trambuses in Geneva (Switzerland) and will equip 33 new Exqui.City trambuses by mid 2020 for TPG, the local public transport operator in Geneva.
Headquartered near Lyon, France, with a production and sales unit in Florida, USA, and trade offices in Singapore, Dubai and Montreal, Vision Systems is a tier-one system supplier in the aeronautic, land transport and marine industries, designing and producing bespoke solutions for specific market segments in complex environments.
Vision Systems' land transport activity offers global solutions for coaches, buses, recreational vehicles, special vehicles, trucks and trains: Advanced Driver Assistance Systems, shading systems including dimmable solutions, embedded entertainment systems and driver protection doors.
Vision Systems combines complementary skills in electronics, mechanics and composite to provide ever more innovative solutions for improved comfort, costs reduction and heightened safety.