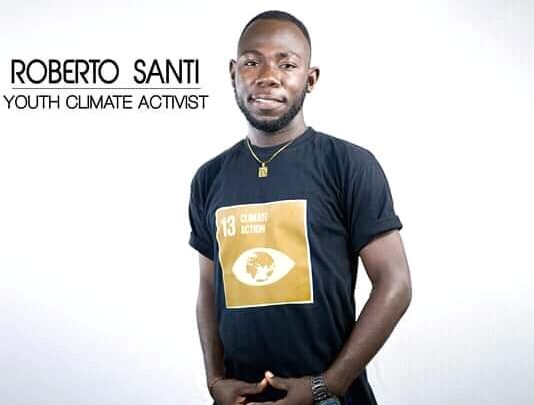 I am Robert Slewion famously called Roberto Santi. An Environmentalist and outstanding Liberian youth climate Activist.
He is the Founder & Executive Director at Roberto Santi Climate Reality Project Liberia Inc……. He has obtained a certificate of achieviement in understanding Climate change from the UNDP climate training program 2017 & YALI NETWORK. He senior student at Starz University of Science and technology, studying MIS.
He is very much passionate about the Environment and our planet. He is currently doing a resreach on how to build a resilient climate Smart generation in Africa. He will be coming out with good results on his research as soon as possible.
Right now we have lot of challenges facing our planet Earth, the issue of Climate change is urgent and need to be trickle down….. We human are the problem and we can be the solution , if we work collectively.
Lack of climate education to our local communities , schools, work places and in our own surrounding keep us doing the same thing over and over.
Discovering such a problem, really motivated me to do more awareness. Improve education on Climate change through workshop, training program and public engagement. It's the best way to mitigate climate related disasters.
The solution is to plant more trees, encourage zero waste, public engagement and Climate law to perserve the Environment. Awareness rising is Cardinals to the fight for Climate Justice.
Everyone needs to be involve. Climate change is the greatest threat to human health in history. It's every body business.
We can do great things together.
Presenter: We can do great things together indeed. The Liberian Youth for Climate Actions is open to partnerships in other to take collective actions. Like I always say, we all have a role to play as Africans in achieving goal 13 of the sustainable development goals !!
#What
's your view and practical sustainable solutions to this problem as well?
Source: Climate Daily Effects (C.D.F) is a social media platform that share stories and solutions to climate crisis in everyday life. C.D.F is presented to you Friday of every week by LYCA 's Climate Education Coordinator Miss. Kadiatu A. Sheriff. Climate Daily Effects is an initiative of  Liberian  Youth for Climate  Actions (LYCA)
You can share your stories and solutions to us (LYCA ) through these media: Nyanfor7077@gmail.com, lycactions@gmail.com , Whatsapp (+231776882413), Follow us on Facebook @LYCActions
www.delreport.com