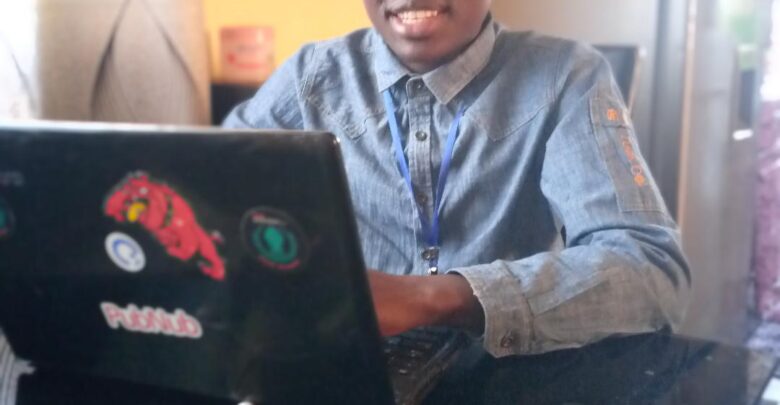 By  Moses Mupeta
My name is Moses Mupeta aged 22, a front-end developer and a network expert. I am focused, hardworking and a problem solver who gave up on the path of becoming a Medical Doctor to do something I love and always wanted to do. During my childhood, I enjoyed watching movies that involved hacking and thus developed the desire to become a hacker and thought of developing hacking tools some day.
My jouney of learning code came with a lot of difficulties in that:
1) I had no background in computers.
2) I did not understand how codes worked
3) I had no code buddy to discuss and share coding related issues with.
4) I find it difficult to keep up with framework tools and libraries as technology keeps on evolving.
To overcome this I developed a positive attitude towards coding, and spent at least two hours a day coding and now I codes in Python, Java, C++ and php etc.
I am now in my second year studying Bachelor of science in Information Security and Computer Forensics at Information and Communications University. Besides that I have done online courses and obtained certificates in Java, python, php, Database, Data science, C++, Machine learning, ethical hacking, penetration testing, Computer Forensics, Cryptography, Network Security etc from different online platforms which includes Edx, Alison, Future Learn,Udemy, Pirple, Conventry University UK and Institute of Coding.

I am also the CEO and founder of Wilses Cyber Security Solutions, a startup which offers information Security services, Cyber security services, Data recovery, Device tracking, IT consulting and Penetration Testing. I also runs an online academy called Wilses Cyber Security Solutions Academy, an Academy which is offering awareness trainings on Cyber security for free. besides that i am also a Co-founder and a program coordinator at RAMOS graphics & Web Designing. I am also an ambassador for IEEE to Zambia and a member of Facebook Developer Circle, and Zindi Africa a data science platform.
I develops and designs mobile apps, websites, databases and graphics .I am currently developing ethical hacking tools which my Startup is currently using to provide Cyber Security services and in its Cyber Security Trainings.I am currently working on a number of software projects for Huduma Security Company, Precious smiles, Wanga sites and COSC etc which are yet to be published.
I hopes to get a master's degree in Cyber Security and data science. I sees myself self employed and expanding my startup across borders. And as far as Zambia is concerned i would love to see more Zambians become aware of Cyber Crime/Attacks and how they can defend themselves from common Cyber attacks, which will help them be safe in the Cyber Space.
I would also love to see computer programming introduced in secondary Schools as well as improvement in data network.
And lastly I have this to say, "Stay determined in life and until when you reach your goal, don't let others who have achieved much make you stop coding, we all started with an idea until we turned that into reality. Use the little skills you have to come up with something that can change the IT industry. Never stop trying, Never stop believing and Never give up".
For more information contact +260973204432 or moses@wilsescybersolutions.co Facebook page: wilses cyber security solutions
www.delreport.com