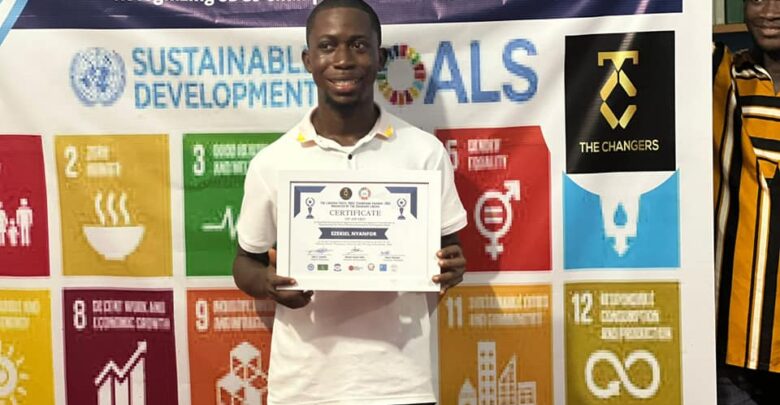 By Dela Ahiawor (Climate Journalist)
The "Liberian Youth SDGs champions Awards 2021," has recognized prominent, young Liberian climate Activist, Ezekiel Nyanfor as SDG (13) Climate Action Champion/ Climate Activist of the Year," for championing the United Nations Sustainable Development Goals in Liberia.
The awards, organised by "The Changers and partners" on December 17 in Monrovia, Liberia also awarded nine young SDG Advocates in their various SDG areas for promoting the SDGs in their various communities, high schools and universities. The "Liberian Youth SDGs Champions Awards 2021," under the theme: "Recognizing SDGs Champions, Promoting the 2030 Agenda," aims to encourage youth participation and further inspire them in achieving the Sustainable Development Goals and accelerate more SDGs actors.
"We envision an award that will not only recognize young Liberians, but also empower them to extend their impacts beyond. This we believe has the propensity to achieve more SDGs Champions and eventually achieve the Sustainable Development Goals." The organisers said.
Photo: Some awardees of the "Liberian Youth SDGs champions Awards 2021"
Prior to receiving the awards, the awardees shared interesting stories of how they have strived through volunteerism to impact their communities and country, despite numerous challenges ranging from lack of financial support, to lack of empowerment they encounter whilst working towards sustainability.
As the only climate activist among the awardees, Mr. Ezekiel Nyanfor said: "Being awarded such a prestigious award by your fellow youths/citizens means a lot. I believe that awards from your country should be respected, cherished, valued, and honoured. This is because the impacts are being made in your local communities and at the national level. Therefore, if these people don't award you then you are making no impact or your impact has not been felt. It has fueled my spirit. I will continue to do what I do best, protect Mother Earth, and create a sustainable future and planet for this generation and generations to come. Climate Actions Now!"
Sustainable Development Goal 13 (SDG 13) focuses on climate action. It's one of the 17 SDGs established by the United Nations in 2015. SDG 13 aims to "Take urgent action to combat climate change and its impacts," by the year, 2030.
—–Dela Ahiawor focuses on sustainability/ climate related journalism and events across the globe—–
Contacts: deljason3000@yahoo.com / @DAhiawor
www.delreport.com