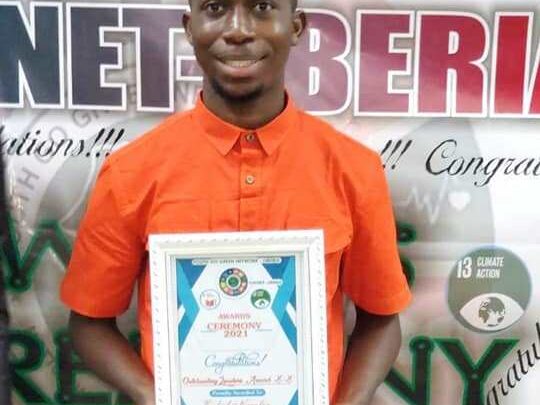 By Dela Ahiawor || Climate Journalist
YUGNET, a Liberian non-profit focused on promoting the Sustainable Development Goals (SDGS) has named Mr. Ezekiel Nyanfor, a Liberian youth climate activist as the "Outstanding Youth Leader of the year 2020" out of 19 youths at the "1st Meet and Greet Dinner -Awards Ceremony," on January 31 at the MVTC Theatre in Monrovia, Liberia.
Speaking on the theme: "Recognizing the Unknown Champions and Unearthing their Hidden Talents to the world," the Executive Director of YUGNET, Amb. Sampson Godsent Wherdaigar noted that: "Youths are working but are not recognized. We need to identify those that are doing great works."

The event is geared towards unearthing the hidden potentials and contributions of young, passionate and progressive Liberian youth leaders and institutions whose activities have and continue to make significant impacts in Liberia.
The awards ceremony, brought together youth leaders and changemakers across Montserrado County and its environs to celebrate the works of deserving and impact driven youths in 2020, to have fun, share wine and dine together.
Commenting on his award, Mr. Ezekiel Nyanfor said: "The fight against climate change must be accompanied by a strong and robust leadership ability. Over the past year my leadership skills in the fight against climate change was monitored, tested, and now proven by the Liberian community."
YUGNET is an acronym for Youth Go Green Network-Liberia, a youth-led, non-profit and non-governmental organization focused on the promotion of the 17 UN Sustainable Development Goals (SDGS) with the primary focus on climate change (SDG13) and quality education (SDG4) in Liberia.
www.delreport.com