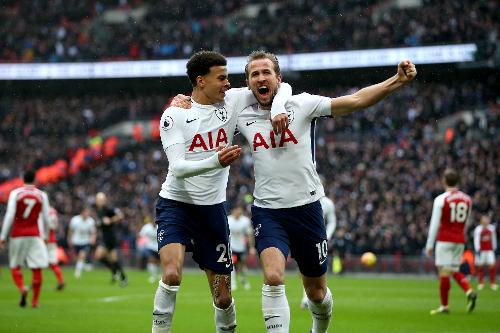 Samantha Lamberti of Nielsen Sports reflects on brands' increasing preference to line up with sports properties that can support their environmental and social goals
Tottenham Hotspur Football Club now has an 'Official Battery Technology Partner' in the shape of VivoPower.
It's a title that the sustainable energy provider, established in 2014, paid for as part of a wider relationship in which it will provide a 3MW battery (to balance Spurs' stadium's power supply), rooftop solar panels, and custom microgrid controls, to the Premier League club as it "accelerates towards becoming a net zero business".
A few weeks before the deal was announced, Tottenham Hotspur was ranked first in the Premier League Sustainability Table published by Sport Positive, and was recognised for not only its operational efficiencies, but also outreach and advocacy about climate issues.
Commenting on the tie-up, Kevin Chin, executive chairman and chief executive of VivoPower, said that the company has "to be sure that our partners share our goals and ethos".
Climate action is clearly the goal Chin is articulating here. As well as being a sustainable energy provider – diametrically opposed to the fossil fuel industry responsible, in a large part, for the onset of climate change – VivoPower is also a certified B Corporation, an organisation legally required to consider the social and environmental impacts of their business.
"Given Tottenham's excellent sustainability credentials," Chin continued, "we know we're partnering with a sports business that shares our values and vision."
The nature of sport sponsorship is shifting, and while relationships like 'Official Battery Technology Partner' may still be novel, commercial deals in the sports industry will increasingly contain sustainability (or purpose) elements – or be built specifically around environmental protection and climate action.
"We help many brands build their sponsorship strategy, and in the last couple of years there is an increasing demand for support on selecting the sports platforms enhancing brand's values and what they stand for – whether that's a commitment to sustainability, or diversity and inclusion," Samantha Lamberti, head of consulting, Europe & Middle East at Nielsen Sports, tells The Sustainability Report.
"Analysing the vast amount of sport sponsorship data we have available, we have been able to isolate and size the sustainability trend for the market."
And what does it mean? Well, according to Nielsen Sports' latest report, The Changing Value of Sponsorship, rights holders with a genuine sustainability agenda can potentially grow their revenues by as much as 10% over the next three-to-five years compared with counterparts without the same focus.
So when Tottenham Hotspur finish top of the Premier League Sustainability Table, it doesn't just result in a pat on the back for the club's operations team. It means the club's commercial team can engage brands who have not traditionally invested in sport, like VivoPower, and shape activations to help them showcase their own sustainability credentials and objectives.
Lamberti caveats that the 10% figure is just a projection based on previous data trends within Nielsen's Sponsorglobe sponsorship deals database and its Fan Insights global consumer research study. Sustainability and climate awareness are fast becoming key objectives of sponsorship programmes and activations for many global brands.
This shift is being driven by changing consumer behaviours and attitudes, with people now increasingly prepared to change their habits where a brand does not align with their values.
"Nielsen Fan Insights data suggests that over 47% of global respondents say they have a greater interest in brands that have been socially responsible and 'do good' more than before", Lamberti says.
She highlights partnerships between the International Olympic Committee and Airbnb (which is built around sustainable travel) and Amazon's naming rights sponsorship of Seattle Kraken's Climate Pledge Arena as good examples.
But over the last year or so, these types of partnerships have become more prominent: in Italy, for example, Serie A football clubs AC Milan and Udinese have partnered with transport companies to develop sustainability-focused activations.
Romanian car-maker, Dacia, acquired the naming rights to Udinese's home stadium with the ambition of transforming it into a 'CO2-free' venue. AC Milan recently extended its 'mobility goes green' partnership with Avis Italia, who will provide a fleet of hybrid and electric vehicles for the club, as well as the co-development of "emotional content" aimed at engaging the club's fans with "key messages around and increasingly green and eco-sustainable society".
Sustainability-related sponsorship is an area of potential growth for rights holders, says Lamberti, because brands are under increasing pressure from consumers to demonstrate meaningful positive action when it comes to the environment and climate change.
Dacia's parent company, Groupe Renault, for instance, has pledged to reduce its carbon footprint by 25% by 2022 and achieve "zero CO2 impact" by 2050 in Europe. As a producer of petrol and diesel cars with combustion engines (which, of course, contribute to climate change), strong sustainability targets give car manufacturers their licence to operate.
It's a shift away from the traditional 'pay-to-play' sponsorship model built around impressions and getting millions of eyeballs on a certain product or brand. According to The Changing Value of Sponsorship, brands are now increasingly seeking rights holders that can "provide them with a platform to promote their own values", such as sustainability.
That's why a key priority of Pepsico's UEFA Champions League sponsorship renewal (2021-2024) is "working together to deliver increasingly sustainable events, reducing plastic waste and recycling", while Procter & Gamble's Worldwide Olympic Partnership renewal (until 2028) is being referred to as "citizenship-driven partnership", with both P&G and the IOC pledging to "make progress" on equality and inclusion, environmental sustainability, and community impact.
And Lamberti believes this trend will only grow stronger as we eventually emerge from the worst of Covid-19.
"Sustainability and social causes is definitely one of the top priorities that brands have when thinking about a new sponsorship activation or activating an existing one," she explains. "It's about: 'Is the sport property aligned with my core values? Does it allow us to enhance what we stand for?'
"Sponsoring just follows this. So if the question is: 'How much do I see this?' The answer is 'a lot'. It's absolutely key." Source: https://sustainabilityreport.com/2021/03/25/sustainability-a-top-priority-for-sponsorship-activations/