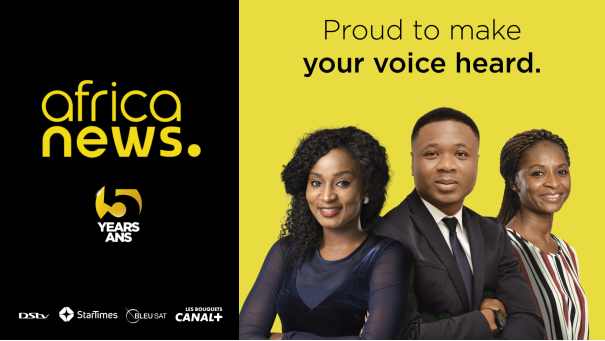 Africanews, part of the Euronews group, will celebrate its fifth anniversary on 20th April 2021. To mark the event, the pan-African news channel will offer special coverage from 19th April to 9th May and will launch a new brand campaign.
The special coverage will look back at what has happened in Africa in the last five years, how the continent is rising today to the challenge of the COVID-19 pandemic, as well as what perspectives, hopes and aspirations people in Africa have for the next five years.
High-profile interviews of voices shaping the African continent in various sectors such as the economy, culture, health, sport, diplomacy, or tech will air daily. These will include Haweya Mohamed, the Franco Somali co-founder of tech company Afrobytes, Samuel Eto'o, Cameroonian international football player, Carlos Lopes, High Representative of the Commission of the African Union, Femi Kuti, Nigerian Musician, son of Fela Kuti, creator of Afrobeat, Phumla Williams, Director-General of the South African Government Communication and Information Systems department in charge of the Covid-19 strategy, Angélique Kidjo, the Grammy award winner singer from Benin, and Didier Drogba, international football player from the Ivory Coast.
Special editions of 'Morning Call', presented by Laetitia Lago and 'Night Shift', presented by award-winning Nigerian journalist Jerry Fisayo Bambi, will air on 20th April to look back on five years of Africanews. That week, the channel will also air special "fifth anniversary" editions of its flagship shows 'Business Africa' and 'Inspire Africa', which bring a unique perspective to developments of the continent across economic, cultural and business and entrepreneurial initiatives.
| | |
| --- | --- |
| | Michael Peters, Euronews and Africanews CEO, said: |
"We are proud of all that Africanews has achieved in the last five years, it has grown its audience reach and has become a recognisable brand with a unique positioning as an independent unbiased multilingual media made for Africa. Today, Africanews is distributed in over 35 million homes and over 40 countries in Africa, but also in the UK and the USA. Almost half of Africans are aware of Africanews[1]. Audiences are steadily increasing both on TV and digital platforms: Africanews' social media channels boast 1 million followers/ subscribers and page views on its website & app have increased by over 100% in the last six months alone. We look forward to growing further Africanews' offer and reach in the next five years."
Alongside the editorial coverage, Africanews will launch a brand campaign under the tagline "Proud to make your voice heard", aiming to reinforce Africanews' mission to cover and amplify the diversity of African voices, to connect Africans with the continent and the rest of the world. The campaign will run across various supports: digital, print, OOH. Content will also appear on partner platforms as well as on Africanews' owned and operated platforms.
| | |
| --- | --- |
| | Jerry Fisayo Bambi, Africanews presenter, said: |
"Today, more than ever, Africanews strives to make African voices heard, through our news bulletins and shows like 'Inspire Africa' which I host. Our diversity, and commitment to telling African stories through fact-based impartial journalism, and our increasing reach across the continent sets us apart. I can't wait to see what we will achieve in the next five years."
Africanews is the only independent international multilingual news channel made for Africa. Launched in 2016, Africanews reports breaking news from the ground and delivers unbiased reporting. Africanews is available 24/7, both on TV and on digital platforms, in French and in English. With a team of 50 correspondents representing the diversity of Africa, Africanews showcases all the voices shaping the future of the continent.
Both Euronews and Africanews are widely distributed in Africa and beyond[2]. With a combined reach of more than 50% of upscale Africans across the continent, the Euronews group's commercial team works with brands across the African continent, developing advertising, sponsorship, branded content and specialist events to engage with this affluent and influential audience.
| | |
| --- | --- |
| | Marianne Michelet, Commercial Director for Africa at the Euronews group, said: |
"Our direct sales teams and our partners at DSTV in South Africa, work with brands and governments from across the continent, including the likes of Brand South Africa, MTN, Vodacom, African Development Bank and OCP as well as international brands from around the world who are seeking to target this highly attractive and growing audience, recent partners include Orange, Novartis, DP World and many more."
Euronews
Euronews is Europe's leading international news channel. Its mission is to empower people to form their own opinion. Euronews is unapologetically impartial and seeks to offer a diversity of viewpoints: Euronews is "All Views".
Since its launch in 1993 in Lyon (France), Euronews has been delivering impartial news trusted by audiences across the world, available over 400 million homes across 160 countries, including 67% of homes in the European Union + the UK. It reaches over 140 million people every month, be it on TV or digital platforms.
In 2017, Euronews renewed its offer by launching 12 distinct language editions, with a "glocal" approach to news: Euronews continues to grow as a global media offering content adapted to the expectations of local audiences. Aside from round-the-clock news coverage, Euronews has dedicated shows covering topics like science, climate, business, current affairs and culture, both on television and on its digital platforms.
With a team of 400 journalists of more than 30 different nationalities and correspondents across Europe, Euronews' 12 cross-platform language editions cover European and world news 24/7 in Arabic, English, French, German, Greek, Hungarian, Italian, Persian, Portuguese, Russian, Spanish and Turkish.
With its headquarters in Lyon, Euronews also has offices (editorial and/or commercial) in Brussels, Athens and Budapest, Berlin, London, Paris, Luanda, Johannesburg, the United Arab Emirates and Singapore. Since 2018, it has launched four branded affiliate projects: Euronews Albania, Euronews Georgia and Euronews Serbia and Euronews Romania.
In 2016, Euronews group launched its sister channel Africanews, the first pan-African multilingual and independent news outlet.