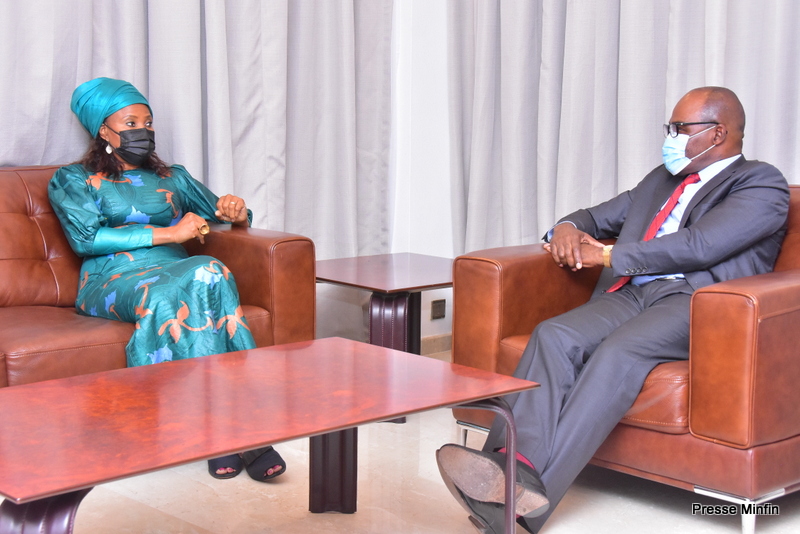 On Friday, August 13, 2021, the Under Secretary General, Assistant Administrator and Regional Director of the United Nations Development Program (UNDP) for Africa, Ahunna EZIAKONWA, encouraged the Minister of Finance, Nicolas KAZADI, to maintain his efforts in the mobilization of public revenues. During this short meeting, the Minister of Finance and the Regional Director discussed several issues affecting the development of the DRC.
The Sustainable Development Goals (SDGs) were also discussed, as they are a global call to action to eradicate poverty, protect the planet and ensure that all human beings live in peace and security. According to Ahunna EZIAKONWA, this global goal also concerns the Congolese as their priorities meet the objectives of the UNDP.
Ahunna Eziakonwa reiterated the fact that the UNDP is one of the main multilateral development agencies in the DRC. Active in nine provinces, UNDP helps the country to develop policies, strengthen institutional capacities and share solutions to problems related to sustainable development, democratic governance and climate change. Africa's UNDP Regional Director further urged the Minister of Finance to work more on the preservation of the ecosystem in order to contribute to the global effort for a sustainable future.
With regards to the African continental free trade area, the Under-Secretary General emphasized the economic and redistributive effects. According to Ahunna EZIAKONWA, the free trade area could enable African countries, including the DRC, to pull several million people out of extreme poverty and increase the income of those living below the minimum wage. The implementation of the free trade area would also allow for the necessary reforms to be carried out to drive long-term growth.
During this meeting, Ms. Ahunna Eziakonwa also discussed with Nicolas Kazadi, new opportunities under consideration between the UNDP and the Democratic Republic of Congo. In her words, the Minister of Finance was receptive to all her concerns and expressed his commitment to play his role in the successful completion of all initiatives contributing to social welfare.
After this exchange with Mr. Nicolas Kazadi, Ms. Ahunna Eziakonwa was optimistic about the implementation of projects that the two parties plan to undertake. Education, health, new information technologies and communication are a few of the areas on which they plan to collaborate. This official visit aimed to further strengthen the partnership between the UNDP and the Congolese government, especially in priority areas.
www.delreport.com