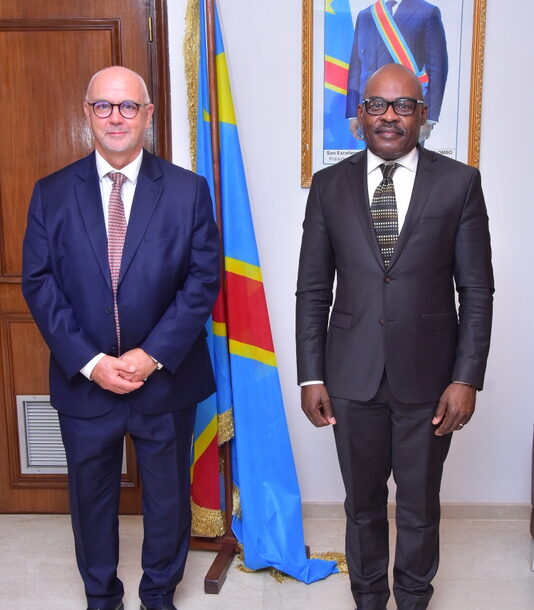 On Monday, August 16th, the Finance Minister, Nicolas Kazadi met with DRC's outgoing Director of the French Development Agency (AFD) Didier GERBERT. As the main objective of modern systems, good financial governance requires the establishment of sound institutions that regulate the allocation of funds, budget execution systems that operate with legality, accounting systems and auditing systems that guarantee the quality of information and adequate financial systems. This was the reason that the two parties deemed it useful to work closely together from now on in order to deepen this approach aimed at the progress of the DRC.
The Congolese government has established various mechanisms to improve budgetary discipline and align its budget with the previously identified priorities of the global plan, including all sectors that can trigger the development process. However, according to the outgoing Director of the AFD, system-wide problems such as the prevalence of unregulated budget systems, lack of transparency and inadequate accountability systems persist. As such, appropriate strategies need to be put in place to permanently overcome the challenges that obstruct the proper functioning of institutions.
The Minister of Finance Nicolas KAZADI has expressed his commitment to implement all the modern principles that constitute the rational management of public finances. These include public finances that are mobilized internally, as well as those from external donors, including the French development agency.
This meeting enabled Nicolas Kazadi and the AFD delegation to examine good public financial governance as a prerequisite for the DRC to acquire the necessary capacities for development, economic growth and poverty reduction. The efficient management of the DRC's financial resources will ensure that its citizens access health, education and sanitation services, as well as work and live in healthy environments that take into account human protection.
AFD has been in the DRC since 1976 and has already financed several priority projects with substantial impact in the social sector. AFD interrupted its activities in 1991 due to a long period of political crisis and did not resume its activities in Kinshasa until early 2003. On July 10, 2013, the launch of the first development and debt reduction contract signed between France and the DRC marked a real turning point and a change of scale for the agency.
Since then, AFD has focused its activities on certain areas such as reducing social and territorial inequalities, strengthening human capital (specifically in vocational training), and supporting the development of the DRC. Among the priority projects to reinforce their presence are the support for sustainable forest management, access to drinking water, and improving mother-child health by supporting reference hospitals. Didier Gerbert took the opportunity to introduce Mrs. Safia Ibrahim-Nette who will succeed him in this position shortly.
www.delreport.com