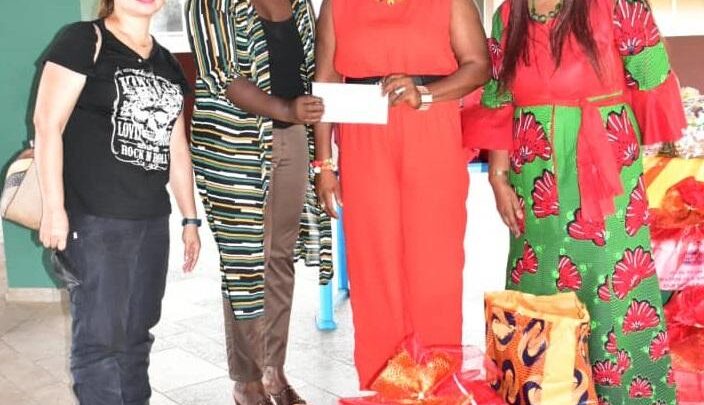 Bebbies Events Ghana has demonstrated true love to eight sports personalities with the presentation of Christmas gifts (hampers) on Monday December 27 at the Accra Sports Stadium.
Madam Alberta Ferguson, a representative of Bebbies Events Ghana presented the items and undisclosed cash to the retired sports women who are over 60 years on behalf of her CEO, Mrs. Abigail Mckorley.
She conveyed a message of love and hope from Mrs. Abigail Mckorley, wife of Dr. Daniel Mckorley to the recipients and thanked them for doing sports for Ghana.
Those who received the gifts include the president and executive director of Women In Sports Association (WISA,), Madam Gloria Commodore, a former all round athlete who was interested in boxing, weightlifting and running, President of Women Sports Association of Ghana (WOSPAG) , Mrs. Joyce Mahama, Chairman of the Woman's Commission of the Ghana Olympic Committee GOC, Madam Elizabeth King who doubles as the Vice President of the Ghana Hockey Association, Retired Fire Officer, Miss Cynthia Akwele Lamptey a former Handball and Football goalie, Madam Angelina Ocran, former Sports Director of the Customs Exice and Preventive Services CEPS who playedr Volleyball and Handball , Miss Christiana Dodoo also a former Handball player who worked with the National Sports Council, now National Sports Authority, Madam Grace Armah, a retired Ghana Prisons Officer who did 100 meters and Long Jump for Ghana at the Los Angeles and Seoul Olympic Games in 1984 and 1988 respectively as well as Mr. Sammy Heywood Okine, an experienced Sports Journalist who also represented Ghana at the recent Tokyo 2020 Olympic Games. He happens to be the only male director and advisor of WISA.
The impressive ceremony took place at Tagoe's Kitchen at the Accra Sports Stadium and was witnessed by Miss Elizabeth Alhassan, Deputy PRO of WISA.
She said the gesture by Bebbies should inspire young girls to participate in sports as they would be richly rewarded.
However, all the recipients felt government must be responsible in honouring and rewarding people who did well for Ghana Sports.
They urged Ministry of Youth and Sports to bring back the tartan tracks at the Accra Sports Stadium for athletes living in Accra Central, James Town, Korle Gonno Mamprobi, Chorkor, Osu, Nima and La to use.
They also advised the media, especially SWAG to recognize the achievements of women in sports to encourage more females to participate in sports.
They all claimed joy in doing sports and representing women in sports.
Madam Elizabeth King and Grace Armah on behalf of WISA thanked Bebbies, while Gloria Commodore urged other organizations to support WISA which was founded eight years ago to seek to the welfare of females doing sports.
Chief Eke Chuku, dad of Triple Jumper / Olympian, Nadia Eke also supported WISA with some funds.
WISA has over the years honoured athletes in various disciplines, administrators, sports supporters, journalists and coaches.
By Richmond Karikari Boateng