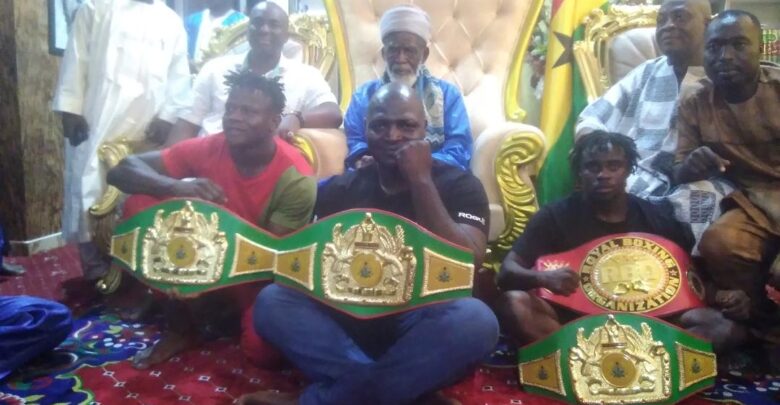 Three national boxing champions from the Zongo community in Ghana have presented their titles to the Chief imam, Alhaji Osumanu Nuhu Sharubutu at his residence at New Fadama in Accra on Monday.
Heavyweight Osumanu Haruna Middleweight Mubarak Abubakar and Light Flyweight Joseph Akai Nettey led by their manager, Mohammed Abdul Samed were accompanied by the Ghana Boxing Authority President Abraham Kotei Neequaye and executive member Alhaji Toffic who is also president of the West African Boxing Union.
The National Chief Imam blessed the boxers and advised them to train hard and defend their titles for a long time by being disciplined and dedicated to the sport.
Ghana Heavyweight champion Haruna aka Saabo gave a rendition of his Muslim music to the admiration of all present.
Alhaji Khuzaima Osman, special assistant to the National Chief Imam hailed the trio for making history for Muslims and urged other youth in the Zongos to emulate their achievements.
Alhaji Toffic commended the boxers and informed that he has been in boxing for over 40 years years and this is the first time that Zongo Community boxers have made him proud by becoming national champions.
The Ghana Boxing Authority President, Abraham Neequaye said boxing is still the number one sport because Ghana has produced 11 world champions including the new Royal Boxing Organization RBO Champion, Akai Nettey.
He appealed to the Chief Imam and businesses in the Zongo Community to support boxing in Ghana.
Mohammed Abdul Samed, manager of the boxers expressed his joy, and hinted that this is the beginning as there is more to come. He revealed that his target is the big titles especially the world titles. He thanked all Zongo people for the massive support.
By Yaw Osei-Yeboah