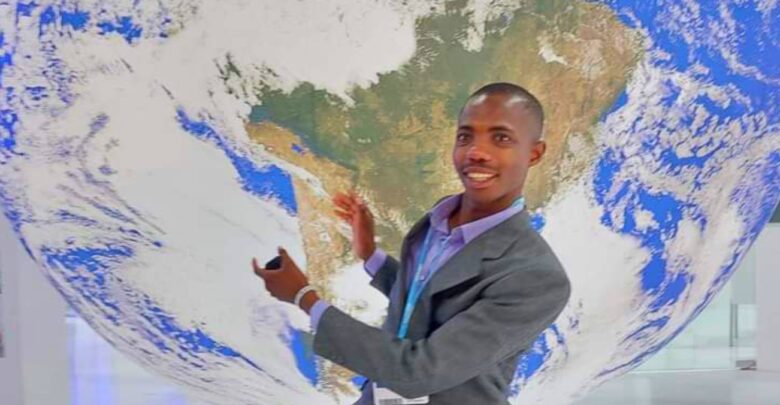 By Blutus Mbambi (Youth Climate Activist)
Growing up in the outskirt of Masaiti District's Miputu Village on the Copperbelt Province in Zambia, was difficult to access quality education, clean water, electricity and adapt to adverse effect of Climate Change. At that time my parents were Small Holder Farmers who used to cut down trees to process Charcoal with the hope of generating money to buy bags of Fertilizer and put food on the table.Riding a bicycle 20km to access a Hospital or Marketing place to sale Vegetable's was an everyday way of life.
In 2011, at the age of 13yrs was selected to Grade Eight (8). Unfortunately, my father went to jail the following day of my junior school school, leaving with no one to pay for my my fees. Mum then made it possible by negotiating with the Headteacher for me to start attending classes on credit (Kongole). A month later, I stopped attending class for three months as mum didn't fulfil her promises. Worse off, we never had an access to a phone to call our relatives living in Urban Areas.
She then sat me down and said, "Son (kasweka) you have so much potential, you're intelligent and I wouldn't like it you ending your career like this. You will start cutting down trees to make Ichibili in order to raise funds for your fees." I replied to her, Mum but have never done this before and it's only dad who can do this, She looked at me and said, "You're strong like your father." With God's unlimited grace, we processed charcoal and in third term I went back to school.
In 2012, I sat for my Grade Nine(9) exams and lucky enough I was among the top 3 selected to Chiwala Boarding School but couldn't manage to pay the fees. Thus, resorted for a space at Twashuka Secondary school with the struggle of moving 30km from my village to reconnect with my school everyday at the age of 15yrs.During this period dad still in jail, got admitted in the Hospital. Unable to talk, eat or do anything left mum confused and full of responsibilities.
But I never gave up on School, spent one year riding a bicycle; covering a total of 60km everyday to attend classes. Never he as a smile on my face or looked happy. I was a sad pupil ever, my performance was average, couldn't study during school days due to lack of electricity. I recall having friends who made funny of me, to an extent of nicknaming me "KAMUSHI" meaning "VILLAGER) and calling me Umulamba, when was actually Luvale/Chokwe.God being kind to us, we used to put dad in prayers, then he got discharged from the hospital and went back to jail, a month later he was pardoned on Independence Day.
During my eleventh Grade, Grandpa from DRC bought a house near to school made us to shift there and atleast it made life easier to catch up with school and my studies. Nevertheless, on weekends I had to go and help mum with farm related work in the village. I didn't even know what made me balance well with school, cause my brother stopped school in Grade Nine(9) and he was intelligent than me.
Finally, in 2015 I sat for my Grade Twelve(12) exams and I got good grades to enroll in University. I was then introduced to IT short courses(computers) and it was my first time to operate a Desktop (computer) was pretty nervous. After trainings, I started working at the internet cafe. I really wanted to go to university, did apply with Ndola Teaching Hospital,  was accepted to pursue Biomedical Science but again my family never managed.
One day a customer came at the internet cafe, a teacher by profession (how I wish I could remember his name but unfortunately not), he was submitting assignments via online portal to this university called Information and Communication University (ICU), while submitting I said to him, Sir..! I wish I can go to university someday and he replied, " My boy all is well, ICU is offering scholarships. Give it a shot," I applied under the the School of Engineering to pursue a Bachelor's of Science in Computer Forensic. It took me Six (6) months to learn that I got an admission, cause never had access to my email at that time as i was no longer  working at the cafe. However , I received a text saying, "Congratulations Blutus Mbambi, you've been given a scholarship to study with ICU." I was super excited. This was my first time traveling to Zambia's capital city Lusaka.
Then stayed with my mum's cousins as we couldn't afford to pay for a Boarding House. They helped me realize the great potential I had and May God Continue Blessing the MUSANDA's FAMILY.The program having to do more of practical , it required me to have a big computer. Again my parents couldn't afford. As originally planned to study Computer Science Forensic, financial constraints and the droughts triggered a rethink as I switched to study Climate related program.
During my school activities, was introduced to Chisala Bwalya and Billy Peterlennards Munyenyembe. These guys where doing amazing works in 2017, I got inspired but I didn't believe in myself that I could speak , by God's grace I was appointed President of the Environment Society. This was the moment i realized that I can stand up and speak for the Environment. All of a sudden, people stared calling me a Environment Activist. Having no idea on how to run the Environmental Society; Tadashi Lakhiguidance helped me to put the pieces together to Co-create activities.
Now am a holder of a Bachelor's of Science in Environmental Management System, Trained Climate Negotiator by UNFCCC. Also a Co-founder of an NGO, Centre for Climate Change Action and Advocacy – CCCAA Zambia, whose goal is to provide a platform for local Climate Change Research, Technology Innovation and implementation for appropriate Climate Change Action. It's basically a platform for Young People in Zambia, to be Innovative, Brainstorm on how to unlock Green Jobs abd disseminate Information on Climate Change.
Young Zambians are in need of jobs, off course not any kind of jobs but Sustainable Green Jobs which can unlock Traditional areas of Agriculture, Forestry and Land use. There's also new jobs in the Energy Industrial Sector and Waste Management – all are crucial for Zambia's Development, Improving the capacity of young people in terms of Skills Development, making Climate Finance accessible to the youths and technical institutional  capacity is key. Also we aim to provide a platform for local Climate Change Research, Technological Innovation and Implementation for appropriate Climate Change Action.
Remain A Project In God's Divine Hands….