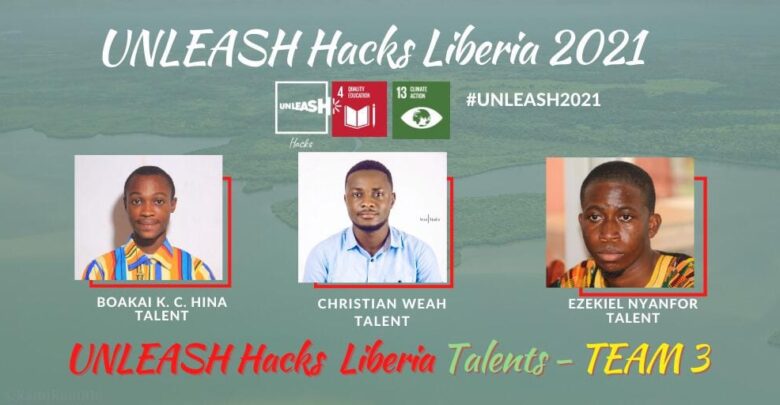 By Dela Ahiawor (Climate Journalist)
Prominent Liberian youth climate activist, Ezekiel Nyanfor led talents-team 3 to win the Unleash Hacks Liberia 2021 competition held on June 5 and 12 at the Smart Liberia Campus in Monrovia, Liberia.
UNLEASH Hacks are localized hackathons designed to address sustainability challenges in specific contexts around the world. Through a collaborative 2-day event organized by UNLEASH alumni and their network, passionate talents work with local stakeholders and community leaders to collectively solve problems and contribute to the Sustainable Development Goals between May and July, 2021.
Talents- team (3) of the Unleash Hacks Liberia 2021, worked on Sustainable Development Goal (SDG)13 which is climate action and realized the lack of access to affordable clean cooking fuel in Liberia.
From their research, Team 3 learned that : "95% of the approximately 5million Liberian population use charcoal as their primary fuel for cooking. This contributed to forest degradation, deforestation, indoor pollution, waste, and increase in green house gas as emissions."
Talents-team 3's solution which is 'BriqCo Liberia' an emerging climate actions enterprise-aims to create a clean, green and affordable cooking fuel known as briquettes to help reduce the high demand for the use of charcoal.

BriqCo Liberia aims to sell the briquettes at affordable rates to the local community, besides promoting environmentally- friendly packaging, and furrher creating green jobs in Liberia.
Speaking to Mr. Ezekiel Nyanfor about his achievement as a climate activist, he said: " Solving climate and environmental problems, at the same time creating green jobs and businesses is the real climate action one can take. We should not only talk but take real climate actions by solving problems. Unleash Hacks has provided me with the opportunity to tap into the other side of me. That side is making the impossible possible and the unsustainable, sustainable."
Team 3 was led by Ezekiel Nyanfor (leader) and supported by Christian C. Weah and Boakai K. C. Hina. Mr. Ezekiel Nyanfor is an EarthDay.Org youth ambassador, founder and executive Director of the Liberian Youth for Climate Actions.
UNLEASH is a global movement committed to bringing the world's top talents together to share ideas, build networks and create viable solutions to help reach the Sustainable Development Goals (SDGs). In just two years, UNLEASH has been consolidated as a strong and influential global brand, having engaged 2,000 talents from 143 countries, developed 370 SDG solutions in cooperation with +300 partners, and been recognized as one of the world's most influential sustainability brands
Sustainable Development Goal (SDG)13 urges all to take urgent action to combat climate change and its impacts. It's one of the 17 UN Sustainable Development Goals (also known as the global goals). It was established by the United Nations in 2015. SDG 13 has targets to be achieved by 2030.
www.delreport.com