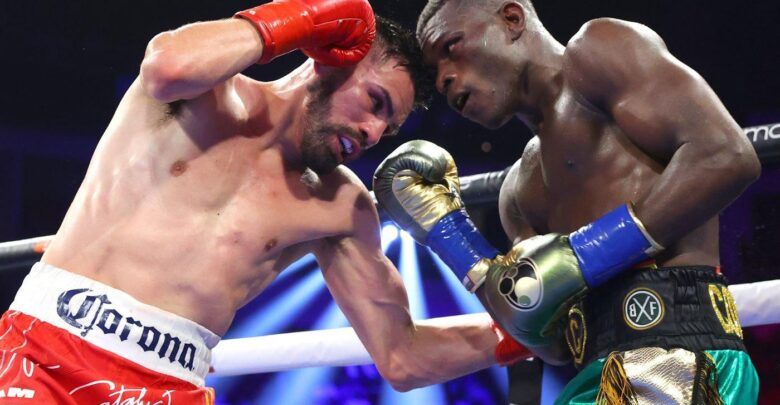 By William Fiifi Sey, Save Mart Center, Fresno, California.
Richard Commey (30-5-1, 27KO) former IBF Lightweight Champion, lost via eleventh round knockout to former unified champion, Jose Ramirez (28-1, 18KO) in the WBC title eliminator at the Save Mart Center, Fresno California.
Both boxers started aggressively with Ramirez on the offensive.
In the early stages of eleventh round Ramirez sent Commey to the canvas with a right hook before Commey gave up 2minutes 31 secs into the penultimate round.
Speaking after his knockout victory Ramirez said
"It's always hard after a layoff, but mentally I had to go back to being my old self and start strong. There came a point in my career where I got too comfortable. I started with that rhythm and being active with my punches throughout the round. And I went back to my old self."
"I hurt him in the first round. But he's a tough guy. Big shoutout to Commey and his team. He's a good warrior. He took some good shots. And he picked it up in the middle of the fight, too. I heard his team motivating him. I wanted to make a statement and show that I'm the stronger guy in there."
"I want any world champion. If Regis Prograis is serious about fighting, we can sit down and negotiate. Let's sit down and make the fight."
Commey who felt disappointed with his defeat said
"I think I was unfairly treated with the turn of event at the weigh-in session yesterday"
"After he punched my the back of my head it affected my vision so I had to discontinue the fight"
Jose Ramirez's win has earned him a shot at the WBC Junior welterweight title.
www.delreport.com
.