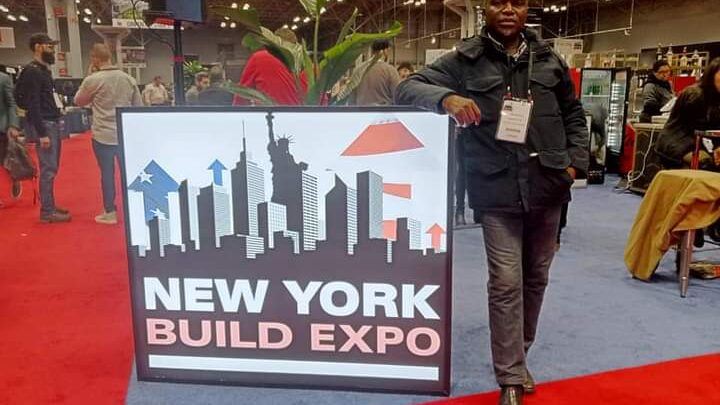 By Dela Ahiawor in New York, USA
With building sector carbon emissions hitting a new high – the world's marquee construction event (New York Build 2023) held on (8-9) March at the Javits Center in New York, USA has called attention to the growing importance of sustainable construction.
That, climate change is real and the building industry responsible for 40% of global carbon emissions, make buildings a prime target in the race to a net zero future to avoid a warmer planet.
In an effort to achieve the United Nations decarbonization goals by 2050; New York Build 2023 sustainability conference, threw a powerful spotlight on: Achieving net -zero emissions, designing healthy buildings, importance of solar, climate emergency, decarbonizing buildings, the future of urban planning and architecture design for Sustainable Development and the big sustainability debate: Cost vs Benefits.
Also, building sector players were encouraged to: Adopt the science-based targets, embrace smart building technology, apply decarbonization regulations/ strategies and also calculate carbon emissions.
To achieve the1.5 degrees Celsius (2.7 degrees Fahrenheit) Paris climate goal, the global building sector must reach net-zero emissions by 2050, besides all new buildings must be net-zero carbon by 2030.
Prioritizing sustainability in construction helps to reduce the adverse impact of the building sector on the environment. Green buildings promote good health and improve the quality of life. They are cheaper to maintain, helps in the reduction of carbon footprint and also helps to boost the economy to name a few.
Sustainable construction focuses on the creation of buildings with eco-friendly outcomes. This involves sourcing sustainable materials, reducing energy consumption and reusing materials during the construction/ building process.
This makes sustainable construction, a significant pathway for the world to minimize carbon emissions.
—-Dela Ahiawor, is a journalist focusing on sustainability/ climate related journalism and events across the globe —
www.delreport.com