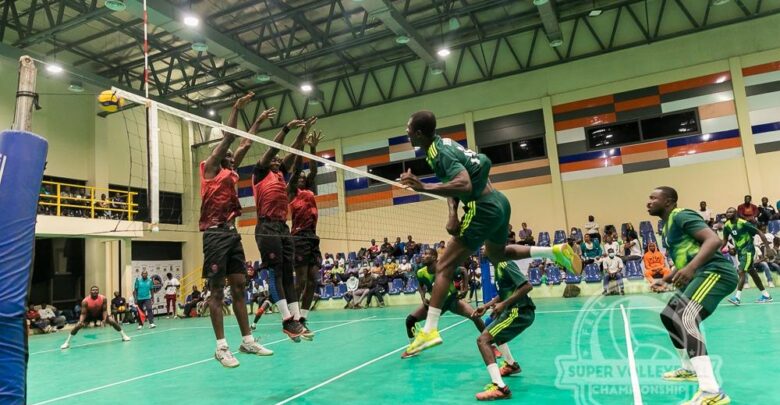 Ghana Air Force Male Volleyball Team and Ghana Army Female Volleyball Squad shared honours at the first ever Super Volleyball Championship held at the Trust Sports Emporium (Ga Mashie Hall).
Both winning teams took home cash prizes of 2,500ghc each plus gold medals and glittering trophies. The first runner up took home 1,500ghc plus silver medals and the second runner up got 1,000ghc in addition to bronze medals.
The strong Ghana Air Force defeated Ghana Police in the Men's Final, while sensational Ghana Army also beat the exciting El Wak Wings in the Ladies Final.
Army (Men) fought hard to grab the bronze medals after eliminating Ghana Prisons, while Ghana Air Force won the ladies bronze medals ahead of Ghana Police who also put up a spirited performance.
Most outstanding players and best coaches were also rewarded with trophies and plaques respectively.
The finals which started on Sunday afternoon and  ended in the early hours of Monday were very exciting and brought out some amazing displays by the players.
Organiser and Team leader, Mr. Mohammed Aputeog commended the players and officials as well as the media who stayed all night long to cover the event.
He promised that next year would be bigger and better.
He added that the tournament is to create awareness on volleyball as an entertaining and competitive sport that can attract corporate support.
Some dignitaries who graced the finals were Mr. Benard Mornah, DSP Daniel Boateng, Alfred Ofei Akuffo and George Tettey, chairman of the Greater Accra Volleyball Association.
The clubs that participate were Ghana Air Force (Male & Female), Ghana Police (Male & Female), Ghana Army(Male & Female), El Wak Wings (Male & Female), Ghana Prisons (Male & Female) and Tema City (Male), Ghana Immigration (Female).
The Super Volleyball Competition was organized by Anaba Capital with the aim of promoting the game of volleyball to a higher level, and players in form as Ghana prepares to host the 13th African Games.
By Richmond Karikari Boateng