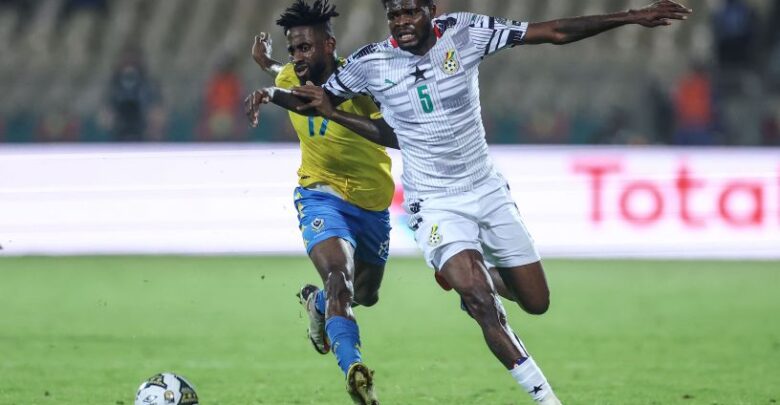 The Panthers of Gabon worked hard to earn a controversial 1-1 drawn game against the Black Stars of Ghana in the ongoing Africa Cup of Nations at Stade Ahmadou Ahidjo Cameroon.
Andre Ayew, skipper of Ghana had scored a beautiful goal in 18th minute of the first half, however lack of concentration by his players caught them off guard for the hungry and aggressive Gabonese to smile better at the end of the game. Jim Allevinah's superb 88th-minute strike earned Gabon the vital point
Andre Ayew said at post match presser "We had the ball out , because our man was on the floor, we expected them to give us back the ball but they went on to score. I am very disappointed in Gabon."
But coach of Ghana, Milovan Rajevac maintained as a fact that Gabon did not display fairplay during the match.
"Our player [Daniel Kofi Kyereh] was being treated and our players kicked the ball out of player. Gabon were supposed to kick the ball as fair play demands."
He said "We already had 3 points in our pocket, but same as in the first match, we had a loss of concentration. [That said] we have one point and in the last game, we'll qualify"
Gabon coach Patrice Neveu on lack of Fair Play allegations by Ghana:
"I respect Ghana. 'Fair Play' is an English word; we don't have it in French. Fair Play means GH should've stopped trying to waste time and breaking the game. Don't come and preach me  on Fair Play. We saw a chance and we took it."
The game had to end in chaos as players and officials of both sides decided to end in fisticuffs.
Algerian referee Lahlou Benbraham had to over work even when the game was over to award Ghana's Benjamin Tetteh in jersey number 25 the red card. Television pictures showed that he punched Gabon's Aaron Boupendza during the melee.
For his personal effort in getting Ghana's first goal, and his 10th in six Afcons, Andre Ayew was awarded Man of the Match.
Ghana were under pressure at beginning of the game, with Swindon Town keeper Wollacott and his defenders struggling with communication, but the Black Stars grabbed the lead when Ayew put them in front with a magnificent strike.
Ghana with one point will clash with pointless Comoros in a match that they must score more goals to win at all cost, while Gabon carrying four points face Morocco who already have six points and already in the second round.
By Matthew Agyei