From encouraging citizens to enjoy winter sports to alleviating poverty, boosting economic opportunities and promoting sustainable solutions, the upcoming Olympic Winter Games Beijing 2022 are already creating a wide variety of benefits for their hosts. The following facts and figures outline some of the many ways in which Beijing 2022 is doing this.
The carbon-neutral Games
In line with IOC requirements, Beijing 2022 will be carbon neutral. Organisers have identified measures to avoid and reduce carbon emissions and reach carbon neutrality. These include minimising construction by reusing five of Beijing 2008 venues, using renewable energy to power all Games venues, introducing low-carbon technologies, employing low carbon transport, and creating forestry-based carbon sequestration projects.
Carbon avoidance and reduction
Beijing 2022 is making full use of existing venues and prioritising sustainability while building and operating new venues.
All Beijing 2022 venues will be powered with renewable energy, with solar and wind as primary energy sources, for the first time at the Olympic Games.
Accelerated by the Games, the Zhangbei flexible direct current grid project uses wind and solar energy sources to transfer electricity from Zhangjiakou to Beijing. Beyond powering the Games, it supplies about 10 percent of Beijing's electricity consumption and boosts the city's use of clean energy. It is one of the largest of its kind in the world.
Natural CO2 refrigeration systems will be used at four Beijing 2022 ice venues – the first time this low climate impact technology will be used in China and at the Olympic Winter Games. Its use reduces carbon emissions from the cooling process to nearly zero, cutting heat waste and energy consumption.
Where possible, Beijing 2022 has rented equipment rather than buying it. It has rented roughly 12,000 desktop computers, servers, notebook computers, monitors, and various types of printers and copiers, as well as vehicles and office furniture.
Carbon compensation
Emissions will be offset through forestry carbon sinks and donations of carbon credits from official Partners. Since 2014, Beijing and Zhangjiakou have planted 47,333 and 33,000 hectares of forest respectively, generating approximately 530,000 and 570,000 tonnes of forestry carbon sequestration.
Engaging 300 million people in winter sports
Beijing 2022 has engaged more than 300 million people with winter sport, accelerating the growth of China's winter sports industry and boosting tourism.
According to data released by China's National Bureau of Statistics on 12 January 2022, over 346 million Chinese people (almost a quarter of the total Chinese population) have participated in winter sports activities since Beijing's 2015 election as the host of the Olympic Winter Games 2022.
In the 2020 – 2021 season, the number of people engaged with ice and snow sports across China, be it professionally, or as athletes at the elite or grassroots level, reached 230 million, and the income of ice and snow tourism exceeded 390 billion yuan.
Beijing 2022 has accelerated the growth of China's winter tourism from RMB 270 billion in 2017 to RMB 386 billion in 2019, an increase of 43 percent.
Beijing 2022 competition zones Yanqing and Zhangjiakou are set to become new destinations for winter sports events and training at local and international level.
Winter sports venues are on the rise across the country. By the end of 2020, there were almost 1,200 ice rinks – compared to 609 in 2018. At the start of 2021, China had 803 ski resorts, an increase of 41 percent over 2015.
A total of 2,897 primary and secondary schools across China had included Olympic and Paralympic education, as well as winter sports in their curriculum by the end of 2021.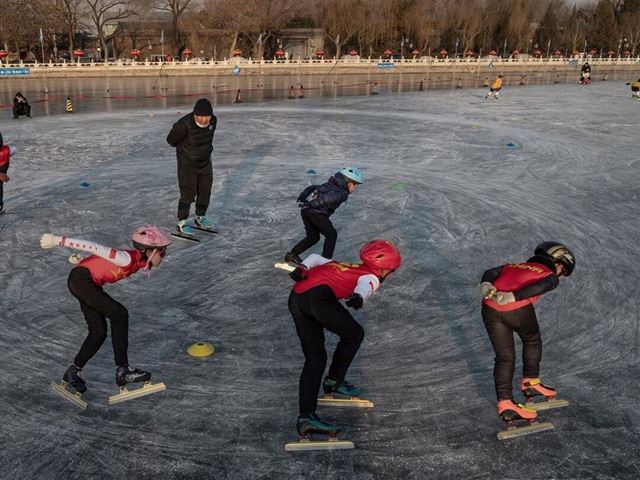 Regenerating city areas, accelerating regional development
Beijing 2022 is using the Games as an opportunity to maximise social and economic benefits for the residents of its three competition zones, Beijing, Yanqing District, and Zhangjiakou. In Beijing, the Shougang Park, a former industrial area, has been renovated and revitalised. In Yanqing, new industries have been developed. And in Zhangjiakou the Games have helped to lift many people out of poverty.
Zhangjiakou has grasped the opportunity of the Olympic Games to promote ice and snow tourism and related industries. It is already becoming China's largest ski resort. In 2019, it received more than 86 million tourists and revenue of over RMB 100 billion, up by over 20 per cent on the previous year. Zhangjiakou has also benefitted from infrastructure upgrades, including new railway tracks, roads, passenger transport hubs, as well as drinking water, electric power and communications. As of June 2021, all 12 poverty-stricken counties and districts in Zhangjiakou have been lifted out of poverty, including 939,000 people in 1,970 villages.
In Yanqing, preparation for the Games drove a 35.2 per cent growth in disposable income per capita between 2015 and 2019. Leveraging its proximity to the Great Wall of China, as well as the Beijing 2022 venues, Yanqing is on its way to becoming an all-year tourist destination. A variety of outdoor culture, leisure and sport activities will be on offer for tourists and other visitors, offering opportunities for both summer and winter sports. In 2019, Yanqing District welcomed over 17 million tourists, an increase of 6 percent on the previous year, driving revenue of more than 1 billion RMB.
In the Shougang Park in Beijing, a former steel mill has been transformed into modern sport, business and leisure facilities. Following the concept of historical industrial architecture, the park retains the industrial features of the original site while implanting new functional spaces. For instance, two coal workshops, with an area of 25,000m2, have been transformed into short track speed skating, figure skating, curling and ice hockey training venues for the Games. Home to the offices of the Beijing 2022 Organising Committee,  Shougang Park now hosts hotels and restaurants, shops and offices, exhibitions and sight-seeing opportunities, as well as government-owned companies, including some dedicated to scientific research.. It has become a vibrant community where people live, work, and play.
Gender equality
Beijing 2022 will be the most gender-balanced Olympic Winter Games to date, with women expected to account for 45 per cent of the athletes.
Gender balance will be reached in skeleton, individual luge, speed skating, cross-country skiing, alpine skiing, freestyle skiing and snowboard.
Beijing 2022 will also boast the highest number of women's events ever, with the addition of women's monobob and women's big air skiing and four mixed-team events. This will increase the percentage of women's events in the Olympic programme to 47 per cent. thenewsmarket.com
A new era of transportation
Beijing 2022 accelerated two important transport facilities – the Beijing-Zhangjiakou high-speed railway and the Beijing-Chongli highway. As a result, travel between Beijing and Zhangjiakou has been cut from three hours to 47 minutes.
The Games will make full use of the new Beijing-Zhangjiakou high-speed railway, which connects the three competition zones, some 180 kilometres apart.
Fuel-efficient vehicles will account for 100% of all passenger cars and 85% of all vehicles, including vehicles provided by Worldwide Olympic Partner Toyota. The Beijing Zone will use mainly electric and natural-gas-powered vehicles. The Yanqing and Zhangjiakou Zones will deploy hydrogen-fuelled vehicles. Six hydrogen stations have been installed in Zhanjiakou and one in Yanqing.
Beijing public transport will use intelligent bus dispatching systems. It will increase transfer (P+R) parking lots, bus connections, and bicycle routes, effectively improving transport efficiency and reducing carbon emissions.
Source:thenewsmarket.com