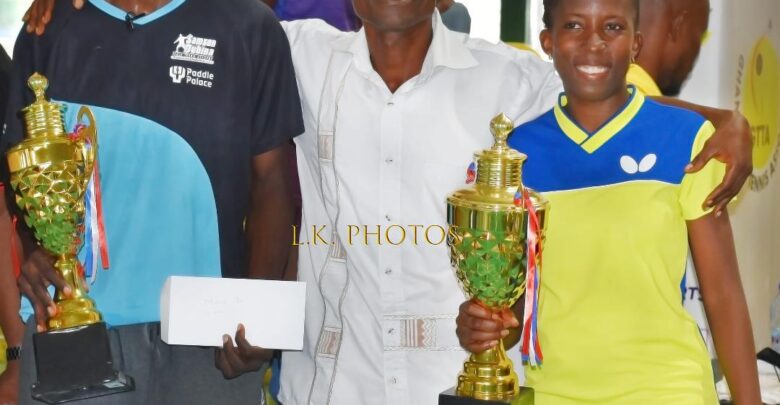 Coach ANANG-WHYTE has been consistent since 2005 when he was voted the best coach in Ghana Table Tennis after the ATL National Table Tennis League.
The then president of the Ghana Table Tennis Association (GTTA), Squadron leader Rtd Ebo Bartels decreed during his initial coaching that Coach Whyte has the potential to soar high and truly his words are manifesting.
Coach Whyte was trained to coach by the late coach S.K. Allotey (deceased) who was a former national champion and became a national team coach.
Coach Whyte went on and learned from his senior coaches, Mr.E.A.Quaye, Mr.Nartey, Mr Jimmy Lokko, Mr. Prince Amartey, Mr. Joseph Owusu Addo, MrYarboi, Mr Vincent .A. Arhin and Mr. Anthony Owusu Ansah.
Coach Whyte started coaching in the late 80sa at the LA Dadekotopon Community. He was officially appointed the coach of the LA Wireless Cluster of Basic Schools in September 1991.
Due to his effectiveness in coaching, he had the opportunity to coach all the schools in the LA community. He became the Kpeshie Sub-Metropolitan Table Tennis coach1993. He was invited into the Accra Metropolitan table tennis team 1994 and later joined Mr. Nartey who was a P.E. teacher and the Greater Accra table Tennis coach in the Greater Accra Regional Table Tennis team.
He acted as the Greater Accra Table Tennis coach till 2006 before he was employed into the National Sports Authority as the Western Regional Table Tennis coach In the Western Region he produced players in the likes of Joseph Amisah among others.
Coach Whyte used his new team to qualify to the semifinals in the 2006 National Schools and Colleges' Sports festival in Tamale . that was the first time in 15 years Western Region qualified to the semifinals.
Coach Whyte was then transferred to Greater Accra to become the Greater Accra coach in November that same year. He came back and continued with his players he left behind. He formed the Ghana Immigration Table Tennis team with his own players and won the Security Services Sports Association (SSESA) Games three times continues. A record of sweeping all the 7 gold medals in the 2011 SESSA Games for Ghana Immigration.
Coach Whyte was transferred to the Eastern Region in 2009 where he met players like Samuel Akayede, Emmanuel Asante, Desmond Osei, Gloria Asafo-Adjei among others. All were under 15 players and he trained and raised them through under 18 and 20 categories to become outstanding senior players and are now with the Ghana Army, Ghana Immigration Services and Ghana Revenue Authority just to mention a few. The new players he has produced from Eastern Region are, Emmanuel Ofori, Kojo Gordon, Solomon Danso, Jude Osei, Hilda Agbotha,Judith Acheampong, Mavis Okyere, Daina Opoku and others .
Players Coach Whyte produced since the 90s are as follows:
1.Phill John Quartey (Metro TV Sports presenter)
2.Anum Ollenu (USA.a former national player)
3.Ashiakwe Ollenu (Italy)
4.Nii Nai Sowah (UK)
5.Gertrude Naadu Lartey (USA)
6.Rahel Ako (USA, former fireo fficer)
7.Emmanuel Dartey (Fireofficer)
8.Florence Sarpong (Fireofficer)
9.Millecent Mamah (Fire officer)
10.Kofi Kakari (Army senior officer)
11.Reginald Addo Ankamah (Physical Educationist)
12.LordKingful Steven (software engineer)
13.Charles Essel (Abroad)
14.SamuelAgyepong (Banker)
15.Francis Nana Kwame Akoma (Former National u15 Champion–Now an I.T. System Administrator/Projects and Errand Coordinator)
16.Lawrence Nyanyo Nmai (Now Int. Kickboxer Based in Switzerland)
17.Odoi Sowah (Marine engineer)
18.Sammy Adjei (former Black Stars keeper)
19.Godfred Asamoah
20.Bernice Borle Borquaye (Navy officer)
21.Rahel OboshieTorgbor (Navy officer)
22.Felix Oduro Asafo Adjei (Airforce officer)
23.Benjamin Nelson (Navy officer)
24.Jacob Saikum (Prison officer)
25.Esther Quaye (Prison officer)
26.Usif Allah Laryea (Army officer)
27.Joseph Lartei Tagoe (Army officer)
28.Vida Asare (Airforce officer)
29.Emmanuel Ofori (Army officer)
30.Ernest Q. Mawutor (Fire officer)
31.Doreen Nartey (Immigration officer)
32.Deborah Allotey (Immigration officer)
33.Abigail Tetteh (Immigration officer)
34.Hilda Agbonaa (Immigration officer)
35.Linda Annor  (Immigration officer)
36.Cynthia Kwabie (Immigration officer)
37.Emmanuel Commey (Immigration officer)
38.Felix Lartey (Immigration officer)
39.Derek Abrefa (Immigration officer)
40.Solomon Akunnor (Australia former national champion)
41.Daniel Yemoh Quarshie (GT Bank)
42.Gabriel Ayikwei
Coach Whyte was voted the best coach in the 2005 Atlantic National Table Tennis League. He retained till he was voted again the best coach in 2016 Stanbic Table Tennis League. He won the SWAG Special Award in 2016. Coach Whyte and his players have been on top of Ghana Table Tennis from 2008 till date when they won the grandmaster s of Ghana Table tennis in both male and female categories.
All the men who have played the national team since 2008 till date have passed through the hands of coach Whyte.
"Above all my responsibilities as the environment coach LaDadekotopon is to fully unlock the capabilities of my players, so that he or she plays as nearly as possible to the absolute limits of full potential through fair and firm means" he said.
"Moreover, here are my 8 core responsibilities as a Professional Table Tennis Coach, that will enable me and my technical staff to Unearth and Nurture talents for the LA Dadekotopon Constituency and they are as follows":
1.Set Vision, Goals and Standards for Sport Program.
2.Engage in and Support Ethical Practices.
3.Build Relationships
4.Develop a safe sport Environment.
5.Create a Positive and inclusive Sport Environment
6.Conduct Practices and Prepare for Competition
7.Strive for Continuous improvement.
8. An Obligation to Produce World Class Players from LA who will compete for Ghana in World Competitions.
By Daniel Nyarko