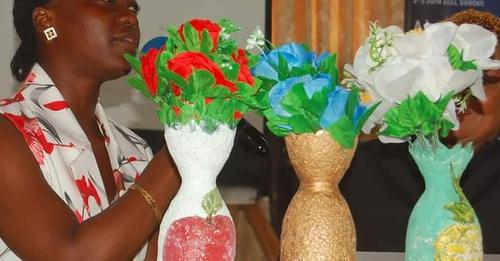 By Amos P. Korzawu
A young Liberian Kadiatu A. Sheriff have embarked on an innovative venture of professionally and creatively transforming Waste Plastic into Useful Products.
The move by the young innovator and activist is among other things aimed at Creating a Healthy Planet.
Kadiatu A. Sheriff is the Founder and CEO of Golden Waste Solutions Enterprise inc. and also a student of public health at the University of Liberia.
The group , Golden Waste is involved into providing environment services for Communities in the paynesville area as well as the collection of plastic waste from Communities and transforming it into flower cups for home decoration.
"Sharing panel with people of high expertise and some of whom have a long history of commitments to the fight for our environment and planet at the Stockholm + 50 National consultations ( Regional dialogue) in Buchanan was a great experience for me" miss Sheriff told our reporter".
While on the panel, Kadiatu A. Sheriff had the opportunity to present products made from her own local recycling, she at the same time give her perspectives from the youth angle; from personal experiences in the climate and environmental Advocacy space as well as other common views of youth advocates highlighting the need to recognize the role of Youth as key players and to give them the space and protection in their advocacy.
As part of efforts to make their voices to be heard especially on issues in the sector, She wants policy makers to follow a science based approach in enacting policies inorder for the already established or new legal guarantees to be robust and proactive so that intervention made can effectuate the change that is most needed for the people.
Miss.Sheriff outlining key things for Liberia as second largest carbon sink in Africa and third in the world, said with the size of the population and proportion of the population depends on the forest resources which is almost the entire population rely also on it for mainly coal use which is the major contributing fossil fuel to global warming and further emphasized the quantity of trees needed to produce bags of coals and quantity of coal bags needed to serve every households.
Others are : life cycle of trees as well as other factors surrounding the sustainability before reaching their full potential to be able to sequester carbon, all of which balls down to finding alternatives livelihoods in relation to following a science based in decision the making.
"I had the opportunity to showcase some of my products and also emphasized some works of youths, our passion and the supports we need in terms of education and other capacity building opportunities surrounding the triple planetary crisis and solutions as well as financial contraints in implementing our ideas", she added.
Meanwhile Kadiatu's recycling waste which has been transformed into meaningful finished products and also help to safe the environment has helped her earned $USD 60.00.
Source: https://fortunetvliberia.com/to-protect-a-healthier-environment-innovative-liberian-transforms-plastic-waste-into-finished-products/?fbclid=IwAR2XrinrUILn1aN03JQYdzJvABFtTeUYY61Afrm_l3UPByOQn-GEvT10f68