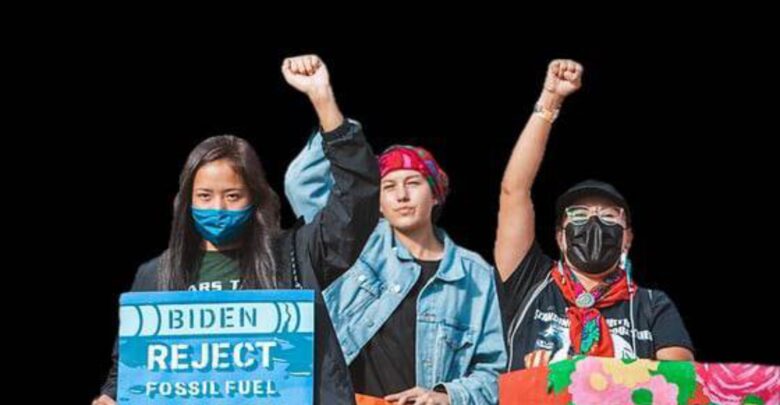 By Dela Ahiawor in Washington DC, USA
Hordes of climate devotees will stream into Washington DC, the U.S. capital this Earth Day, April 22 as part of a global protest to end fossil fuels.
The protest will kick off with a rally at Freedom Plaza in Washington DC, to be followed by a march
to the White House, the official residence and workplace of the president of the United States.
EARTHDAY.ORG, the global impresario of Earth Day in a press note to DEL REPORT said: "the march is to demand President Biden take bold action to follow through with his promise to end the fossil fuel era."
After the march protesters will return to the Freedom Plaza for a fair which will feature climate cages, art projects, teach-ins, dance parties and many more activities.
Saturday, April 22, 2023 marks the 53rd anniversary of Earth Day, the biggest environmental protest movement celebrated in more than 190 countries across the globe.
The theme for Earth Day 2023 is, "Invest in Our Planet." Earth Day was founded in the U.S. in 1970 by American politician and environmentalist, Gaylord Anton Nelson after he witnessed the havoc caused by the 1969 oil spill in Santa Barbara, California.
EARTHDAY.ORG, the largest recruiter of the environmental movement worldwide, picks out 10 major events happening across the globe you should know about and consider attending this Earth Day:
10. The Cape Coral Cleanup in Cape Coral, FL
The city of Cape Coral has come a long way in recovering from Hurricane Ian, but there is still much more to be done. This Earth Day, they are focused on building a cleaner and healthier community by tackling the remnants of trash and debris left behind in the wake of the storm.
With more than 5,000 volunteers expected to participate, Cape Coral is planning to host the biggest cleanup their city has ever seen in honor of Earth Day 2023. For more information, please visit: https://www.facebook.com/CityofCapeCoral.
9. 'Heave on Earth' Cleanup at The Dal Lake (India)
Up in the Himalayas is the beautiful state of Jammu and Kashmir (often referred to as 'Heaven on Earth'). Its major town, Srinagar, has a special attraction for tourists – the iconic 'Dal Lake.' Dal Lake is dotted with over a thousand houseboats (shikaras) serving as residences, schools, and markets where you can buy items embroidered with the local crewel and handicrafts crafted out of walnut wood.
For years, Earth Day India has helped clean up this major tourist attraction. For Earth Day 2023, a final clean up and special ceremony will take place, declaring the area as an Earth Day Star Village for their dedication to being stewards for the Earth. To learn more about this clean up, please visit, https://www.facebook.com/earthdaynetworkindia/.
8. Earth Day Jubilee at Heal the Bay Aquarium in Santa Monica, CA
Heal the Bay is an environmental nonprofit dedicated to making the coastal waters and watersheds of the Greater Los Angeles area safe, healthy, and clean since 1985. For them, every day is this Earth Day, but April 22nd is extra special because communities from around the world come together in appreciation for our shared home and work together to help heal our planet.
On April 22nd, Heal the Bay is hosting their Earth Day Jubilee on the Santa Monica Pier as they celebrate the beauty of our oceans. With indoor and outdoor activities ranging from visits with the aquarium's most beloved animals and wildlife observation decks to craft stations, short films, and mini dance parties throughout the day, this family-friendly Earth Day event is a great way to educate our children and youth about the environmental movement. For more information about Heal the Bay and their Earth Day Jubilee, please visit: https://healthebay.org/.
7. Village for the Earth in the Green Heart of Rome (Italy)
Earth Day Italia annually hosts the 5-day celebration of World Earth Day in the green heart of Rome between the Pincio Terrace and the Villa Borghese Galoppatoio.
Known as the most iconic of all Italian Earth Day celebrations, Village for the Earth consists of over 600 events in collaboration with more than 200 organizations over the course of April 21-25. These unforgettable five days hold ample opportunities to indulge in entertainment, culture, sport, and environment, with a full schedule of celebrations, institutional meetings, forums, shows, and a village dedicated to children with playful and educational workshops. For more information, please visit: https://www.earthdayitalia.org/villaggio-per-la-terra/.
6. Earth Day: In Love and Rage at City Hall Plaza in Boston, MA
Extinction Rebellion is an international movement using non-violent and direct action to demand just action on the climate and ecological emergency we face. In protest of the federal government's newly approved projects in Alaska and Massachusetts, Extinction Rebellion is rallying at Boston City Hall on April 21st to demand no new fossil fuel infrastructure in Massachusetts.
This family-family party encourages activists to come dressed up as their favorite endangered species and/or carry one of the animal puppets provided by them. If you love Earth, love animals and nature, and want a livable future, join Extinction Rebellion alongside friends and family to march, dance, and process in support and love for the Earth! For more information, please visit: https://xrboston.org/action/earth-day-2023/.
5. The Big One on the Streets of London (United Kingdom)
With the support of more than 70 organizations, including EARTHDAY.ORG, the Extinction Rebellion has organized arguably the largest environmental protest of 2023. Starting on the streets of London, 100,000 individuals (about the seating capacity of the Los Angeles Memorial Coliseum) are expected to march side by side to fight for Parliament to act against the climate crisis.
Starting Friday, the 21st, individuals will unite to survive by flooding Westminster with a wave of flags and banners. Saturday the 22nd will be an enormous celebration of individuals united for nature, biodiversity, and the planet, and led by a family-friendly march in honor of Earth Day. To finish the weekend off, The Big One will be joining forces with the London Marathon on Sunday the 23rd to engage with the huge crowds of spectators and completing the four-day event on Monday the 24th by delivering the demand to Parliament to choose a green future. For more information, please visit: https://extinctionrebellion.uk/the-big-one/#which-days-should-i-come.
4. End the Era of Fossil Fuels at Freedom Plaza in Washington, D.C.
Earth Day DC is saying NO to fossil fuels by coming together this Earth Day to fight for climate justice and demand real change from decision-makers. Kicking off the day, a youth-led rally in Freedom Plaza will feature the voices of young people from around D.C. and across the country alongside music from the Too Much Talent Band.
Following the rally, individuals will take to the streets of Washington, D.C. and march to the White House to demand President Biden take bold action to follow through with his promise to end the fossil fuel era. Lastly, the event will conclude with a fair back at Freedom Plaza where climate cages, art projects, teach-ins, dance parties, and more will take place. For more information, please visit: https://www.earthdaydc.org/.
3. Earth Day Fiesta (Zimbabwe)
Earth Day Africa works with staff and partners in Sub-Saharan countries to activate everyday citizens to rise and come together to make positive, tangible, and sustainable changes to protect Africa. Following up on the first ever commemoration in 2022, Earth Day Africa will host the second annual Earth Day Fiesta this April 22nd to celebrate Earth Day and share the African Climate Story.
Aligning with this year's theme, Invest in Our Planet, the fiesta will bring together everyone from Africa for a historical fun day together in Zimbabwe. The fiesta will host a day full of traditional African music, food, and arts, and collectively advocate for environment and climate action. To learn more, please visit: https://www.earthday.org/africa/.
2. Pledge to Our Keiki Dive Across Every Island in Hawaii
Kanu Hawaii is an organization of dedicated, everyday individuals working together to protect and highlight what makes Hawaii so special. This Earth Day, they are organizing movements across Hawaii to transform thought into action. April 22nd will begin with a global moment of peace. Faith leaders will join in prayer at sunrise atop two volcanoes in honor of the children of Hawaii to rise and awaken the world in support of the Pledge to Our Keiki.
As the day continues Kanu Hawaii, alongside partners and local businesses, will attempt the world's largest dive cleanup, with more than 700 divers expected to participate across the Hawaiian Islands. In addition to the dive, more than 400 nonprofits, 800 events, and over 20,000 volunteers will activate to draw attention to what drives global pollution and to call out the systems causing massive amounts of waste. To learn more, please visit: https://www.kanuhawaii.org/.
1. An Earth Day 2023 Event Local to You
If the events listed above aren't close enough for you to join in, or you want to show your environmental stewardship in another way, don't worry! EARTHDAY.ORG's interactive Events Map shows you up-to-date rallies, cleanups, and so much more happening all around the world and in communities local near you.
April 22nd serves as an annual reminder to NEVER underestimate your power. When your voice and actions are united with millions of others around the world, we can create an inclusive and impactful movement impossible to ignore. United together, we'll drive a year of energy, enthusiasm, and commitment to a sustainable and equitable future for our planet.
https://www.earthday.org/earth-day-2023/.