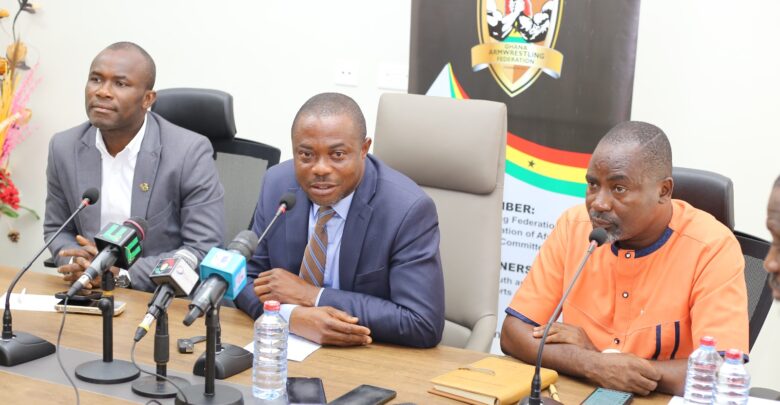 By Emmanuel Twum-Asante
Deputy Minister of Youth and Sports – Evans Bobie Opoku has inaugurated the Local Organising Committe [LOC] to oversee the 12th African Armwrestling Championship scheduled to take place in Accra, Ghana from June 21 to 25, 2023.
The 13-member LOC, chaired by a former Mayor of Accra, Mohammed Adjei Sowah, has been tasked with ensuring the success of the games and leaving a legacy for the sport in the country.
Other members of the committee include Edwin Amankwah [Vice Chairman], Kofi Addo-Agyekum, DCOP Lydia Donkor, Nii Otoo Larkyne, Gifty Oware-Aboagye, Dr Prince Pambo, Robert Appiah Ameyaw, Jonathan Lambert Awuletey, Dr Marc Dzradosi, Richard Oppong Ansong, Hubert Leo-Mensah and Rhodaline Owusu Ansong.
Over 20 African countries are expected to participate in the championship which will serve as a qualifier for the 2023 African Games.
Addressing the inauguration of the LOC in Accra, Mr Opoku expressed confidence in the competence and experience of the committee members to deliver on their mandate.
He hoped that a successful championship would generate benefits for the country in the areas of hospitality and the generation of foreign exchange.
The Deputy Minister assured the LOC of the support of the Ministry of Youth Sports to make the championship a resounding success, as it would also serve as a dress rehearsal for the Armwrestling event at the 2023 African Games.
The Chairman of the Committee, Mr Sowah, said it was an honour for all members to be selected to oversee the championship, and he was confident that next year's event would be an improved version under his leadership.
The President of the Armwrestling Federation of Africa [AFA], Charles Osei Asibey, who also doubles as the President of the Ghana Armwrestling Federation, said hosting the event would make the sport more popular in the country.
He added that the championship was an opportunity to develop the sport and enhance infrastructure in the country.
Source: Graphic Online
www.delreport.com