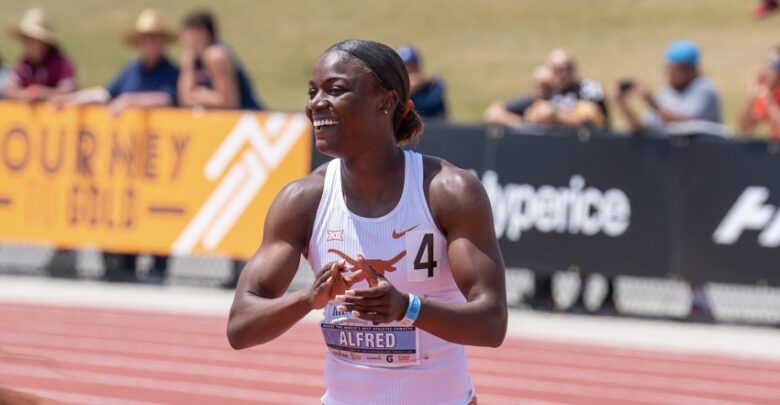 Reigning NCAA Indoor 60m champions – Julien Alfred produced an excellent performance to win the women's 100m race at the Tom Jones Memorial Invitational at the Percy Beard Track in Gainesville, Florida on Saturday.
The St. Lucian Texas senior Alfred continued her stellar form this season with a blisteeing 10.72 [2.4m/s] to win the women's College 100m ahead of Texas Tech's Rosemary Chukwuma [10.85] while McKenzie Long [10.92] finished third.
The Commonwealth Games 100m silver medallist [Julien Alfred] also ran a new personal best and St. Lucian national record 21.91 seconds to win the 200m on Friday.
In the Women's Olympic Development section, Jamaican Kiara Grant produce a personal best 10.99 for victory ahead of Adidas' Celia Barnes [11.05] and Maia McCoy [11.08].
Jones, the Bahamian Texas Tech junior, produced a massive personal best and world leading 9.91 to win the Men's College 100m.
Jones, 20, won comfortably ahead of Texas Tech teammate Courtney Lindsey [10.04] and Florida State's Amir Willis [10.08].
The Men's Olympic Development section was won by American 200m World Champion – Noah Lyles in 9.95 seconds ahead of Asics's Joseph Fahnbulleh [9.98] and Adidas' Kendal Williams [10.03].
By Emmanuel Twum-Asante
www.delreport.com