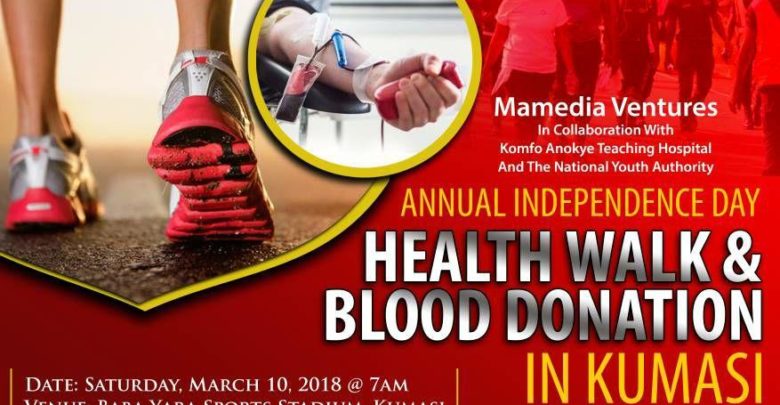 By Sammy Heywood Okine
Mamedia Ventures in collaboration with MTN Foundation is organizing its first annual 'Walk for Life' and Blood Donation  Programme in Kumasi.
The 8km walk which starts at the Baba Yara Sports Stadium will be crowned with a blood donation at the same venue.
According Nii Maale-Adsei, CEO of Mamedia Ventures, the event being co-held with the Blood Bank of the Komfo Anokye Teaching Hospital, the National Youth Authority and the National Sports Authority, is aimed at involving residents of Oseikrom in health walk and also to motivate the population to donate blood to the hospital to save lives."
"Apart from the general population and the participants for this "Walk for Life" program, we have also extended invitations to various financial institutions in the Kumasi metropolis for their active engagement in this maiden event."
"Mamedia Ventures has always wanted to establish a unique social event program for the generality of the people and we chose to motivate the people of Kumasi to support the newly established Maternity and Children Block of the Komfo Anokye Teavhing Hospital with blood donation."
Nii Maale-Adsei confirmed the Walk for Life and Blood Donation is going to be an annual event to be held on the first Saturday of Independence celebration.
He expressed his profound gratitude to MTN Foundation, SIC Insurance Company, M&G Pharmaceuticals for giving support to this maiden event.
He was also grateful to Everpure Mineral Water, Yummy Noodles and Kofikrom Pharmacy who also agreed to be part of this public-spirit event.
www.delreport.com