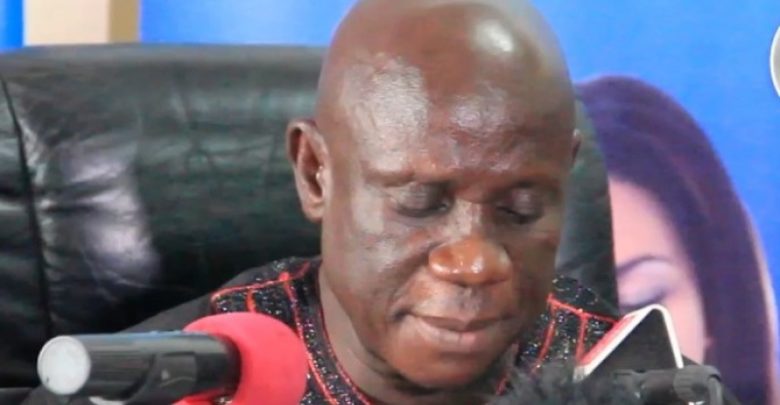 The Deputy General Secretary of the governing New Patriotic Party (NPP), Nana Obiri Boahen, has apologized for making some allegations against his party in a leaked audio that has gone viral.
Nana Obiri Boahen in the audio among other things alleged that the presidency donated about GHc50 billion towards the party's 2017 National Annual Delegates Conference held in Cape Coast in the Central Region; a claim the party has denied.
Mr. Boahen in the audio is heard complaining bitterly about some happenings in the NPP, and also lamented that he has been sidelined in the sharing of the national cake.
He has however been slammed by the leadership of the NPP, which rubbished his claims, and started an investigation into same.
The Deputy NPP General Secretary in a letter while rendering an unqualified apology also asked for forgiveness.
"Respectfully, I am by this letter expressing my profound apology to the President, the Vice President, the Chief of Staff, the Steering Committee, the National Executives, Council of Elders, the National Executive Committee, the National Council of the New Patriotic Party and every member of the New Patriotic Party
for my indication."
"I am also by this letter rendering an unqualified apology to the former President John Mahama, the National Democratic Congress leadership and every member of the National Democratic Congress of my indiscretion. I have learnt much lessons from this unfortunate incident, from this heavily edited, secretly recorded and intentionally mutilated audio recording or cassette; I vow not to find myself under such circumstances again. My loyalty and commitment with/to the New Patriotic Party shall ever continue to be resolute and firm. 'To err is human, and to forgive is divine' says the sages," he added.
NPP probes Obiri Boahen
The NPP had earlier tasked its Steering Committee to investigate Obiri Boahen over the claims.
According to the party, the allegation is "palpable falsehood" and "indeed, Nana Obiri Boahen himself has subsequently admitted to the falsity of his baseless allegation."
"Nonetheless, the party takes serious view of his unfortunate comments and has accordingly tasked the Steering Committee to immediately look into the matter and make appropriate recommendations," the NPP said in a statement signed by its acting General Secretary, John Boadu.
Citifmonline