Members of the Ghana Alliance for Clean Cook Stoves (GHACCO) have called for support for the programme to create an enabling environment for the product to thrive.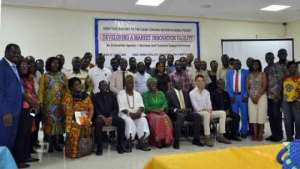 They said clean cookstoves, if well patronised, would help reduce deforestation and the negative impact the traditional cook stoves had on women.
At a workshop in Accra, organised by the Netherlands Development Organisation (SNV) Renewable Energy Sector, Mr Alex Kwame Donyinah, the Senior Energy Advisor of SNV, called on stakeholders to join forces to come up with a strategy that ensured sustainability of the clean cooking market.
He called for the diversification of the scope and focus of the Project and development of a Market Innovation Facility to ensure a wider penetration into markets in the sub-region.
Mr Donyinah called for strong linkages to key sector actors and effective coordination of regional membership of GHACCO to enhance the activities of the Alliance.
He said the clean cook stove programme had run for years without achieving the expected outcomes and called for rethinking of GHACCO's strategies for an effective and sustainable project.
Mrs Sarah Naa Deidei Agbey, the Board Chairperson of GHACCO, gave the assurance that the Alliance would create a platform for capacity development and promotion of best practices among members to upscale the production and distribution of the cook stoves.
She said GHACCO would sensitise citizens on the benefits of using clean and improved cook stoves compared to the traditional ones.
Mrs Agbey said GHACCO had earmarked the distribution of five million cook stoves by 2020 to households in Ghana.
She said the use of traditional cook stoves was harmful to women and children considering the many health risks that they brought.
'Traditional cook stoves are silent killers. They cause lung cancer and other infections for children under five as well as pneumonic and heart diseases,' she said.
Dr Ishmael Ackah, the Head of Policy Unit at the Africa Centre for Energy Policy, who was the Special Guest, urged GHACCO members to advocate for Parliament to institute a special levy to promote clean cook stoves in the country.
He urged them to involve the traditional leaders to effectively promote the improved cook stoves.
Dr Wisdom Ahiataku-Togobo, a participant from the Ministry of Energy, urged GHACCO to think outside the box to improve on the 'clean cook stove to meet the demands of the market for it to sell.'
GNA