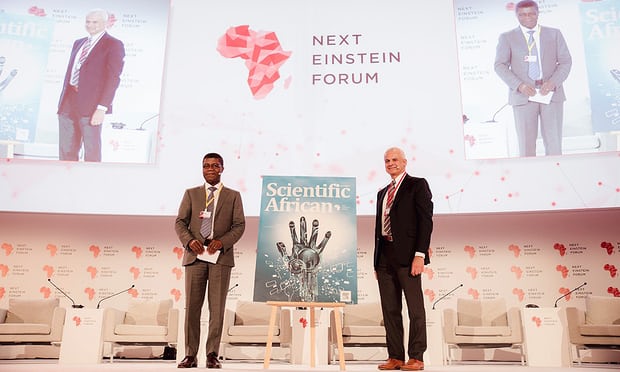 A new journal to showcase Africa's often-overlooked scientific research has been launched to give the continent's scientists better global recognition.
Scientific African will be the first "mega-journal" in Africa. It was unveiled in Kigali last week at Africa's biggest science conference, the Next Einstein Forum(NEF) conference, and the first issue is scheduled to be published at the end of the summer.
Its editor, Dr Benjamin Gyampoh, said the journal would address the problem of African scientists going unrecognised for pioneering work because they lacked access to quality publications.
"There are many reputable journals but there is a low number of Africans publishing in them partly because the costs are so high," Gyampoh said. "We are reducing these costs while providing a platform for world-class research, across different disciplines and on par with any published around the world."
Publication in Scientific African will cost $200, around half of what it costs in most recognised journals. The journal was founded by the NEF, an initiative of the African Institute of Mathematical Sciences (Aims), and is backed by global publishing site Elsevier.
Research in Africa is often centred around health and agricultural issues that are not a priority in the west, meaning less frequent citations in western journals. According to Elsevier, less than 2% of global scientific research output came out of Africa between 2012 and 2016, but the period saw almost 40% growth in published research and the number of African scientific authors rise by 43%.
However, much of the output is still produced by visiting international scientists and via collaborations with institutions outside Africa. Funding for research is still a significant challenge and collaboration between institutions is low.
Thierry Zomahoun, the president of Aims and chair of the NEF, said governments were now responding to the need to prioritise research and development.
"African leaders are starting to realise the importance of research and development funding but we have a long way to go," he said. "Especially if we can lessen the bureaucracy in Africa, making movement around Africa easier with simple and cheaper visa processes and adopting policies that promote collaboration, things will improve more quickly."
Numerous challenges beset scientific research across the continent. A number of studies have found that if African institutions were to partner with each other rather than with international organisations, their scientists would have an improved international standing and better capacity to dictate research, which ultimately would be more cost-effective.
Dr Bernadine Ekpenyong, an optometrist and lecturer at Nigeria's University of Calabar, said the best research in African journals remains largely invisible. "You get more recognition for your work and a better chance of promotion in our field if you've been published abroad. That's why people pay so much more."
The huge pressure on scientists to publish regularly, has also led many scientists to be exploited by "predatory journals" – publications that make false claims about their reach or profile, said Ekpenyong.
"You also get many of these types of journals that are not even peer–reviewed. You send them work and it is published the next day. They're interested in the monetary gain not the quality of research."
Scientific African will be an open-access journal, with no subscription required.
"A lot of the science is publicly funded but then many of the journals charge quite a lot for access to it," said Rose Mutiso, co-founder of the Mawazo institute in Kenya. She said many African institutions lack the budget for staff to access research from the most notable journals. "There is a big funding gap for science research in Africa. This creates a vicious cycle for African scientists who have issues accessing research and also publishing their work in places that will give them recognition."
Since you're here …
… we have a small favour to ask. More people are reading the Guardian than ever but advertising revenues across the media are falling fast. And unlike many news organisations, we haven't put up a paywall – we want to keep our journalism as open as we can. So you can see why we need to ask for your help. The Guardian's independent, investigative journalism takes a lot of time, money and hard work to produce. But we do it because we believe our perspective matters – because it might well be your perspective, too.
By theguardian.com
I appreciate there not being a paywall: it is more democratic for the media to be available for all and not a commodity to be purchased by a few. I'm happy to make a contribution so others with less means still have access to information.Thomasine, Sweden