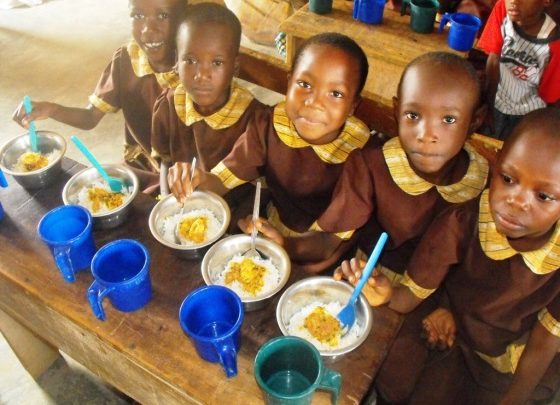 With the relaunch of the school feeding programme, the organisers have said it has created 10,000  jobs in Niger State.
This is apart from the aggregators and suppliers of food items to be used in the programme.
The federal government is also spending well over N392 million every 10 days to feed no fewer than 560,000 pupils in public primary schools throughout the state.
The state Commissioner for Women Affairs and Coordinator of the Home Grown School Feeding Programme, Mrs Amina Musa Gwam, disclosed 
on Thursday
 that of the 10,000 jobs created, about 5,000 were cooks who were engaged from the 274 wards in the state.
Mrs Gwam said the state government had also recruited monitors in all the wards to supervise the school feeding scheme in order to also ensure that the vendors complied with the laid down policy.
"We have worked out how to make  the Home Grown School Feeding Programme successful in Niger State, we are very transparent with what we are doing. No money comes to us, all monies go directly to the vendors and the aggregators," Gwam said.
She said the scheme had also been able to bring down the cost of the raw materials by buying directly from dealers, a development she said had not had negative effect on the market prices of the items.
According to Mrs Gwam, each senatorial zone of the state was being patronised for agricultural product. They have comparative advantage of which would also boost the cultivation of the produce in the zones.
She said the menu approved was the food the pupils were used to in their homes, insisting that "on no condition would two or three pupils share one egg when they have it on their menu".
Asked to comment on the assistance of the state government, Gwam said: "What the state government is investing is unimaginable," adding that apart from paying the monitors, government is also responsible for the training of those engaged.
The school feeding programme was relaunched last Monday following its suspension for about three months as a result of alleged manipulation of the scheme.
The federal government had removed some top officials of the programme and directed the Niger State government to transfer the scheme to the Ministry of Women Affairs.
By Laleye Dipo in Minna, thisdaylive.com