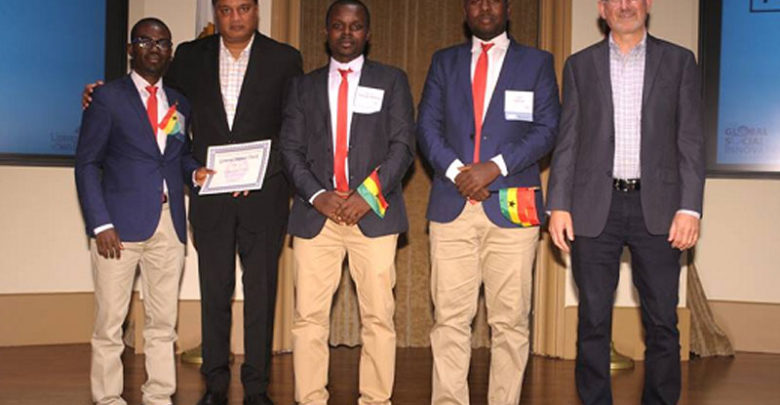 Three Ghanaians emerged winners of the 2018 Global Social Innovation Challenge at the University of San Diego Participants in the challenge take a social or environmental issue and identify gaps in the approaches currently deployed to solve it The 2018 Global Social Innovation Challenge held at the University of San Diego, United States of America (USA), has been won by three students from the Heritage Christian College (HCC), Ghana.
The three Ghanaian students, Evans Kwarkye, Benjamin Nketsia and Austin Carboo, won after a wonderful presentation on Ghana's sanitation problems. Known as Team Charcoal, the students presented a solution to the sanitation challenge in Ghana by turning human excreta into charcoal. The Global Social Innovation Challenge was contested by 51 teams, spread across 27 Universities in 12 countries.
The Challenge is an initiative of the University of San Diego's Centre for Peace and Commerce and is geared towards rewarding student-led social ventures focused on sustainable change. The team from Ghana won both the Audience Choice Award and the Overall Grand Prize in the General Track category.
As reward, the team was given $1,500 and $15,000 respectively, as seed fund for winning both categories. Benjamin Nketsia, a member of Team Charcoal, said their main aim was to address Ghana's sanitation problems, but along the way they had to also consider the business aspect of their social innovation.
"The initiative was introduced to us by one of our team members, after which we researched into it," he said at a press conference following the gallant arrival of the team in Ghana.
"We realised that some companies were using excreta for bio gas and fertiliser, but looking at the amount being generated daily in Accra, we noticed that there were still more waste and that was why we decided to come in and contribute our quota.
"We are in a strategic partnership with some of these companies and they will assist us in terms of technical advice," he added. The Mentor of Team Charcoal, Alexander Asmah, said the team focused on charcoal because it realised that charcoal was used all over the country and even outside the continent.
According to him, the initiative will drastically reduce the level at which trees are felled for charcoal, adding that the team's immediate target after winning the award is "to look for significant investors to materialise this innovation"
By K. Effah, yen.com.gh