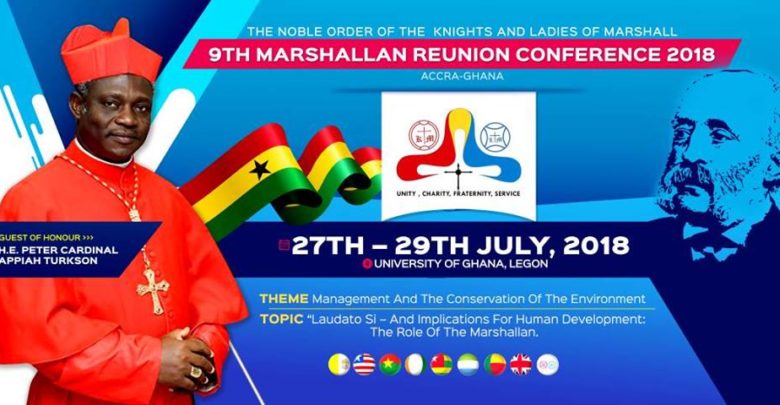 The Ninth Reunion International Conference of the Noble Order of the Knights and Ladies of Marshall, a Catholic society is slated for July 27 to 29 in Accra.
The three-day conference will bring together 6,500 Catholics faithful from eight countries to reflect on their role as citizens of their respective countries, network, explore new opportunities and renew their commitment to help curb environmental issues facing the world.
The countries are Ghana, Benin, Togo, Liberia, Sierra Leone, Côte d'Ivoire, Burkina Faso and the United Kingdom.
The conference would be held under the theme: "Management and Conservation of the Environment".
Sir Knight Brother Tony N. N. Baffour, the Adviser to the Planning Committee of the event, at a press briefing in Accra, said the theme was derived from Pope Francis' Encyclical (Circular Letter) on care for common home -'Laudato Si', which appeals to all to come together and work for the sustainability of the environment.
He said the conference would seek to garner support for a more concerted effort to save the environment, relevant for Africa and the world in the light of global warming and its implications for survival.
"The theme is more relevant to us in the West Africa sub-region and more importantly Ghana as we see high levels of environmental degradation and destruction, including the use of cyanide and mercury in illegal mining," he added.
Sir Brother Baffour said President Nana Addo Dankwa Akufo-Addo would be the Guest of Honour whilst His Eminence Peter Cardinal Appiah Turkson would be the Guest Speaker for the event.
The Noble Order of the Knights and Ladies of Marshall was founded in 1926 with two primary objectives; to bring Catholic men and women together for effective lay apostolate and Catholic action and to provide a friendly social forum for Catholics.
Dr Peter Acquah, the Chairman of the Historical, Research and Beautification Committee of the Knights of Marshall, said the Noble Order was named after Sir James Marshall, an English Judge of the then Gold Coast, whose relentless efforts led to the re-founding of the Catholic Church in the Gold Coast (Ghana) in 1880 after nearly 250 years of the breakdown of the first attempt at establishment by the Portuguese in the 15th Century.

The fundamental principles of the Noble Order are Unity, Charity, Fraternity and Service.
The Society also pledges unqualified loyalty to the Holy Mother Catholic Church to support and defend the evangelistic mission of the Church.
GNA