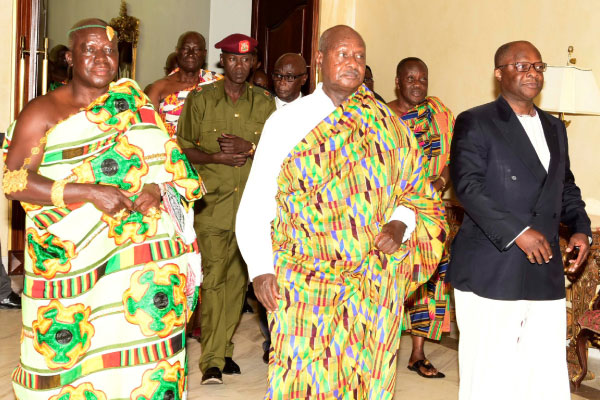 The Ashanti king, Otumfuo Nana Osei Tutu II, has given land to one of Uganda's top pharmaceutical firms to build a factory and manufacture HIV/Aids drugs in Ghana.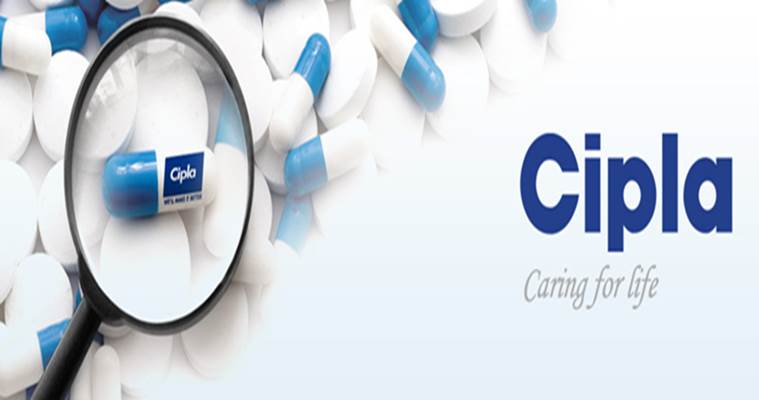 Otumfuo announced the offer during a visit to Cipla Chemicals plant in Luzira, outside Kampala, as he concluded his five-day visit as a special guest at Kabaka Ronald Mutebi's coronation silver jubilee anniversary celebrations.
The monarch's offer was on the request of CIPLA chemicals chief executive, Mr Emmanuel Katongole.
"It was a very important opportunity for us to host the Asantehene. He has accepted to provide us land in Ghana to set up a factory," Mr Katongole said following Wednesday's meeting between the company's top officials and the king.
According to its website, Cipla Quality Chemical Industries Limited manufactures anti-retroviral drugs (ARVs), Artemisinin-based Combination Therapies and Hepatitis drugs.
Otumfuo, accompanied by the Kabaka, also held a meeting with President Museveni at State House, Entebbe on Wednesday during which they explored the significance of traditional institutions in preserving culture, fostering unity and development.
The meeting coincided with the date, six years ago, when President Museveni on August 1, 2012 warned Mengo against opportunism, repeating old mistakes and dragging the Kabaka
into politics.
Antagonism between the two sides was at its worst, but the relations have since thawed.
Meeting with Museveni
Sources that attended the meeting said the Asantehene talked about the importance of a cordial relation between central governments and cultural institutions for development.
Otumfuo reportedly told Mr Museveni that cultural institutions are embedded within various communities and command respect from subjects and, as such, are an important tool in delivery of services.
"More significant battles today, and those that unite all of us and we must work together to wipe them are disease, ignorance and poverty," a source, who attended the meeting, quoted the Asantehene as having said.
In a statement issued after the meeting, State House said President Museveni commended traditional institutions as custodians of customs, culture and identity of a people, relieving
the government to concentrate on big-ticket development issues.
"We fought for the people and if the people want something, we give it to them," he said.
Hailed
Otumfuo was reported to have hailed the President for restoring traditional institutions in Uganda, adding that it was necessary for political and traditional leaders to work together.
"I saw representatives of various kingdoms during the coronation anniversary. Customs and traditions must be preserved. There must be a rapport between government and kingdoms," Otumfuo said, according to the statement.
The Ashanti king commended the President for leading the anti-HIV/Aids campaign and helping to reduce infection rates.
Mr Museveni informed his visitors that for as long democracy is prevailing in the country, people can freely decide what they want.
King Otumfuo leaves a great mark
Ghana's Ashanti Empire King Otumfuo Nana Osei Tutu II yesterday ended his visit in Uganda with his designation as Buganda's special guest during Kabaka Ronald Mutebi's 25th coronation anniversary, forming the highlight.
There were exchanges of prized cultural gifts and cross-entertainment to spice up the event. On the first day, the Asantehene arrived at Bulange, the seat of Buganda Kingdom, and was received by the Kabaka, flanked by Katikkiro Charles Peter Mayiga and ministers.
The Kabaka briefly led him to his offices before going into the kingdom's cabinet room. In his opening remarks, Mr Mayiga said culture is a tool for transformation and preservation of heritage and thanked the Ashanti leader for accepting to visit Buganda. "Many have read about the Ashanti Empire but when you visited us, we got a real feel of your empire," he said.

The kings later moved to the palace stairs for a group photo. Through the Katikkiro, the Kabaka presented Otumfuo with a map of Buganda, a coffee table in the shape of the Buganda map and books about the life of Kabaka Mwanga who, like the Asantehene's grandfather, was exiled on Seychelles by colonialists. "A lot of untrue stories have been said about King Mwanga but that book is a true exposé of his life," Mr Mayiga said.
By James Kabengwa, monitor.co.ug