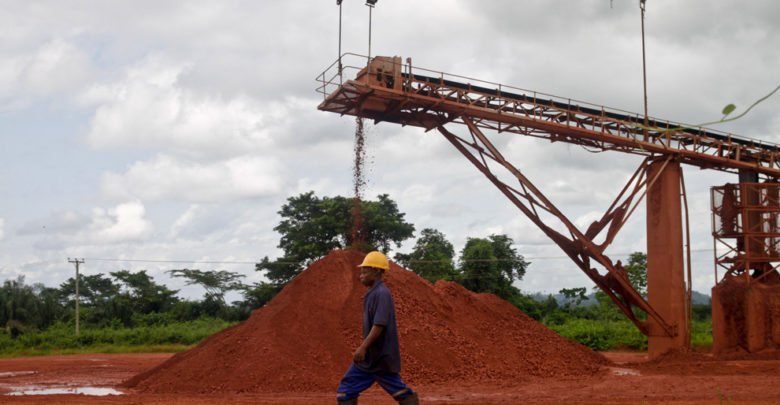 General Manager of Ghana Bauxite Company, J.K Fang, has said that despite various operational challenges, the company managed to register profits for the first time in bauxite mining for two years.
Ghana Bauxite Company is facing allegations that the company is hiding facts to evade tax payment to the government.  The Minister of Lands and Natural Resources, John Peter Amewu asked for a probe into the operations of the mining firm. The Minister suspected that there may be tax-shielding mechanisms adopted by the company to default the Corporate Income Tax into government coffers. The minister made the remarks during a one-day visit to the company's Awaso Mine. He also saw an ulterior motive in declaring losses than gains.
According to J.K Fang, the company made a profit of US$4,020,000 in 2015 and another US$ 3,400.000 in the 2017 financial year. He further added that the mining firm did not pay tax on the profits because it was used to compensate previous losses.
"Last year we made about 3 million dollars and 2015 we made 4 million dollars. We don't need to pay Corporate Tax because the losses in the past 5-years can offset our profits," he explained.
Mr. Fang also defended the decision to increase production although the company is running at a loss, expecting to bring down production cost. The company has over the years defaulted on the payment of Corporate Income Tax.
The Rio Tinto Alcan owned company incurred losses between the years 2003 and 2009. It registered a loss of US$ 11,159,000 loss in 2009 alone. Bosai Minerals Group acquired Ghana Bauxite Company Limited from Rio Tinto at end of 2009 and the losses continued between 2010 and 2016.
When a company fail to declare profit, it is exempted from the payment of millions of Corporate Income Tax in principle. Despite the operational challenges, the company has plans to expand its operations from the current Inchiniso with 6 million tonnes of ore to Subiri, which is believed to contain 11 million tonnes of ore and Afumba.
The company has already obtained a Mining Lease awaiting Forestry Entry and Environmental and Mining Operation permits.
Mr. Amewu is also suspicious about Ghana Bauxite Company selling bauxite to a Chinese firm, which is believed to be its sister company at a lower price behind the monitoring of Government of Ghana. He warned that the government will take steps to investigate the operations and safeguard the interest of Ghanaians.
"That is why we need to investigate and find out what is the driving motive for this company; their interest is to be incurring losses as an ongoing entity. We need to examine what is making them feel comfortable in that position." he said.
Alcircle