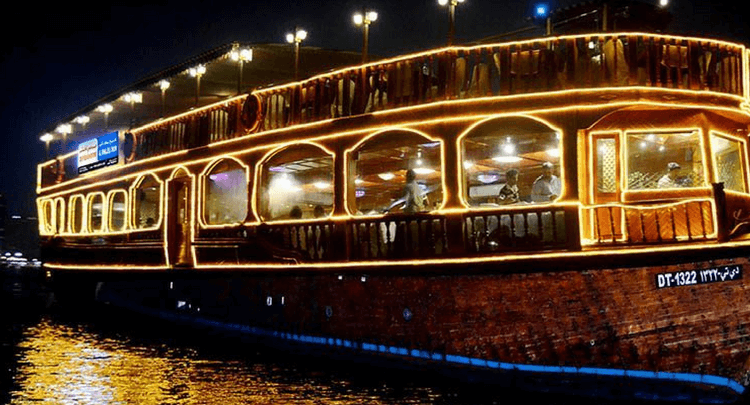 By Shivam Khandelwal, Guest Travel Writer
Dubai, the most famous city in U.A.E., attracts tourists from all over the world. Dubai redefines luxury, class, and beauty, which will make your eyes pop and your jaws drop. From the likes of Palm Jumeirah and Deira Islands (first ever man-made islands), to skyscrapers like Burj Khalifa and Emirates Tower, there's plenty of things to do and see in Dubai. You can also, rekindle your romance with your partner in Dubai through honeymoon and other special romantic activities. These are some of the best romantic places in Dubai to spend some awesome moments with your partner.
Cruise around Burj Khalifa on a boat – Cruising around the Burj Khalifaon a boat is something special. The Burj Khalifa is one of the most romantic places in Dubai for couples.The cruise starts from Port Rashid and goes around this iconic destination, offering some mesmerizing views. Experience spectacular views, soft Arabian music, and magical waters, as you cruise around with your partner for around 5 hours.
Enjoy Dinner at Palm Avenue Restaurant – Located at Crescent Road,
which is the heart of Dubai, Palm Avenue offers some delicious European cuisine. The environment is relaxing where the tables are set by a pool and this make it as one of the most romantic places in Dubai. Lamb cutlets and Australian steaks are a must-try here. They will melt on your tongue like butter. Take your partner to this authentic restaurant and spark-up your romance.
Go for Arabian Horse Riding at Al Dhabi Stables – Riding a horse is fun
but riding an Arabian horse with your partner is even more fun and romantic. This activity is a great way to experience desert culture, where you can camp under the moonlight and witness the beautiful sunrise and sunset. Al Dhabi Stables will give you the experience of royalty, making it one of the most romantic places in Dubai. Experience the desert lifestyle with your partner peacefully.
Treat your Beloved One at Dhow Cruise Dubai – Spend an evening dinner at Dubai's special Dhow Cruise. Considered to be one of romantic places for dinner in Dubai, the Dhow Cruise Dubai is the perfect place to propose to your dearly loved-one. Choose from a variety of international cuisine offered in both, vegetarian and non-veg. Enjoy your meal as you cruise along the Dubai Creek or Dubai Marina, where you get to see some amazing views. And post dinner, the views are quite magical. Take your partner and you both will cherish this moment for the rest of your lives.
Experience Overnight Desert Safari – Taking your romantic partner for an
overnight desert safari in Dubai is just out of this world. There are tons of activities to do at the sands like dune bashing, sand-boarding, dirt and quad biking, camel riding and many more. Since its overnight, you also get to witness belly dancing, smoke shisha hookah and eat BBQ food. The BBQ food is delicious which makes Dubai's desert a one of the romantic places for dinner in Dubai. At night, hold your partner's hand while gazing at the dazzling sky and talk for hours and hours by the bonfire.
Propose to your Bae at Burj Khalifa's Observation deck – The
Observation deck at Burj Khalifa, called 'At the Top', offers panoramic views that are astonishing. If your plan is to propose to your sweetheart here, then take them to the observation deck where they not only will enjoy the views, but will definitely say "Yes!" to your life-changing. The observation deck is also considered as one of the most romantic places in Dubai to propose and has many other activities like fine-dining as well on the other floors.
Enjoy a Lavish Dinner on Beach at The Shore – The Shore is a restaurant located at Al Qasr Beach of Madinat Jumeirah. The restaurant offers great views of Dubai's landmarks such as Burj Al Arab, Palm Island and the Jumeirah Coastline. The Shore offers an experience of a romantic dinner in Dubai on the beach with a series of 4 course meal. Enjoy your meal along with complimentary champagne, and the relaxing atmosphere coming from the waves.
Find Solitude with your Significant other at the Hatta Mountains – The Hatta Mountains can be your best bet if you're looking to find some peaceful time with your loved one. There's so much to see and do together which makes the Hatta Mountains one of the most romantic places in Dubai for couples or as romantic places in Dubai for anniversary. Walk through the historic Hatta Heritage Village or enjoy the astonishing views of the Hatta Dam with your partner. This landmark can also be the best spot for proposals, making it as one of the most romantic places in Dubai to propose.
Enjoy some water-based activities at the Kite Beach – Become a water-baby
for a day and let you and your partner enjoy some of the best water-based activities Kite Beach has to offer. Kite surfing, kayaking, beach volleyball, and beach tennis, are some of the activities you can do. Instead of taking public transport to Burj Al Arab, take a walk by holding hands of one another as this beach is just 500 meters away from it. You can even propose your partner, because this beach is one of the most romantic places in Dubai.
Visit Dubai Fountain to get Mesmerized – The Dubai Fountain is something very special. It is located next to the Burj Khalifa, and is one of the world's largest fountains. Your partner and yourself will enjoy massive gallons of water gushing up towards the sky in proper choreographed fashion. The fountain uses light, lasers, and music, making it a perfect spot for couples who wish to spend some romantic time with each other.
Dubai is the perfect place to enjoy time with your loved one. Whether if it's proposing, honeymoon, or anniversaries, Dubai has you covered in every possible way. Go ahead, fall in love all over again!
http://www.dhowcruiseindubai.com/blog/10-romantic-things-to-do-in-dubai/