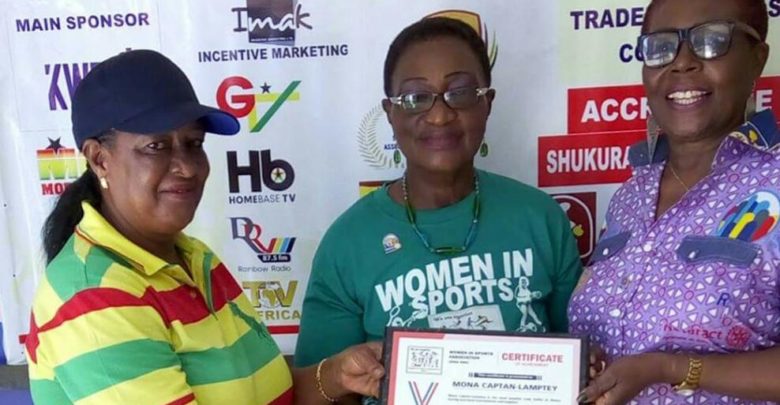 By Rubby Adazewaa Doamekpor
All is set for the second edition of the Women In Sports Achievers Awards which comes off on Saturday 29th September 2018 at the Multi-Purpose Court of the Accra sports stadium.
In an exclusive interview with Mr. Sammy Heywood Okine, the online editor and the special adviser to the Executive Director Madam Commodore and members of WISA, he mentioned that, preparations are far advanced and moving speedily. Everyone else needed to be a part of the ceremony has been contacted including the nominees and not forgetting the media.
According to Mr. Okine also known as 'General One', he appreciates Ghandour Cosmetics for partnering with WISA and being the headline sponsor. He also called on other cooperate bodies to come onboard and support them especially those who are into the services and supply of women's products and items so as to help support and boast the women in sports.
Sports promotes a healthy living, sports is life and open greater opportunities for everyone especially women hence, the need to encourage more participation and involvement from women, he reechoed.
"Every awardee is a star and a role model and must be proud that they have been recognized as national award winners" Mr. Okine mentioned. He also encouraged all the awardees to be very patriotic and continue to represent and project the image of Ghana high in a positive way wherever they may find themselves.
"In the past women were not recognised and appreciated but with the introduction of WISA, the story has changed" according to Mr. Heywood Okine.
Prior to the award day, there is going to be a health walk starting from 6:30 am in the morning from the Accra sports stadium through the principal streets to Danquah circle to Osu Oxford street and back to the stadium for aerobics section as it is about awarding women in sports and  also promoting a healthy lifestyle.
There are twenty-seven (27) women tipped for various awards within the sports fraternity from football, tennis, rugby to taekwondo.
Other side attractions are demonstration of netball and taekwondo formation. He called for everyone, especially women and girls to come out on September 29, 2018 to support this year's awards.
Below are the various nominees
Victoria Dowouna, Tennis Coach
Samira Sulemana, Football /Charity
Philippina Frempong, Administration NSA
Mercy Tagoe Quarcoo, Football Coach
Shukura keep fit club, Keep Fit
Veronica Commey, Media
Memunatu Sulema, Football Goalkeeper
Catherine Morton, Promoter/Education
Gloria Peprah, Media GTV
Cylia Baah Danso, Table Tennis
Hor Halute, Athletics
Rosemary Ametepe, Boxing Referee
Irene Yaboi, Hockey
Madam Alice Attipoe, 1st female DG, NSA
Black Queens, Football
Gladys Patterson, Sports Supporter
Amy Fynn -Thompson, Media, Western Region
Helena Williams, Administration UG, Legon
Mary Enno, Badminton
Akosua Nkansah, Badminton Para
Ali Ayishatu Zakaria, Media
Priscilla Adubea, Football
Kaya Forson, Swimming
Rafatu Inusah, Rugby
Nadia Darley Sackitey, Taekwondo
Cynthia Lamprey, Handball
Special Award?