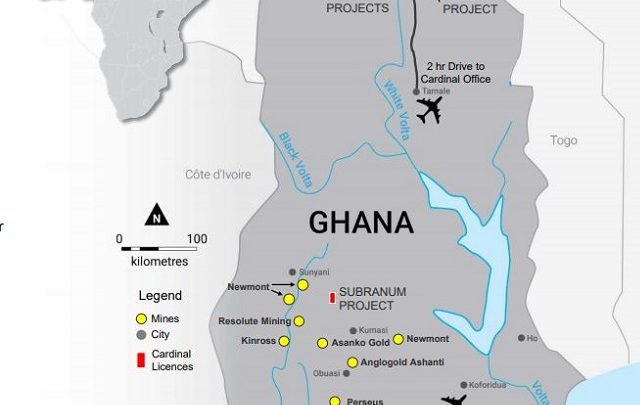 The company is well funded to fast‐track its flagship project towards completion of a definitive feasibility study, anticipated in Q3 2019
Cardinal Resources Ltd (ASX:CDV) (TSE:CDV) is making steady progress on the preliminary feasibility study (PFS) for its flagship Namdini Gold Project in Ghana.
Namdini hosts a JORC indicated resource of 6.5 million ounces of gold grading 1.1 g/t gold and an inferred resource of 0.5 million ounces of gold grading 1.2 g/t gold.
.
Namdini is located within the Birimian terrane of Northeastern Ghana which is 2.1-2.2 billion years old
The project has a large-scale single open pit with a low strip ratio of 1.2:1 (life of mine) and an anticipated pit depth of 300 – 400 metres.
Notably, the resource is open at depth and along strike.
Preliminary Economic Assessment (PEA)
Cardinal recently demonstrated an overall increased gold recovery rate of 86% utilising standard gold recovery techniques at the Namdini Gold Project in Ghana.
The results were from phase two of Cardinal's metallurgical test program.
The phase two metallurgical test program is focused on determining resource variability of the main lithology domains being metavolcanics, granite and diorite.
Conceptual process flowsheet
The test results thus far are demonstrating good lithological consistency, which will allow for predictable metallurgical performance in a production scenario.
A conventional grind‐flotation‐regrind carbon-in-leach flowsheet continues to be the preferred process option.
Cardinal is also drilling at the new Ndongo East discovery about 20 kilometres north of its Namdini Gold Project.
The company recently revealed further shallow gold intersections at Ndongo East. Highlight results from the latest drilling include:
• 2 metres at 27 g/t gold from 10 metres;
• 6 metres at 12.6 g/t gold from 2 metres; and
• 7 metres at 2.2 g/t gold from 55 metres.
The Ndongo East prospect lies within a larger target area of about 7 kilometres in strike which is yet to be drill tested.
Importantly, Ndongo East is rapidly evolving with the potential to add to the high-grade gold ounces at Cardinal's 6.5 million ounces Namdini.
Cardinal recently completed all the required documentation for a US$25 million senior secured credit facility from globally renowned resource investment firm Sprott.
The US$25 million facility will provide working capital and funding to complete the PFS and definitive feasibility study (DFS) for Cardinal's Namdini Gold Project.
Major shareholders
Cardinal is now well funded to fast‐track Namdini towards completion of the DFS, anticipated in Q3 2019.
The company's highly prospective land package in Ghana is about 900 square kilometres in total and provides a significant exploration upside.
Cardinal is continuing multiple district-level exploration activities, including:
• Bongoo: Auger soil drilling planned and geophysics targets being evaluated;
• Kungongo: 4.5 kilometres strike length being evaluated with positive assay results returned from first pass drilling.  3,000 metres drilling planned to commence Q4 2018; and
• Ndongo: Six large-scale targets identified with initial focus near a major regional shear
By Tharun George, proactiveinvestors.com.au