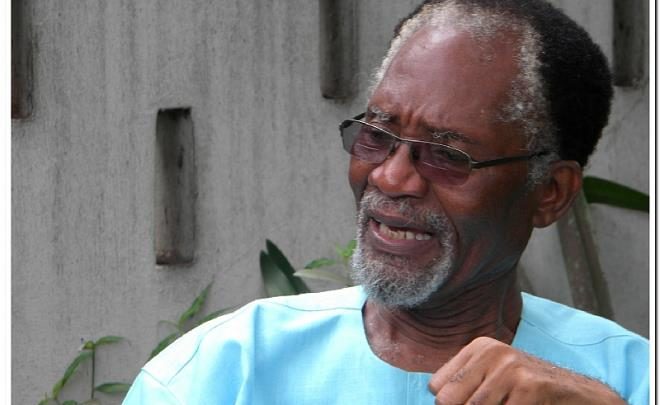 Africa has lost a celebrated poet, literary activist and renowned academic in the death of Ghanaian writer, Professor Atukwei Okai. The literary giant and cultural ambassador died on July 13, 2018 at the age of 77 at Korle Bu Teaching Hospital, Accra, Ghana. He was the Secretary-General of Pan African Writers Association (PAWA) as well as the President of Ghana Writers Association. Born in 1941 in Accra, Ghana, Okai attended Accra High School, Gorky Literary Institute, Moscow and University of London. He was a lecturer in Russian Literature at the University of Ghana, Legon, from 1971-1984.
Later, he was appointed a Research Fellow, African Literature, Institute of African Studies, University of Ghana, Legon, in 1984. In his tribute to the late cultural activist, Prof. Femi Osofisan said "Atukwei was a bundle of lofty dreams and tall ambitions. He put his footsteps down in tall strides and bid others follow as he sought with uncommon zeal and tenacity to drive those dreams to fulfillment. That was the secret of his infectious devotion to the Pan African Writers Association."
On his poetry, Osofisan observed that "Okai was the first to try to take African poetry back to one of its primal origins, in percussion, by deliberately violating the syntax and lexicon of English, creating his own rhythms through startling phonetic innovations." In her tribute to the late poet, Prof. Akachi Ezeigbo of Alex Ekwueme Federal University, Ndufu-Alike, Ikwo, Ebonyi State, said "Okai was one of the most accomplished poets Africa has produced. He was the best performance-poet and Pan-African activist of all times.
He took PAWA to the highest level. He performed his poem, Lorgorligi Logarithms for my students when I was at the University of Lagos." To Dr. Wale Okediran, a former President of the Association of Nigerian Authors, and former member of the House of Representatives, "Okai was a great writer, an unflinching advocate for African Literature and a fine human being who shared his spirit and talent with the world.
His legacy will live forever in his donation and adulation for the literary and the intellectual world." There is no doubt that Atukwei Okai, who published his early work under the name of John Okai, was one of the renowned poets in Africa. He was generally acknowledged to have been the first real performance poet to come from Africa. His poems are rooted in the oral tradition.
Okai's works have been described as "politically radical and socially conscious." He was highly concerned with Pan-Africanism and that was why he once introduced himself as having come from Africa but live in Ghana. Some of the writers that influenced his writing were Michael Dei-Anang, J.H. Kwabena Nketia, Efua Sutherland, Kofi Awoonor, Kwesi Brew and Cameron Duodu.
His poems have been translated into several languages including Russian, Spanish, German, Arabic, French and Italian. Some of his poems have appeared widely in anthologies including The Penguin Book of Modern Poetry, The Atlantic Monthly, New African, Black World and New American Review.
He performed on radio and television worldwide. He had performed in some colleges in Ghana including Wesley Girls' High School, Adisadel College in Cape Coast and Achimota Secondary School. But his memorable performance was the acclaimed 1975 appearance at Poetry International at Queen Elizabeth Hall in London, where he shared the stage with American poets, Stanly Kunitz and Robert Lowell, and Nicolas Guillen of Cuba.
His published works include Flowerfall (1969), The Oath of Fontomfrom and Other Poems (1971), Lorgorligi Logarithms and Other Poems (1974) and Anthill in the Sea; Verses and Chants for Children (2013), Freedom Symphony: Selected and New Love Poems (2008), and Mandela the Spear and Other Poems (2013). He won Ghana Book Award in 1979, Iqbal Centenary Memorial Award, Pakistan, 1979, Lotus International Prize for Afro-Asian Literature, Afro-Asian Writers' Association, 1980. He was appointed Fellow, Royal Society of Arts, UK in 1968, associate member, Association of Nigerian Authors, and honorary member, National Syndicate of Spanish Writers.
We join his family, the literary world and the people of Ghana to mourn the demise of Africa's iconic performance-poet, a Pan-Africanist and literary genius. May God grant his soul eternal repose.
By Tokunbo David, sunnewsonline.com