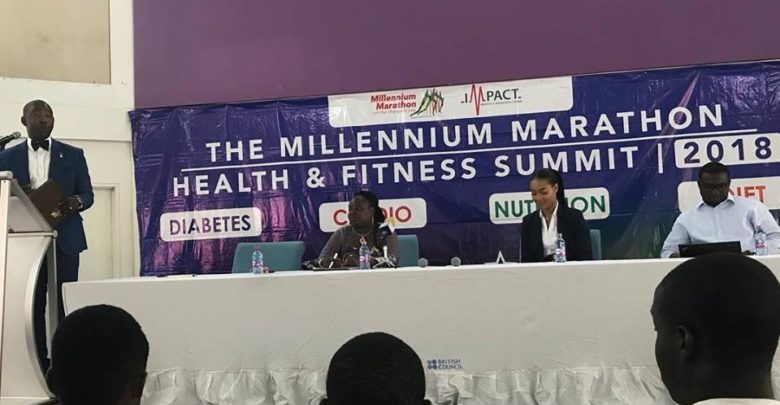 Four medical practitioners who spoke at the 2018 Millennium Marathon Health, Fitness and Nutrition Summit held at the British Council in Accra have called on Ghanaians to cultivate lifestyles that would make them healthy, happy and live longer.
Dr, Okoe Boye Bernard, a Member Of Parliament for the Ledzokuku Constituency, Dr. Vanessa Atikpui and Dr. Alex Akowah of Impact Clinic and Esi Donyoh of Diabetes International all agreed that people should be conscious of their blood pressure, eat balanced diets, exercise or do physical activity and visit the hospital to check medical status.
The summit which was organized to equip participants of the 2018 Big Millennium Marathon with some health tit bit attracted students from Accra High School and Accra Girls SHS.
The students asked intelligent questions and were provided with valuable answers on health, fitness, diabetes, hypertension, and kidney problems as well as sports injuries.
Dr. Okoe Boye, author of a book on high blood pressure who will lead MPs in the Millennium Marathon said hypertension can never be seen on the face unless measured, and people must also beware of their stress levels and sleep well for eight hours.
Dr. Vanessa Atikpui, the Millennium Marathon official medical officer talked on Health and Fitness and How to avoid Risk Factors.
Esi Donyoh and the Columbia Ambassador, Claudio Torbay to Ghana commended the organisers and urged the youth not to miss such educational opportunities.
Dr Alex Akowah stressed on students combing learning and physical or sporting activities, and being sociable to learn new positive things in life.
The Millennium Marathon which comprises 5km and 21km races comes off on Saturday September 22 at the Independence Square.
Cathy Morton, the Race Director said the organisers are set and ready counting the days to see who wins the special raffle with a Nissan SUV car at stake. She asked interested participants in the raffle to dial *800*17# and register with 50ghc before Friday.
According to Cathy Morton, the winner of the 21km gets $2,500, and the 5km winner gets $500, however the first 15,000 participants will get special gifts from the sponsors.
She hinted hinted runners, joggers and walkers can register at Osu Frankies Hotel, Accra Sports Stadium, Elite Sports at Labone, Beautiful Beneath at East Legon and the Millennium Marathon office at Nima.

The 2018 Millennium Marathon is sponsored by Twillium Industries, Japan Motors, Allianz Insurance, Elite Sports, NIB, Unilever, Tang Hotel and MTN.
Some donors and partners are Whirlpool (Ederick Ltd), Twellium, Garmin, Wigal, Papaye, MenzGold, ddp, Blue Skies, NLA, Can -West, Royal Habits, Smart Books, Impact Clinic, Emirates, Melcom, Decathlon, 4GS, Indomie, Beautiful Beneath, Accra Mall and others.
By Sammy Heywood Okine